July 7, 1958 was my dad's birthday. It was a nice, crisp country day in Sonora, Kentucky and Betty Mason Van Hoy - someone I looked to as sort of a big sister - drove up in her Aunt Mary Louise's green Chevy Bel Air. She summoned me over and told me I had to hear what was happening on the radio. The radio would play "Purple People Eater"... then, she'd say, "Listen, they're gonna play it again" and, sure enough, they did. That little loop - Sheb Wooley singing and Betty Mason prophesying the next move - continued. Endlessly. We'd go back to the car every once in awhile and, sure enough, what seemed to be one of those weird but wonderful moments was still in high gear. I was mesmerized.
That was my introduction to what I would personally know as Radio. Sure, I'd heard my father listen to WHAS or WAVE while we were driving but nothing ever hit home for me like the day that WGRC became WAKY.
For most of the next 20 years, WAKY was one of my beacons. It was part of the radio troupe where I got my culture and where I knew my destiny belonged.
Now, my lineage to WAKY is a bit different than some of the contributors to this site. Living 50 miles outside Louisville, I had to absorb other signals to get my fill when I couldn't pick up WAKY. With its signal array, WKLO had a slightly better signal where I lived so they got some equal time. Then there was WLS and WCFL in Chicago, WOWO in Fort Wayne, a little WKYC in Cleveland and the magical WLAC in Nashville where John R turned me on to enough R&B to make me the happening-est kid in town. But being lucky enough to be a kid who needed braces, we had to drive to Louisville to the orthodontist and I would sweet talk my parents into a trip to Fourth Street so I could watch WKLO in action until WAKY moved into their showcase studios and, then, I could get all the magic I wanted.
Because of that showcase accessibility at 'KLO, I have to admit that I was a bigger 1080 fan for awhile. Sure, I saw pictures of Tim Tyler, Jim Brand, Weird Beard and the other WAKY jocks when I shopped for 45s at Vine Records but 'KLO gave me the chance to see how everything was put together live and, for a kid who was trying to put the pieces of the Radio puzzle together, that meant a lot. The 'KLO jocks were "format jocks" and their presentation was very precise; the WAKY jocks were more laissez faire and I thought that was very cool but since I couldn't see them, I couldn't really relate.
All of that changed very quickly around 1968-1969. There were some important changes at 'KLO (Lee Gray followed Terrell Metheny to New York, for example) and, at WAKY, Bob Todd came in with systems, panache and guts. His guts brought in Burbank and with that one single stroke, the axis of personality radio in Louisville Kentucky changed overnight. There were probably more of us wannabes who would drive to Louisville and tape WAKY after that happened than you could shake a stick at. I would find out later in life that some of us would drive hours on the weekend just to get a taste of what was going on at the Big 79.
WAKY was fortuitous enough to be one of McLendon's breed and, then, to be part of the LIN chain - both very proactive and passionate about Radio. In LIN, you had stations like WFIL/Philadelphia and a cadre of PDs who lived and breathed Radio. They were risk takers and, better yet, were like a brotherhood, passing along great ideas from station to station without the typical Radio ego. So, with WAKY, we got first dibs on any magic that Jay Cook would cook up at WFIL or cool R & B records they would unearth at WMAK/Nashville.
My first peer-to-peer encounter with someone with a WAKY pedigree was Bob Todd through the syndication of the TV show, "Now Explosion", although I didn't know of the connection until years later. I was the local host in Paducah at WDXR-TV29 who ran the show weekday afternoons at 4pm and Todd's place in the chain was as one of the originators of the show in Atlanta. As syndication rolled downhill in those days, Paducah didn't have access to all the bells and whistles (like in-studio go-go dancers or local bands) that they had in Atlanta and the three videos we had (two Cornelius Brothers and Sister Rose videos and one by Steppenwolf) ran a little thin after awhile. Nonetheless, I caught enough of Todd's outside-the-box thinking to feed my creative tapeworm even more.
Len King, Gary Burbank's newsman, was a friend of mine from Murray State and a co-worker at WNGO in Mayfield and WDXR in Paducah. It was because of Len that I got an inside into WAKY. I remember the first time I went to Burbank's house and he took me down to the basement where he had his "office". Stacks and stacks of notes and a typewriter that looked like it was ridden hard every single day. I didn't know the word "show prep" before that day but, in my mind, Gary Burbank laid down the reference point for how important it is for jocks to do their homework and the payoff that it can have.
It was also through Len that I came to know Johnny Randolph who may be the most effortless jock I know and the man who, unbeknownst to him, gave me some of the reasoning I used in creating the Classic Rock and Smooth Jazz formats. In a day when most Program Directors seemed more attuned to what records the trades were talking up, Johnny had his knack for sitting back and watching what people were programming for themselves on jukeboxes or what songs would work across the cume patterns the station shared with WINN or WLOU. When he saw someone play Freddie Hart alongside Kenny Rogers and the First Edition, he figured there must be some sort of connection in the listener's soul and was he ever right.
Johnny gave me some of his time very unselfishly. He would drive to the knobs across the river and listen to me on WKYX/Paducah and, then, give me some feedback. If I had the chance to come to Louisville on a day off from school, he'd give me a little time to critique an aircheck. And, because of that, I built up enough credibility to get a call from him about the all-night job when it opened in '72. But with graduation only months away - and an immature ego that thought I deserved better - I passed.
After graduation, I went to Europe for awhile and when I came home, I found that WAKY was devoid of Burbank, of Len King, of Jason O'Brian. Whoa! It didn't take long to find them all in New Orleans and it didn't take much of an invitation for me to pack my bags and move there on a whim.
Getting to work for Burbank at WNOE was the biggest break I'd had up to that point. When you're in a small market, it's difficult to get out and even though 'NOE paid thousands less than I was making in Paducah, it was worth the gamble. Getting to study at his feet taught me enough about the WAKY system to get a serious bug about wanting to program there someday.
WNOE was an important piece of the puzzle for me since it, too, was an original McLendon station and Gordon's influence (Governor Noe was an in-law) was still alive and well. Up in the attic at 'NOE were old tapes, format guides, all kinds of stuff for a wannabe PD to absorb. Did I ever...
After Burbank and Len went to CKLW, Jason O'Brian took over and I got a different slant on the WAKY way of life. Where Gary understood WAKY's personality culture, Jason understood WAKY's mechanics and between the two of them, it was a real education. And, God love him, Jason even put me in mornings following Burbank but I had absolutely no talent in that arena.
With Jason's nurturing, my comparative skills as a jock improved, too, and it was because of his tutoring that I was offered a move to 94Q in Atlanta when it launched. However, Jason wasn't sold on the station's internal culture and, through a connection to Kent Burkhart, I was offered a chance to do middays at KSTP/Minneapolis or at the "world's most powerful radio station", XEROK in Juarez. A million watt opportunity can do a lot to screw up a kid's ego, let me tell you.
At XEROK (X-ROK 80), I found out two things: one, a million watts in soil that has no moisture goes little more than straight up and, two, that working in the RKO way of life wasn't meant for a WAKY fan. I had worked in format radio before but the X-ROK format was just too impersonal for me. Too much of a disconnect. So, after six weeks of being chided about WAKY and its ilk and me not feeling comfortable in such a robotic environment, I packed my bags and went back to New Orleans where I lucked into a gig doing afternoons at Lee Abrams seminal AOR, WRNO, helmed by Bill Stedman.
It was Bill who spawned my interest in production. He taught be offbeat splicing techniques, looping, gizmos, where to find cool production music, etc. Months later, he opted to move back to Miami to do WINZ and recommended me for the PD job, my first.
The WAKY thing haunted me there, too. I thought that AOR could be more than liners and breathy jocks but Abrams thought of it as "carney". One guy who did appreciate my interest in what went on between-the-records was Ken Dowe who had been McLendon's National PD and was being brought in to run KTSA/KTFM in San Antonio, another one of McLendon's original set.
Ken was instrumental in putting me on-track as a PD. Although I resisted his coaching at first, I think allowing him to mentor me was the first really objective decision I made in Radio. Everything else was driven by wanton desire or ego. At his knee, I learned how to combine formatics and creativity but, more importantly, gain a broader perspective of how to give listeners the feeling they had an active part in the station. Given San Antonio's hefty Hispanic mix, we nurtured that slant both on-air and on the street and zoomed from a 2.6-12.2, 12+. Ken also taught me about the Arbitron game and the difference that a necktie would actually make on a PD. Little thing, yes, but it made a difference in my perspective.
During vacations, I usually went home to Kentucky and, during my visits, would monitor WAKY and what was going on elsewhere in Louisville radio. During my visit in 1977, I surmised that something wasn't askew in the market. WLRS was making headway, WHAS seemed to be coming into their own and there were a lot of little tugs at WAKY that were diminishing its ratings position. This is the first place I've ever admitted this, but I wrote a letter to Don Meyers to introduce myself and let him know that if the station was ever in need of a PD, I'd like to be considered.
The reason I kept that close to my chest is that I never wanted to take Johnny Randolph's place - just be the next in line. Luckily, Johnny was tiring of the PD grind and wanted to move into an upper management role and Don did call me back for an interview. I bought the first suit I'd bought in years - a navy blue one - and spent days doing homework on ratings, personnel, promotion ideas, etc. When I got to the interview, I had such an ear infection that I could barely understand what Don was saying but, somehow, I got through the night. Lots of patience, lots of passion.
If you used a standard industry model for Program Directors, I probably paled next to some of the other interviewees but Don knew that the empathy and understanding I had for the station and the market had value and, so, I was given the nod to meet with Nick Anthony of George Burns' consulting firm. I flew to L.A. one Saturday, met him in the revolving spindle restaurant that's an icon at LAX, got back on the plane and went back to San Antonio. The following Tuesday, Don called and offered me the job. $19,200 to start. The dream began.
It was September 1977. I will remember that day forever. I lay in bed in my parents house full of anticipation and my wife turns to me to tell me that she was seeing someone else. Wow, talk about a blow! But, I had a mistress of my own and her name was WAKY.
Johnny Randolph made the transition easy for me. He had moved into the Sales department before leaving for the GM gig in Oklahoma and was always available to answer questions, give insights, etc. People ask me what was it like to replace Johnny Randolph but "replace" couldn't be further from the truth. It was more akin to being the younger brother who took over when big brother left the family business. The task was pretty simple: recapture some of the lost 25-54s and enhance the station's local feel.
The staff I inherited was fairly open to a new coach. Many of them - Bill Purdom, Gary King, Chuck Jackson - had grown up on the station and had an inherent sense for where its true strengths were. Bob Moody couldn't have been a better lieutenant for a PD. Not only did he have big market (CKLW) experience, but he was the sharpest tack that ever crossed the station's front door. Coyote Calhoun was the consummate heritage WAKY personality and the one guy who could carry the station's message to the streets better than anyone else. And, Bailey. Well, where do I start? Off the record, one of my charges was to keep enough of a burr under Bailey's saddle that he'd have something to harp about. It paled in comparison to what Pig Vomit (Pig Virus) did to Howard Stern but my "Memo Maniac" did what it was supposed to. I knew that when my 70-year old mother who lived 60 miles away was besieged with phone calls stemming from Bailey's rant about her son sleeping with another woman without the benefit of clergy that I'd done my job.
Early on, my relationship was George Burns and his group was enlightening. George had my ear from the get-go - he was guru-like enough to pique my curiosity and he had more empathy for what should go on between-the-records than any consultant I'd worked with before. In short, he was a cool guy for a PD to work with.

Burns was in a weird place, though. His automated "TM Stereo Rock" format was being run on WQHI-FM (which eventually became WQMF) and even though FM didn't have the same might it would in later years, we would occasionally look over our shoulder and raise an eyebrow. In those days, we just passed it of as "FM" and "automation" - today, most station groups wouldn't put themselves in that position.
The first book - Fall '77 - was a nice up-tick. 7.6-8.2, I think. The next book came out of a set of very weird circumstances - we had the biggest snow storm the city had seen in 10 years, one that shut the place down for almost a week and county schools for a month... there was strange strain on music with the early stages of disco pulling one way and corporate AOR pulling the other... WAVE was riding its typically good wave of having the Reds broadcasts... corporate was putting some new spins on budget restrictions and management-by-objective goals... Nonetheless, the station continued to grow another share point, hitting #2, 25-54, behind WAVE.
We were adding some interesting between-the-records twists that were unheard-of in Top 40 in those days. We did some interesting retrospectives of where Louisville was at a certain point (sound bites, old commercials, the price of a loaf of bread type thing) and followed it up with a song from that era. To be candid, it was more WHAS-like than WAKY-like but hitting the nerves of the natives was something that was turning out to be a goldmine. To further that nerve on the weekends, we'd occasionally do a "WAKY Sixties Weekend". Even though we weren't even a decade removed, those weekends were great reminders to the people of the station's roots and heritage and a wonderful test lab or my work with Classic Hits / Classic Rock. I think you're beginning to see that we were somewhat of an unconventional Top 40…
We followed that nerve to the street with a promotion called the "WAKY Knock-Knock Girl". The idea was that our KKG (Leslie Bryan) would randomly pick a house, knock-knock on the door, and award the owner $10 for every radio set to the station. I don't think I've ever seen word-of-mouth spread neighborhood-to-neighborhood like that. And, talk about great audio!
And what was Spring '78 like for me? I was getting the divorce that would lead to "You Don't Bring Me Flowers."
Barb and Neil was a deal breaker for me and the Burns people. Actually, it was that record and Exile's "Kiss You All Over." My interest in the former was personal and the buzz it was giving the station. My interest in the Exile record was the boost it might give us in reframing the station as more local since the band was from the area. I remember the day I went to the mat over both of those with Sylvia Clark, Burns' national music director. From her global, objective point-of-view, both records weren't ready for airplay at that point and that's an understandable argument for someone in her position. But, in mine, I was sensing how well some of these fringes were working for the station and I took a stand for their place. Sadly, that was our undoing. I actually liked the advice George was giving us but pride, stubbornness, something just got in the way.
There's some misinformation about how Barb and Neil came about. For example, most accounts have me listed as a "deejay" even though I was rarely on the air. The short story is this: Becky, my wife, and I were going through a very amiable divorce. The previous Fall, we had heard Neil's version at a friend's house and I noticed how it made her cry. Fast forward to Spring '78 and Barbra's (another of Becky's favorites) new album came out and, dayumm, there it was again. There was just something that clicked in my head and I decided to do it for her. Since we weren't really sleeping in the same bed at that time, my nights were open and I'd hang out at the station and play with the mix, then take it in to Bill Purdom or whoever and have them play while I went out to my car and listened to how it sounded. There was a lot of back and forth with that late at night before I ever unleashed it on the daytime public. Once I did, however, all hell broke loose. Requests, record store calls, you name it. I had two friends who had an in at Columbia - one who had been their Nashville VP and one who was their local guy in Miami - and I asked both to help me get this up the ladder. They did their job well.
Word spread quickly and my 15 minutes of fame was in full force. People magazine, the LA Times, Good Morning America, Merv Griffin, Casey Kasem (my favorite of the YDBMF memoirs along with Rona Barrett), even the Aussie version of Johnny Carson came calling for the story. Now, 25+ years later, I've finally made it as a trivia question on "Jeopardy." Sigh.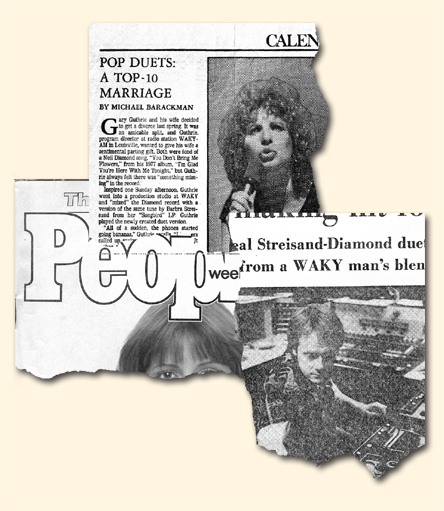 Hear the history of "You Don't Bring Me Flowers" through the voice of American Top 40's Casey Kasem. We've assembled all of the AT40 "Flowers" segments from the song's national chart run into a downloadable MP3 montage, which tracks the recording from its Top 40 debut in early November 1978 through its appearance on the AT40 Top Hits of 1979 show. One segment even features WAKY's original hit version of the song in its entirety. And...isn't is really cool to hear Casey talk about WAKY?

Download It!
13:28 - 4739 KB

Gary Guthrie and "You Don't Bring Me Flowers" were also featured on three segments of Robert W. Morgan's "Record Report" in 1978 and 1979. We've assembled them into one MP3 montage for easy download.

Download It!
3:16 - 1148 KB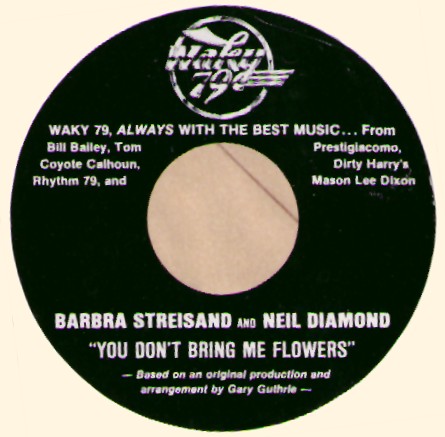 WAKY had these custom 45 labels printed up and affixed them to giveaway copies of the official release of "Flowers"
There wasn't any official word from Columbia until Bob Sherwood called and invited me to New York for the revealing of the official release. Unfortunately, the trip came with a caveat that I take a check and sign a waiver and, since the thing was done out of love rather than greed, I was insulted and took a pass. The relationship unraveled after that and eventually wound its way to Memphis and finalized when I was the GM at KOPA. Because I signed a non-disclosure agreement, I can't really say what the end result was but, suffice it to say, it wasn't a windfall (more like the value of a slightly-used VW Beetle at that time). Before I could actually let go of all the hurt the ordeal caused, it gnawed at me that I gave up and settled in mid-trial but my father-in-law at the time - a sagacious man named Henry Lewis, a high-ranking judge in Illinois himself - told me that they (CBS) would fight this to the last and that, essentially, they were not going to let me win. Would it have hurt to give me the two cents per record that I was asking for? Probably not, but that wasn't the issue for Columbia - their fear was that if they paid one guy in Radio, they'd have to pay anyone who came up with an idea like that. And, hmm, that would be a bad thing?
Back to the station...
There were some personnel shifts at the station during Year One. Reed Yadon left his gig with Bailey to work on his family business; Karl Shannon, our Production Director, took the PD gig at WVLK-FM in Lexington; I think Chuck Jackson sensed that there wasn't going to be much movement ahead of him affording him a move up - and he did deserve better - so he got a better shift in Oklahoma; Bill Purdom wanted off all-nights and was pretty good in the production room so we moved him in there and moved Ed Phillips in from weekends and, with Chuck gone, we expanded all the shifts a bit so we have five full-timers as opposed to six.
Reed's replacement - Bill Graham - was a serious newsguy and when the opportunity came up to helm an All News station in New Albany, he jumped for it and, on its face, it seemed like a good opportunity but it eventually turned out to be an uphill battle against WHAS. Bob Moody was tiring of playing jock, I think, and sold me on being Bailey's sidekick. He was a perfect fit, too. He was the only person quick witted enough to retort Bailey's verbal punches plus he had enough of a programming sensibility that he was essentially the PD of the morning show and that was a) a plus and b) a relief for me.
With Bob out of afternoon drive, it was time to give Coyote the chance he'd been passed over too many times for. Giving him the slot was like giving a kid carte blanche for Christmas. He came in early to do show prep, he beat the streets, he gave himself and the station some new profiling.
About the same time, I had become enamored with Tom Prestigiacomo's talent. He, too, had been a WAKY groupie and talked his way into doing a weekend shift. I think the guy did six days of show prep for that one four-hour gig and it showed. He was engaging, local, personable and extremely relatable. So I held my breath, made one of those "trust me" pitches to Don Meyers and gave Tom the shot to do middays.
I never regretted it. He would do these charismatic things like going out in the middle of a snowstorm, help dig people out of ditches and, when they offered to pay him, simply give them his business card and ask them to listen.
Moody to Bailey, Coyote to Afternoons, Presto to Middays… all tidied up except 7-Midnight.
When we got the Spring Arbitron back, we noticed something odd - the Urban station, WLOU, a daytimer, was pulling these enormous double-digit numbers at night and they weren't even on! So, we got very wise, very quickly.
Knowing that ethnic diaries were weighted, that Louisville's ethnic audience was unserved at night, and that Disco was exploding, we flipped the night shift to "Rhythm 79" and hired Harry Lyles. Harry came to me through the suggestion of Randy Bell from JAM Productions. Harry grew up in Evansville in WAKY's shadow, was street-smart and music-smart. Being better looking than Billy Dee Williams didn't hurt, either. We floated him the name "Dirty Harry," let him talk a little trash around the Musique records and let nature take its course.
We were embraced by the ethnic community, we were riding the wave of a hot new culture and with Harry at the helm, nights skyrocketed to something like a 15 share.
Despite that giant shot-in-the-arm, the next book - Fall 1978 - was essentially flat, 12+, and still Top 3 or 4, 25-54. In retrospect, I'm not really sure what happened - whether it was sports on WHAS/WAVE, the in-roads that WQHI was making, me feeling my oats and making shoddy programming decisions or just the eleventh-hour for Top 40 AMs.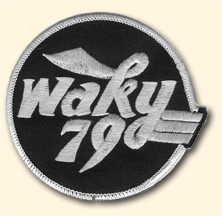 In November, WAKY started what I consider to be the beginning of the end. We had just just finished our production prep for WAKY's 21st birthday, created a new logo more befitting of the 80s than the "Man from U.N.C.L.E." font, and completed a killer new jingle set that featured Motown session singers with Earth Wind & Fire arrangements that Jonathan Wolfert did for us at JAM Creative Productions. But everything started to unravel when Don Meyers - the man who'd helmed the station during much of its heyday - was let go. Two months later, the day I came back from winning the "PD of the Year" award at the Southern Radio Conference, George Francis (Don's successor) let myself and the Sales Manager, Bob Meyer, go, plus re-hired George Burns. A week later, Coyote was out, Mike McVay was in and a new cycle begun.
George and Mike did the best they could to pump the place up. Added visibility, team-building, a new logo, the typical things a new team should do to reframe a station. And were it a different time or a different market, their efforts would've been more handsomely rewarded. But, Louisville was shifting from a local, insular feel to something more transparent and "me, too"-like in its quest to be just like Indianapolis or Nashville. WHAS was finally gaining ground as the full-service behemoth they'd be recognized for in the coming years, AOR was white-hot and pushing WLRS to the top and, only six months later, KJ-100 would come to town and set the town on its head.
After that, the station didn't see much light short of Bob Moody's great job flipping it to Oldies. The call letters were tossed out the window only to be picked up by a station in Greensburg, Kentucky and the various ownership changes flipped it from Sports to Talk and back again.
Losing the WAKY gig was a heartbreaker having grown up with it and sewing my heart and soul to the place. There were some great opportunities that came in its aftermath - Rick Sklar few me to L.A. for the KLOS gig, Bill Prettyman invited me to D.C. for the 'PGC post, etc. But none of those places really had a hometown feel like Louisville did. Luckily, Don Meyers had moved to Memphis and FM100 (WMC-FM) and it had everything Louisville did, radio-wise, plus its musical heritage and a chance to do my thing on FM gave me even more to work with. We had an even better run than we had at WAKY, spurred by bringing along cohort Tom Prestigiacomo who understood the culture we were trying to create. After that, it was off to KOPA/Phoenix as GM, my role in the Classic Hits/Classic Rock and Smooth Jazz formats as a consultant.
As my career grew, so did my understanding of the value that WAKY and Louisville Radio, in general, had across the Radio landscape. Through those doors walked people responsible for things like giving Rick Dees his start (George Williams), programming WLS in its wonderful "Rock of Chicago" period (Mike McCormick), the "E" TV network (Lee Masters) and others.
For 20 years, WAKY was one of Top 40's cornerstones and a guidepost for some of Radio's magic. For those of us lucky enough to make it to the payroll line, we should feel blessed. I know I do.
Gary Guthrie
May 2005