This page last updated Sunday, July 14, 2013
Good Times - WAKY's Direct Mail Newspaper
Former WAKY General Manager George Francis sent us a copy of "Good Times" a tabloid-type newspaper dated October/November 1980 that featured WAKY and its then-new FM sister station WVEZ. I asked George about the paper.
"The tabloid, we did it ourselves...much of it written by political consultant Terry Holland and his daughter Maureen...both later with Gannett Newspapers. The daughter, with USA Today, won some big award for her coverage and writing on SE Asia (I think) economics. All pretty good writers I thought.

"Remember the Bingham family not only owned our competition WHAS (and WAMZ), they owned both newspapers and the major TV station in Louisville...so we weren't gonna get too much play with that monopoly. To help over come this disadvantage, our concept was to tell our story without being too blatant at doing so...but non-the-less tooting our own horn...i.e. story on Bill Bailey and family and PTA...and WAKY News et al.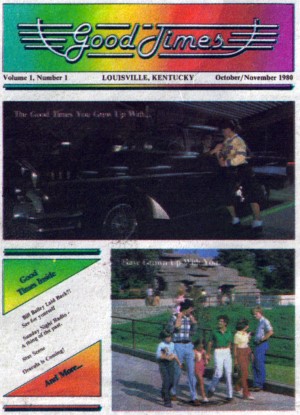 "We distributed it by direct mail to a very high percentage of the appropriate zip codes. Seems like we did more than one issue...but at this point I really can't remember for sure. We did a bunch of things overtly and otherwise to reposition WAKY from being a teeny-bopper station (which it hadn't been in years!) to a serious, but fun, full-service radio station. We had hired WHAS' News Director Glen Bastin. I had also replaced Gary Guthrie with Mike McVay, who came from 10Q in Los Angeles. Bob Moody was there and of course your Duke of Louisville. What a team!
"How many times has the 5kw/1kw WAKY beaten the 50kw clear channel WHAS in adults (and other demos) in the last 25-30 years? WAKY had about a 5 share when I got there and WHAS was fat and happy in double digits. We not only beat 'em and beat 'em bad. We did it more than once with very near 10 shares. Somewhere I have some great one-sheeters showing WAKY either #1 or #2 and our newly acquired FM, WVEZ #1 or #2 in every demo against cloud formations that looked like Moses had just gotten the tablets. We absolutely killed 'em! Our two stations owned every demo from 12+ up to and including 50+ !

"When I first went to WAKY, I was eventually able to get a handshake deal with Ed McLaughlin at ABC (he later helped launch Rush Limbaugh) in New York that if WAKY beat WHAS in certain demos, he'd cancel Paul Harvey on WHAS and put him on WAKY. We did and to Ed's credit, he did. Ed had refused to even meet with me until I started shipping him weekly letters attached to boxes of grits and other items.

"Obviously this was a big coup for us...adding prestige and credibility to the WAKY News department. It also was great PR locally and nationally to be able to tell potential advertisers that ABC had pulled Paul Harvey from WHAS and given him to us because WAKY reached more adults!

"Those were the good ole days when radio was a lot more fun than it has been lately.

"John, you may know that McVay went with me to Cleveland (where he still lives) to join Gannett's 50kw clear channel WWWE (3WE). Later I hired Bob Moody to program my first acquisition, KRMD-AM-FM (Shreveport, Louisiana) which we drove to a high 20s share and became the 7th highest rated radio station of any format in America."

WAKY 790 Weekly Program Guide Highlights
Monday-Friday
5:30 am-10:00 am 790 BILL BAILEY
"The Duke of Louisville" meets the dawn with irreverence, outrage, and music. News and traffic with Reed Yadon. Paul Harvey at 8:30.
10 am-Noon 790 MIKE McVAY
Malibu Mike slows the morning pace with mellow music and celebrity interviews. Wedensday from 10-11 psychic white witch Adonna Earth Spirit floats in.
Noon-4:00 pm 790 JACK PETREY
That voice! Where have you heard that voice before? How smooth can the afternoon be? Hear for yourself. Paul Harvey at 12:30. Race results too.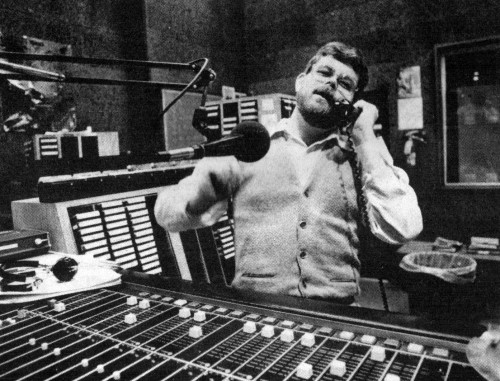 Bob Moody on WAKY in 1980
4:00 pm-7:00 pm 790 BOB MOODY
Moody eases you home with his friendly, funny style and music to match. News and Traffic Reports with Glen Bastin. Paul Harvey at 6:05. Race results throughout with summary at 6:28.
6:30 pm 790 HOWARD COSELL
Award-winning ABC Sports with one of the nation's best-informed sportscasters.
7:00 pm-Midnight 790 BRIAN CONN
Conn coasts through the evening hours with music, sports, conversation, and news updates.
12 Midnight-5:30 am 790 JOHN ASHTON
It's the next best thing to sleep. Music, trivia, and comedy albums make the night go away.
Saturday
5:30 am-10:00 am 790 BILL BAILEY
It may be Saturday to you, but to Bailey it's one more day in the barrel.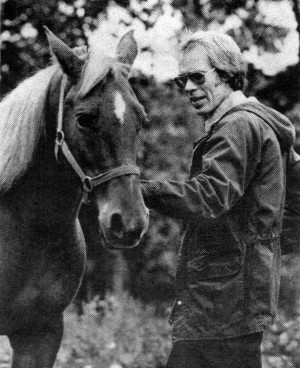 Jack Petrey and friend (1980)
10:00 am-3:00 pm 790 JACK PETREY
Petrey and his music are joined by Bill McQuage and Scoreline at 1:45.
3:00 pm-7:00 pm 790 MIKE McVAY
McVay on Saturday. Relax and keep in touch with the world of sports through McQuage's Scoreline.
7:00 pm-Midnight 790 BRIAN CONN
Brian takes over the "Glass booth" to bring you smooth tunes, scores and news.
Sunday
12 Midnight-7:00 am 790 JOHN ASHTON
The "loneliest night of the week" passes smoothly by with John Ashton and his music.
9:00 am-10:00 am 790 ROBERT W. MORGAN SPECIAL OF THE WEEK
An up-to-date show featuring insights of top performing artists in the music industry.
10:00 am-2:00 pm 790 AMERICAN TOP 40 with CASEY KASEM
This is it! The best of the week is reviewed and replayed.
2:00 pm-8:00 pm 790 JOHN ASHTON
John cruises through Sunday afternoon with music, news, and sports.
8:00 pm-12 Midnight FOURTH STREET SUNDAY NIGHT WITH BOB MOODY
Moody is in the mood for nostalgia and the result is one-of-a-kind radio.
The Duke of Louisville takes up PTA and puttering around the house. Who gets the credit? Wife number 6 or Father Time?
Sooner or later it had to happen.

A slip once or twice and nobody seemed to notice: taking a family vacation to the beach, showing up on time for dinner. Well, maybe he didn't feel like putting up with a fight from his wife.

But it wasn't for the sake of an argument that Bill Bailey attended his first elementary school PTA meeting last year -- he really wanted to go.

The "Duke of Louisville" -- skirt chaser, beer guzzler and pool hustler -- a family man?

Say it ain't so, Bailey! Have you gone soft like the rest of us?

"I'm quite sure that I have," said Bailey recently. "I think my lifestyle has changed a lot in the last couple of years. I spend a lot of time with my family. I cook every once in a while. I go to PTA meetings. I just feel like I want to."

What about all those on-the air barbs about the wife with two heads, the kids you'd like to put up for adoption?

"Well, I still my like my kids 'boiled in oil,' he said in his best W.C. Fields voice.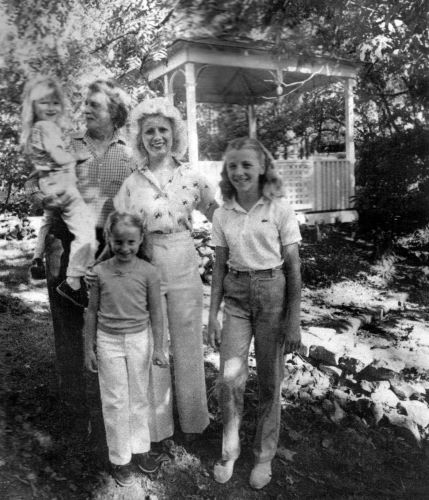 The Baileys at home in front of the gazebo the Duke built. He got
stranded on the roof. From left: Jennifer, Bill, Faith, Peggy, and Shelly.
Bailey won't admit his age. Like all of us, he's growing older and beginning to mellow. He still enjoys a pleasant diversion, still barks more than his share.

But the Duke has changed. After six wives, four kids and an ulcer or two, Bailey has decided to settle down. He spends a lot of time at his home in Hollow Creek these days, mostly to admire the extensive remodeling work he's completed there.

"I like to dabble with things. It's good therapy," he said. "I like to trim out my house. I've put fluted molding around the doorways, a suspended ceiling in the game room and fluorescent lighting all over. I've poured a lot of time and money into that sucker."

Outside the house Bailey has constructed a turn-of-the-century gazebo under a grove of maple trees. The setting reminds you of one of those 1940 MGM "Boy Meets Girl…" romances.

"It took the whole summer to complete two years ago. I made all the latticework myself and had to pour 2,000 pounds of concrete to set the gazebo in. And I shingled the roof, too. Man, is that a story," said Bailey, laughing at the memory.

"I'm afraid of heights, see? I got up on the roof one day and I just got paralyzed. I was afraid to move. I didn't sleep up there, but I wanted to.

"I finally got so mad at myself for being afraid that I jumped off," he said.

Bailey is the minority at home. He is the only man among four females: his wife, Peggy, and their daughters, Faith, 6, and Jennifer, 4, and Peggy's daughter by a previous marriage, Shelly, 12. Bailey also has a 15 year-old son, Erick, who lives with his mother in Idaho.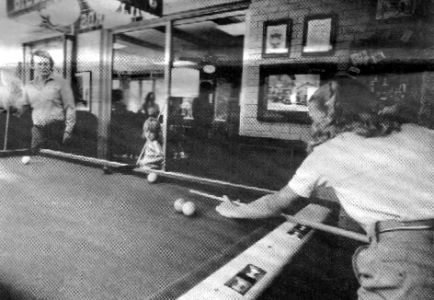 Shelly goes for the eight ball in the corner pocket.
Behind the eight ball the man of the house and Jennifer wait.
The roll of a parent is one which Bailey fills in his own way, just like everything else. One minute he is openly affectionate with his children and the next minute he jokes with them like old Army buddies. He is a blend of the old and new Bailey when he plays a game of pool with his three children, for instance.

"Let's chalk up, kid" he says to Faith in his gruff, need-a-cup-of-coffee voice.

"You've got three cue balls on the table," Peggy says from her position on the sidelines.

"Doesn't matter," Bailey says. "There's four cue balls shooting."

Shelly pockets four balls in succession.

"I've been robbed. We've got a hustler on the loose. Now I'm gonna show you miserable kids something. They don't call me 'Louisville Fats' for nothing," he says, shifting his cigarette to the other side of his mouth. "I get no respect from you kids."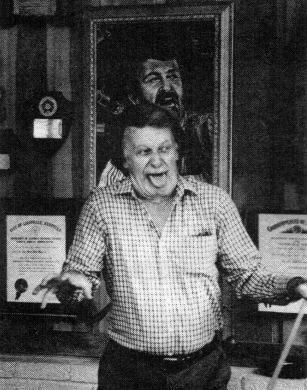 Now that's more like it, Bill!
Lest you think that the Duke has lost all of his spit, he said he still has a tendency to resort to his old habits, like oversleeping. He has the same enthusiasm for mornings as the rest of us.

"When you get up at 4:30 a.m. like I do, you don't feel like doing much of anything. Boy, it's something when I oversleep. My wife will call in the station and tell 'em I'm on my way. Hell, I'm not even in my trousers yet but it makes them feel better to think I'm coming in."

If you get a picture of a typical suburban husband oversleeping, and you can't quite fit Bill Bailey in the role…well, who could blame you?

-- Maureen Holland
Malibu Mike just can't stay away.
Don't say, "I told you so" -- even though you did. Don't tell Mike McVay that Louisville just gets in your blood, that someday you knew he'd come back -- and he did.

Oh, he may complain about the humidity that lingers with us six months out of the year. And he may threaten to dispatch Mt. St. Helen's Emergency Squad the next time a pollution alert is called.

But there's more to McVay's life than sunshine and beaches. "Louisville has two distinct assets that set it apart," he said. "First is the people. They're among he finest in the country. Friendly. Helpful. And interesting. And the second thing, well, maybe, it's all part of the same thing. It's the fascinating variety of cultures and lifestyles. Louisville is part Midwestern, part Southern, part Hoosier, part Kentucky. There's rural influence and urban influence. And all these different neighborhoods with their strong sense of identity. I don't think you'll find a city like this anywhere. I've fallen in love with it."

After three days at KBZT (K-Best) in San Diego, McVay quit and was immediately rehired at WAKY. Malibu Mike returned to the microphone on Monday through Friday from 10-noon and Saturday from 3-7 p.m.

"I miss the beaches but what's going on here is exciting. This is the best-run radio station in the country. It's fun to work here. Our audience is adult, intelligent and involved with community life. I'm just glad to be back among them."

Do you want to know the first song played upon returning from his three-day trial separation? "Reunited."

"We didn't want Mike to go," said WAKY General Manager George Francis, "I'm flattered that he's come back. He's got a unique feel for what we're doing and has had a lot to do with our success."
Rain or shine?
"Everybody talks about the weather but nobody ever does anything about it."

Abe Lincoln said that. Or was it Mark Twain? No matter, the point is made. It affects your wearing apparel, your means of transportation and, most of all, your disposition. You depend on accurate and specific weather information to help you plan every day.

That's where Accu-Weather comes in. And it comes on every hour on WAKY 790.

Since the beginning of 1979, Accu-Weather has kept the Louisville community informed of weather changes every hour of the day through every season of the year.

With 23 full-time meteorologists and the most advanced equipment, Accu-Weather can forecast Louisville's temperature changes precisely.

"In our office we have a complete supply of weather maps from all across the Western Hemisphere," said Dr. Joe Sobel, senior forecaster for Accu-Weather., "We use computer readouts and we receive satellite pictures every 15 minutes, 24 hours a day. We also can dial radar all across the country. This enables us to spot a morning storm in Oklahoma that may arrive in Louisville during the afternoon."

Dr. Sobel said that Louisville's peculiar weather makes it difficult to monitor rapid temperature variations.

"Louisville is a very difficult spot, in part because of the movement of the Ohio River, but also because it's directly in the path between the Great Lakes and the Gulf of Mexico. Very often a storm system will develop in the Plain States with very little precipitation, but when it hits the latent moisture in the Ohio Valley it dumps a foot of snow on the ground. And Louisville is at the end of the 'Tornado Alley' that begins in Oklahoma. That makes spring and summer months a real challenge."

What will the winter of 1980 be like?

"There'll be snow," said Sobel. "But I don't believe in long-range forecasting. It's not accurate."
Van-On-The Run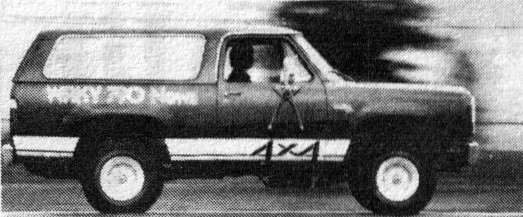 News travels fast in Kentuckiana. An explosion at a chemical plant, a multi-car expressway accident at the peak of rush hour, a Ku-Klux-Klan demonstration -- the news breaks every hour of the day.

It doesn't give you much notice. It doesn't lead with information. Getting the facts to bring you fast, accurate news requires a staff of aggressive broadcast journalists who will work until the job has been completed.

From the source to the typewriter to the on-the-air broadcasts, Glen Bastin and the news team at WAKY 790 work to inform you of the most important issues happening each day. As News Director, Bastin has made a commitment of excellence to the Louisville community.

"The test of our credibility here will be governed by events. When big news breaks, people scan their dial for facts: immediate, up-to-the-minute information, not state capsules that may be as old as thirty minutes or an hour. When it hits the next time, WAKY will cover it first and cover it bet. That's my commitment to my own reputation."
WAKY news reporter Betsy Lewis asks a question during a press conference called by the League of Women Voters to announce the cancellation of the Vice-Presidential debates in Louisville.

Bill McQuage receives a last-minute report on Governor Brown's press conference immediately before putting his news broadcast on the air.

A strike on the construction site at the Galleria project threatened to halt operations. WAKY News Team Director Glen Bastin and reporter Betsy Lewis went on the scene to get details.
Aaron Notar interrupted the regular program to inform the Louisville audience of a major gasoline explosion on the Ohio River at Paducah. The WAKY News Team covered the developments continuously.
Relief is apparent on the face of Reed Yadon. After a morning of reporting the news and dueling with the Duke, who wouldn't welcome the end of the shift?
Paul Harvey Joins WAKY News Team, Opens December 3
Chicago, Ill - Paul Harvey will bring his award-winning newscasts to WAKY radio in Louisville beginning December 3, 1980. Negotiations for the Harvey newscasts commitment were concluded today between the ABC Radio Network and George Francis, vice president and general manager of WAKY.

Harvey will be heard each day at 8:30 a.m., 12:30 p.m., and 6:05 p.m. on the Louisville radio AM station broadcasting at 790 on the dial. The broadcasts will also include "The Rest of the Story," Harvey's feature news segment in which the Chicago-based journalist explores the people and events that shape the news.

Paul Harvey has broadcast the news in his distinctive style -- "Hello Americans," he booms in his unmistakable baritone -- since 1944 when he began with WENR, the Chicago affiliate of ABC. Since 1951 he has beamed coast-to-coast on the ABC Radio Network and next year will mark 30 years of uninterrupted national newscasting.

Francis initiated the protracted negotiations out of a personal conviction that the WAKY adult-oriented, full service format plus the station's large middle-class audience would "give Paul the best of Louisville exposure and give our listeners the best of special feature national news." The WAKY News Department has been expanded to a seven-member staff during the past year under the direction of Glen Bastin and it ranks among the leaders in the Louisville market.
The Moody Road Leads You Home
You've had a rough day. You were late for a business appointment and didn't make the deadline and the coffee maker went on the blink. And now you're bumper to bumper in traffic. Will it ever end?
Don't panic. Let Bob Moody put you at ease. Turn your radio to WAKY 790 from 4 to 7 p.m. and listen to some "mood" music on your way home.
"We play a lot of oldies in the afternoon. A lot of people tell me they like to hear the music they grew up with and we try to give them that," said Moody.
"What I try to be is a companion to the people. Afternoon drive time is a rough spot for most people. I try to play the music they want to hear. I'll tell them a funny story, give them traffic and sports updates. I want to be low-key. My aim is to let people feel comfortable with me over a long period of time."
The three-hour Moody show is more than music and the man himself. On the hour and half-hour Glen Bastin and Aaron Notar bring news, traffic and Accu-Weather. They're joined by ABC Network News at 4:00, 5:00 and 6:00 and by Howard Cosell at 6:30.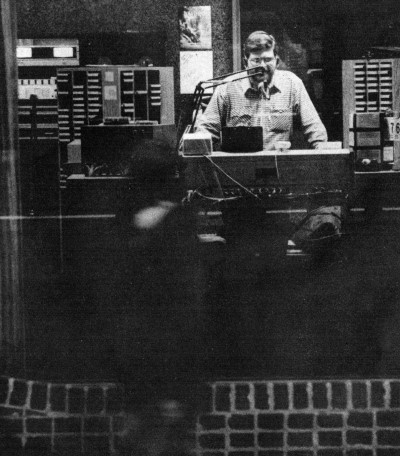 Bob Moody as seen from outside the WAKY studios in 1980
Moody also hosts WAKY's all oldies show "Fourth Street Saturday Night".
"This got started," Moody recalls, "when I went to the afternoon show. I asked to an oldies show on Sunday night and they said, 'Okay'."
Moody is a large, pleasant 29 year-old who has been "on-the-air" since he was 16. He marks the beginning of his interest in music to 1963 when Buddy Deane bought KOTN in Pine Bluff, Arkansas and started playing classics like Patty Page's "How Much Is That Doggy In The Window" and vintage Rosemary Clooney. Bob Moody, 13, was among the listeners.
"I started collecting records then. In 1967 I went on the air and played all these songs for several years.
"Many of the records I play are my own. I go for the ones that were hits, not Top 10 necessarily, but big enough that people remember them. It strikes a chord in their memory, takes them back. There are thousands of them. I put a lot of time into the show, getting ready, but I'm enjoying it so much it doesn't seem like work."
Star Scene Q & A
Q: I was listening to Jack Petrey's show on WAKY and I know I've heard his voice before. Didn't he once do a Volkswagen Commercial? J.M., Camp Taylor
A: You've got a good memory. WAKY afternoon announcer (12 noon - 4 p.m.) Jack Petrey was the voice in the Jim Boone Volkswagen commercial aired several years ago. Petrey owned a Lexington advertising agency then and his deep, mellow voice was heard frequently on radio and television commercials.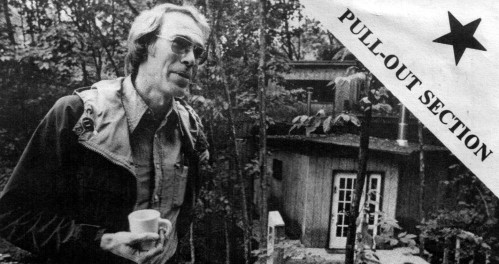 Jack Petrey at home
Petrey went into early retirement and built his own home on a farm in Anderson County. He grew a beard, let his hair fall to his shoulders, and started writing a book about the occult entitled The Other Side.
Petrey returned to broadcasting last year when George Francis, general manager of WAKY, convinced him to continue his relaxed lifestyle in Louisville as WAKY's afternoon announcer.
Star Scene asked Jack for his thoughts on working in the "glass booth" and he responded with humor.
"Much like the caged chimps who entertain themselves watching those who paid to get in the zoo, I find myself ogling at the incredibly varied montage of people from the free world. I can live with that, even enjoy it, as long as we only make faces at each other and nobody tries to throw peanuts in the booth."
Scores & Reports Live! Saturdays!
It happens every Saturday. The Sooners are knocking heads with Iowa and 'Bama is tusslin' with Arkansas and you're working or running errands and missing out on the action. Who wants to wait for the Sunday paper?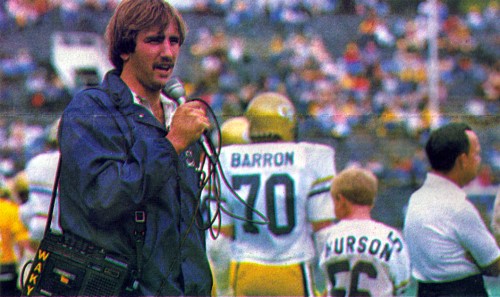 WAKY correspondent Jay Metcalf reports from Atlanta's Grant Field on the game in progress between
Georgia Tech and Memphis State. The WAKY Saturday Scoreline Sports Network is a coast-to-coast exclusive.
Well, things are different this football season. You can listen to reports of all the action by turning your radio dial to WAKY 790 each Saturday. WAKY's Bill McQuage will present live broadcasts of all the football highlights from the opening kickoffs to the final plays. McQuage has established a network of sports announcers covering every major gridiron clash throughout the country. From 1:45 to 6:15 each Saturday, McQuage and his team will bring you reports every 30 minutes. You'll hear interviews with coaches and players and get the fast-breaking news of major upsets.
Keep in touch with the action as it breaks, minute-to-minute. On the go or on the job, just tune in 790 AM and let McQuage do the rest.
American Top 40 with Casey Kasem
Want to know how your favorite new song is doing on the charts this week? Have you been wondering if that new song you've been hearing was recorded long ago by another artist?
Then tune in American Top 40 with Casey Kasem, each Sunday from 10 a.m. to 2 p.m. on WAKY 790.
Kasem not only plays the music, he tells you about it: interesting tidbits about the performers' lives and their roads to success. He's bubbly, informative, and he makes Sunday radio fun.
Sometimes Casey will revive something from the rock and roll archives like his segment called "The Greatest Disappearing Act of All Time." It concerns a singer named Joan Weber, who had a hit years ago with "Let Me Go Lover." Although the song was a smash hit, Casey said, no one could find her. "She was just a small-town girl who never wanted to be a star," said Kasem.
Witch Way, McVay?
It isn't every day you get to talk to a white witch on the radio, ask her to use her psychic powers to look into your personal problems for solutions and guidance. No, it isn't every day. It's every Wednesday, from 10 to 11 a.m. on WAKY 790 during the Mike McVay Show. The strangr lady's name is Lynn Gladhill a/ka/ Adonna Earth Spirit and she visits McVay in person and you across the mystic air waves weekly on Wednesdays.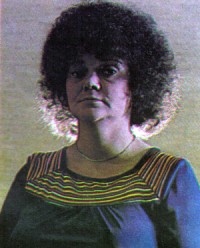 Lynn (or Adonna -- and so far as we're concerned, the choice is entirely up to her) has a strong connection with the spirit of Elvis Presley. She has conducted séances at Graceland as the guest of Vernon Dee Presley during which (witch?) the singer's sprit returned and begged her to reveal that he was actually murdered (!) by the substitution of a deadly drug in a bottle he thought to contain Demerol. The psychic gave birth to a daughter on September 5, 1978 which she named Presley Lynn. Less than two months later the baby died. "She's with Elvis now. He took her," says Adonna.
She also claims that Lee Harvey Oswald is alive in Russia and that Robert F. Kennedy, Jr. is destined for the office that Oswald's bullets took from his uncle.
But, lest you tremble, know that Lynn has emerged from the power of Satan that once held her in his evil grip and has returned to the way of the Lord. If all this makes you a little uneasy, think about poor McVay. "When I'm in the studio with her," Mike says, "I feel she sees all the way through me to the other side." The Other Side?!
Howard Cosell: Just another pretty face...
He's brash, often annoying, and he never knows when to stop talking. But when it comes to sports commentary, there is no one like him. At one time in his career Howard Cosell has rubbed elbows with every major sports personality and covered every major event. He's taken jabs at Ali, hurled rackets with Connors and pranced with Spectacular Bid.
His sports commentaries -- witty, personal, and always original -- are heard daily on WAKY 790 Monday through Friday at 6:30 p.m. Cosell present a behind-the-scenes analysis of who's who and what's what in the world of sports. It's called "Speaking of Sports."
Don't miss it.
PSST! "I got a horse right here...."
They're off! Even if you're cooped up in the plant all day, you can feel like you're spending a day at the track. WAKY 790 will broadcast the results of each race during the fall meets at Keeneland and Churchill Downs. WAKY will bring the results and prices immediately following each race everyday and in summary each evening at 6:28.