The WAKY 1958-1970 Screen Saver is a free 32-bit slideshow-style screen saver for PCs running Windows 95, Windows 98, Windows NT4, Windows 2000, Windows Me, Windows XP, and Windows Server 2003.

It rotates over 50 captioned photos taken between 1958 and 1970 at Top 40 radio station WAKY in Louisville. Images came from the Photo and Survey pages of this Website.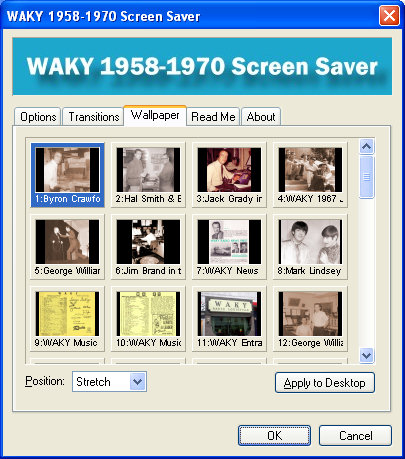 The features of the WAKY 1958-1970 Screen Saver include:
A user interface that's designed to be attractive, intuitive, and easy to use.

The ability to select any image in the screen saver as wallpaper, and immediately apply it to the desktop.

The ability to select any combination of over 50 transition effects. If you don't like an effect, they can turn it off. Effects can be set to high, normal, or low priority.

Over a dozen other options such as the abilities to set the delay between images, the order the images are displayed, the image size, and font and caption customization.
After downloading the .zip file (6194 KB) unzip it and double-click on Setup.exe to install.

This screen saver may be freely distributed but not sold.