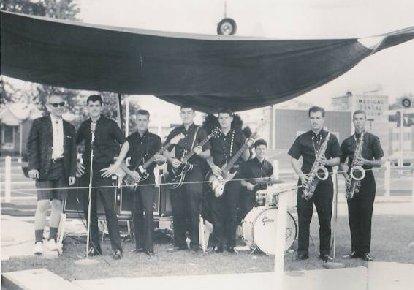 I'm Ronnie Brown, native Louisvillian, St. Xavier class of '60. This is a photo of my band from the WAKY days, The Uniques. This photo was shot at the old Putt Putt Golf on Bardstown Road circa 62-63. L to R: Jerry Barr, WAKY DJ, Kenny Sanders, vocals, Skip Watkins and yours truly, guitars, Don Churchman, Bass, Benny Devine, Drums, Jimmy Eversole and Danny Brewer, Saxes. Here's the story of The Uniques and our association with WAKY:

During the early '60s and era of the Louisville bands, The Sultans, The Epics, The Monarchs, Cosmo and the Counts, The Carnations and The Tren-Dells all controlled the East End of the town. The Uniques were a bunch of blue collar kids from Preston Street, Fern Creek, Valley Station and Shivley. We did blues and R&B, James Brown, Bobby Blues Bland, and we cooked!
Jack Sanders ("It's time for the tail light trimmin', radiator rammin', goin' home edition of the Jumpin' Jack Sanders show on WAKY") was looking around for a talented relatively unknown Louisville band to record a song called "Face Of A Fool" he'd written and a band he could get behind to promote both them and his song. He heard about us. We auditioned for him in '62 and the next thing we knew we were at Sure Fire Records in Mussel Shoals, Alabama recording Jumpin' Jack's song. It came out great. Jack had us record under the name Kenny and the Classmates with the Classics. Kenny is Kenny Sanders, The Uniques are the Classics, and the four girl background singers Jack added are the Classmates. Heck, we didn't care what Ed Sullivan called us when he introduced us on his show.
We did a version of Little Richard's "Slippin' and Slidin'" for the B-side with four background girls singing. From that point on The Uniques became WAKY's in-house band of choice and the station got behind Jumpin' Jack and started running our record a bunch. Thus the Putt Putt promo in the photo.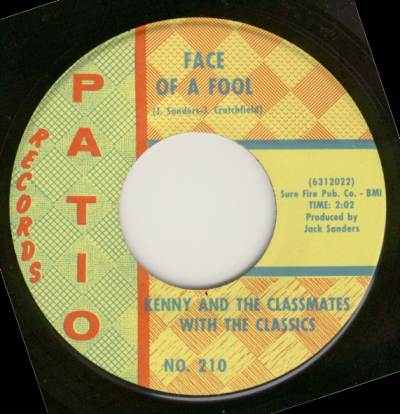 Download It!
2:02 - 961 KB - MP3 Format
As The Uniques, we did a record before this one of two instrumentals we wrote called "Cortez" and "Dog Tracks" made during the great surfing guitar instrumental craze of the early '60s. Jim Brand really liked "Cortez" and played it a lot.
When Jumpin' Jack started pushing "Face of A Fool" in the Fall of '63, he got The Uniques [aka "Kenny and the Classmates with the Classics"] the opening spot at the annual Marine Corps Toys for Tots show at Freedom Hall, our big public concert debut of the record. The sound was run by Allen and Martin, the two leaders of the Carnations and the Tren-Dells. The competition to control the music in Louisville and keep those bands West of Preston Street out of the East End, which was controlled by the Joni agency (owned by DJ Gene Snyder and named after his daughter) was so serious, that they ruined our sound and we couldn't be heard and/or was garbled so they torpedoed our performance while we were on stage. The audience either couldn't hear us or understand us. Jack was hot and got in Snyder's face pretty well I understand.
We played later at the Friday night FOP hop out in Okolona, but, were never successful cracking the East End market where the teen money was. We worked up and down Dixie Highway and finally landed a regular weekend gig at VFW Post 50 in Radcliff where we did 4 hours on Friday and Saturday nights. We did one set as The Bottles in wigs and did the Beatles' entire first album "Meet the Beatles" -- what a hit! The place was packed every weekend mostly due to the draft and Fort Knox filling up with draftees during the war build up.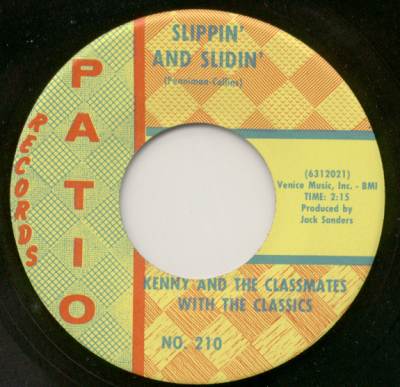 My favorite WAKY story involved DJ Jim Brand who had independently contracted with a group out of California called Randy and the Rainbows to come to Elizabethtown for a fall high school dance. Randy had top 40 song then called "Denise." ("Oh, Denise, scooby doo, I'm in love with you Denise, scooby doo..."). Just before the weekend they called Brand and canceled out of the contract because school was starting in California and they had to go back. Brand, in a panic, called on The Uniques. We showed up at E'town high school that weekend as Randy and The Rainbows, sang "Denise" one time, then rocked on with our stuff.
Shortly thereafter, Jumpin' Jack got into some heavy trouble over some hanky panky with younger women and was [A] fired from WAKY and [B] immediately left town. WAKY destroyed, erased, evaporated and otherwise totally obliterated anything remotely connected with Jumpin' Jack and the scandal. This included The Uniques record and anything having to do with us, even though we were just a bunch of kids with a lot of talent and never saw Jack except strictly on business. Our record went in the trash along with any hopes of stardom.
Several pretty well-known performers sat in with us while they were stationed at Knox including Frankie "Sea Cruise" Ford and two twin fellows who sang folk type songs and were later regulars on Hee Haw. We did this up to May of '64 when a little thing called "Nam" heated up and Uncle Sammy decided he couldn't get along without most of The Uniques. The last time we played together as a group was May '64...until July 2004, 40 years later, when I found the guys were still in town, still alive (mostly) and got us back together. We just played PRP's 40th reunion dance at Executive Inn and are playing in June in Valley Station with The Epics in an outdoor free charity concert at the Valley Dairy Freeze to benefit Officer Peter Grignon's family.
One evening around '65 or '66, I was watching a variety TV show from California with that new group The Mamas and The Papas doing their hit "Monday, Monday." The camera panned around the audience and there in the front row was Jumpin' Jack Sanders. Just another fan. That's the last time I ever saw him. (Anyone remember Jumpin' Jack locking himself in his booth at WAKY and playing "The Mummy" continuously until he got a pay raise?)
They were great times. I guess all times are great when you're young and your whole life is still ahead of you. The Uniques are a very lucky bunch of guys. We're still all above ground and can still make the music, baby! The second we rip into "Rockin' Pneumonia" or "Sea Cruise," the years melt away and we become those youngsters again.
There's a P.S. to this tale: our sax player, Danny Brewer, would up marrying Paul Cowley's (of WKLO fame) ex-wife, Jeanette. Remember "Ice down the Coke, Jeanette, I'm comin' home?"
Thanks for the great website and thanks WAKY and WKLO (and WLOU) for the great times.
-- Ronnie Brown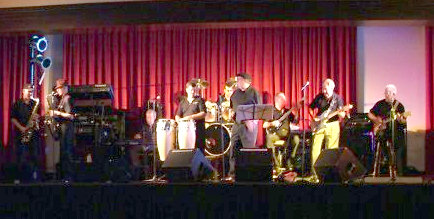 The Uniques at the Galt House on November 12, 2005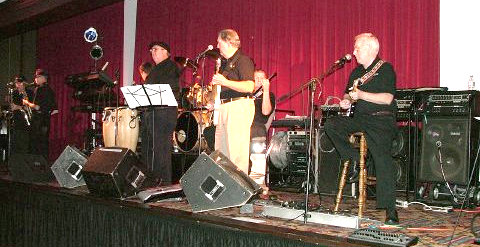 The Uniques at the Galt House on November 12, 2005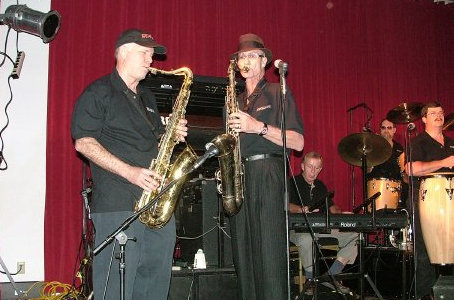 The Uniques at the Galt House on November 12, 2005