79WAKY.com is delighted to announce our newest CD collection: "The Best of 79WAKY.com"!

We've lovingly assembled the "crème of the crop" of WAKY airchecks and audio interviews from the 79WAKY.com archives onto five 79-minute audio CDs.
Unlike the online audio we've had to downsample for online presentation, The Best of 79WAKY.com is mastered in compact disc fidelity using the best source material available. Many of the airchecks included are "right off the board" or "right off the air monitor" quality.
Each non-stop CD is narrated by John Quincy and fully produced with era-specific music and authentic WAKY jingles, similar to Bill Bailey Tribute and WAKY Remembered CDs.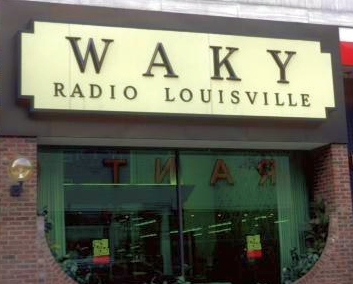 The Best of 79WAKY.com is perfect for WAKY fans who...
don't have Internet access

want to enjoy memories of the original 790 WAKY while driving around in their car or are at another location away from their computer

are looking for a gift for a friend or family member with fond memories of listening to the original WAKY

want to have a tangible piece of WAKY history

would like to support our efforts to keep the 790 WAKY memories alive online

Listen to a scoped demo of CD Number 1
(6:45)
What's On The Best of 79WAKY.com?
CD Number 1
Tim Tyler (1966), Weird Beard (1970), 1973 WAKY DJ Composite* #1, Bob Moody's first day at WAKY (1976), Gary Burbank interview

CD Number 2
George Williams (1963), Skinny Bobby Harper (1969), Dude Walker's last WAKY show (1973), Lee Masters interview

CD Number 3
Richard Nixon visit coverage (1960), Farrell Smith (1967), Gary Burbank (1969), Tom Prestigiacomo (1979), 1982 WAKY DJ Composite*, Tom Dooley interview
CD Number 4
Tom Perry (1960), Weird Beard (1969) Mason Lee Dixon's last show (1972), Tom Maxedon's last WAKY newscast (1972), 1973 WAKY DJ Composite* #2, Hal Smith interview
CD Number 5
Bill Crisp (1967), Ken Douglas (1967), Bob Watson newscast (1969), Skinny Bobby Harper (1970), Coyote Calhoun interview, Last moments of WAKY (1986) with Johnny Randolph, Joe Elliott, Gary Clark and others
*Each DJ composite consists of airchecks of several WAKY disc jockeys back-to-back with original narration.
Each audio CD contains 79 minutes of fun-lovin' WAKY goodness!
If you'd rather pay via check or money order, the address is:
Ted Tatman
107 Cannonsmill Lane
Summerville, SC 29485
All proceeds go to support our ongoing efforts in keeping the WAKY memories alive.