Why do you so fondly remember the station? After all, it was just a radio station...right?
It was a part of "me" - I was of the transistor radio generation and I remember have a really cool radio with earphones. Talking about the DJs' conversation out you on the "inside." The songs were played frequently, which allowed me to learn the words well - another sign of "coolness." The very definition of cool for me was hanging out at Clarksville pool in the summertime - laying on a towel with my transistor tuned to 79!
Do you remember when you first became aware of WAKY?
I think it was in middle school. I do recall liking WAKY because they played a lot of Partridge Family and Bobby Sherman.

What was so appealing about the station?
I loved the DJ's and the fact that I could tune in anytime and hear something I knew and liked. I remember when I was a bit older listening to Bill Bailey in the morning. In the days before iPods and ear-buds, I could put my transistor under my pillow and fall asleep to WAKY!

Did you regularly listen to WKLO (or any other Louisville station)?
NO - NO - NO. I was only a WAKY listener.

Who was your favorite WAKY air personalities?
Coyote Calhoun! I suppose since I now teach with Mike Wascher, I should say Bill Graham. I do remember Bill Bailey and Reed Yadon, but I always LOVED Coyote Calhoun.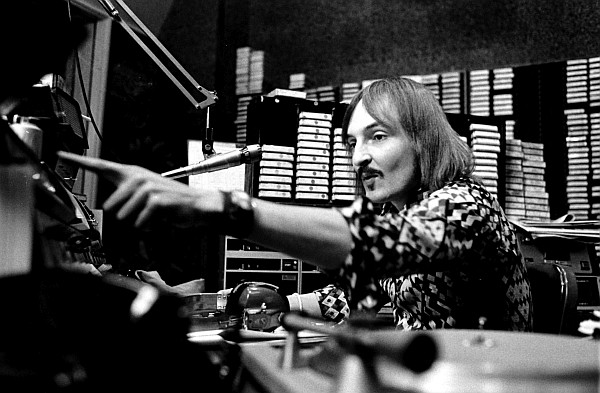 Coyote Calhoun
Do you remember any particular WAKY outside promotions -- events that happened away from the station?
I remember going to a basketball game where 'KLO DJ's played WAKY DJ's. I think it might have been at Jeffersonville High School, but I don't recall where. It was the place to be "seen" - THAT'S what I remember! I also remember WAKY's Haunted House.

When I think back on those days - it was a sort of a "coming of age" drama in which WAKY radio was a star player. While I don't remember, in great detail, specific things. I DO know that being a teen in the Louisville/Southern Indiana area meant WAKY radio - at least in my peer group. The DJ's were the adult players who could be trusted to not embarrass those of us who would prefer not to listen to parents! At a time when we didn't trust anyone over 30 - guys like Coyote Calhoun were ageless.
I remember well listening to Three Dog Night's "Joy to the World." I LOVED THAT SONG!! And WAKY played it often! Also, while nearly all of my peers were trying hard to be too cool for "bubblegum" music, WAKY allowed me to listen and like guys like David Cassidy, Bobby Sherman and Donny Osmond. It was a sort of "unintentional listening" - if it was on the radio, and you happened to be tuned in, you were "forced" to listen. (Don't you just love teenaged rationalization??!!)
If I hear (sadly, this type of music is lost today) "I Think I Love You," I am immediately back in Clarksville with my room plastered in David Cassidy posters. Hearing The Monkees takes me back to sleepovers at my friend Celine's house, where we used to sneak into her older sister's room to steal Davy Jones trading cards! (When I think of that music and those songs, I lament that a genre of music appears to be lost.) While WAKY radio didn't drive that psychedelic bus, it was always waiting comfortably at the next stop!

You know, what's really funny is that I use music from the '60s and '70s to teach literature and literary devices: symbolism, metaphor, foreshadowing, etc. My students love Wednesdays - they get to listen to "when music was music." (There's a good deal of obligatory eye-rolling, but they actually really seem to like it!) For students in this generation who get their info in 30 second sound bites - music is truly the universal language. I used to keep a radio on low in the background in my classroom but the Oldies station (it was safe, if you know what I mean) in Orlando is no more - Sure wish I had WAKY!