This page last updated Friday, January 29, 2016
Bill Bailey Page
For nearly 20 years, Bill Bailey ruled the morning airwaves at WAKY and other Louisville stations before ending his broadcast career in 1994 at WVLK in Lexington, Kentucky. On this page we've collected various articles and features about "the Duke of Louisville." Download Bill Bailey WAKY airchecks here.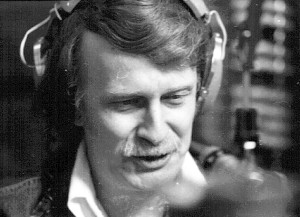 Bill Bailey passed away January 14, 2012. He was 81.
Bill Bailey Obituary
Boahn, William Clyde, "Bill Bailey" "The Duke of Louisville", a prominent Louisville radio personality, passed away peacefully on Saturday, January 14, 2012 at Norton Brownsboro Hospital at the age of 81.

He was born December 18, 1930 in New Bern, NC, the son of the late Jesse A. Boahn and Jessie Ketchum Boahn. For nearly 30 plus years Bill ruled the morning airwaves at WAKY radio and other Louisville radio stations before ending his career in broadcasting in 1994 at WVLK in Lexington.

Bill was an accomplished artist and found Peace through his art. At a very young age Bill developed a love for drawing and painting. You could put anything in front of him and he could draw it or paint it. During his time in Alaska in the Air Force he took up portrait painting and was very talented at outdoor scenery.

He was a loving father and grandfather, with a larger than life personality and a one of a kind sense of humor that he kept until the end.

He is preceded in death by a sister, Jessie Faye Skiles.

He is survived by a son, Erick Boahn; his daughters, Shelly Schultz (Steven) of Boca Raton, Faith Chapman (Shane) and Jennifer Boahn of Louisville; nine grandchildren, to include, Ariana Arroyo, Kayla, Kendall and Grant Chapman; two great-grandchildren and a brother, Charles (Joyce) Boahn of North Carolina.

The family would like to express their sincere gratitude to the staff at Friendship Manor for the love and care they gave for their father.

Funeral Services to honor Bill's life will be held at 6 p.m. Tuesday, January 17th at Pearson-Ratterman Bros. Funeral Home, 12900 Shelbyville Road, Middletown. Visitation will be from 11 a.m. to 6 p.m. at the funeral home.

In lieu of flowers, the family request that contributions be made to Kentucky/Southern Indiana Stroke Association, 3425 Stony Springs Circle, Suite #102, Louisville, KY 40220.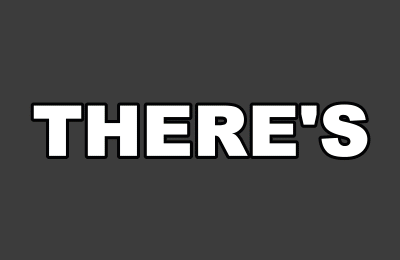 Louisville Magazine Article - September 20, 1967
Top DJ
By Virginia Delavan
They call him "The Duke of Louisville" but he's really more like the court jester.

Bill Bailey, a 36-year-old disc jockey for WKLO, knows how to make people laugh. And that's probably the secret of his success.

Sometimes Bill Bailey makes himself the butt of his jokes.

"Pay no attention to those extraneous noises," he advises his audience. "I just dropped one of my earrings."

Sometimes his target is a co-worker.

"Bob Henry is going on vacation at 11 o'clock," he reports. "I don't know what his plans are, but I have a feeling there's some trouble he wants to get in to."

Such "balderdash," as he terms it, has made the Bailey program a habit of thousands of listeners in this area. At the moment, he reports matter-of-factly, "I have the largest audience any disc jockey ever had in Louisville."

Recent ratings, compiled by firms that periodically quiz the listening public, credit the Bailey show with a whopping 32 per cent of the total audience in the peak listening hours between 7 and 9 a.m.

Local listeners aren't the only people who appreciate Bill Bailey. This year, WKLO was one of 20 stations in the U.S. and Canada cited by TV-Radio Mirror for outstanding local programming. WKLO received the award for the Bailey show.

Despite all this, the "duke" claims he turns some people off.

"I'm the poor man's version of Jack E. Leonard," he says. "When you first hear me on the air, you hate my guts. You think I'm a wiseacre. But I'm not, really."

The reaction may have something to do with his voice, which is purest city-slicker. He sounds as though he grew up on the sidewalks of New York. But in fact he has never lived in the Northeast at all.
| | |
| --- | --- |
| | WKLO's off-beat DJ Bill Bailey won for his station the 1967 Radio-TV Mirror Award for local programming. The morning he announced the award on his 6-10 show from the Walnut Street bird cage, his listeners were tuned in on a "phone conversation" with Daryl Zanuck: "Yes, Daryl, I'll think it over and get back to you. But don't call me...I'll call you." |
Bill Bailey was born William Clyde Boahn in New Bern, N.C., a town of about 15,000 on a river that flows into Pamlico Sound. He father died when Bill was three; his mother, 13 years later. The family, he says, was among the poorest in town and Bill was introduced early to hard work. At 15 he spent a summer as a "gandy dancer" digging grass from between railroad ties. At other times, in other places, he worked briefly as a janitor and as a "hay bucker" -- lifting and stacking heavy bales of hay.

Radio, he discovered at age 16, is a lot easier on the back. He got his first broadcasting job that year - on a New Bern station whose call letters he no longer remembers - and he's never abandoned radio for very long since.

When Bill Bailey graduated from high school, he left New Bern and enlisted in the Air Force, which assigned him to a communications outfit. Over the next five years, at bases in Oregon, Georgia and Alaska, he was schooled in the technical side of his trade.

At the time his hitch expired, he was in Anchorage -- "the Alaskan banana belt, where it only gets down to 40 below." He got a stop-gap job, sweeping floors in a bakery, and later became host to a country music show on KBYR called the Far North Jamboree. He called himself "Lou Collins" then because "it sounded a little more country."

In Alaska, Bill took up portrait painting and sold about 200 pictures, mostly of canine subjects. "People up there aren't too interested in having their portraits painted," he explains. "They want their dogs painted."

After three years as a civilian in the frozen north, Bill became restless and moved on. He drifted to towns in North Carolina, Texas (where he adopted the name "Bill Bailey"), Utah and Idaho, spending an average of about two years in each place.

He explains his wanderings thus: "I sit a chair at least four hours a day; I play records four hours a day; I look out on the same street and I say the same call letters. After about two years…it becomes a drag."

When he does settle down - and he thinks that day is not too far off - it probably will be as owner of a radio station in a place like Twin Falls or Burley, small Idaho towns where he has worked.

In Twin Falls, which he considers home, he met an expert horsewoman named Virginia Clausing and on April Fool's Day 1952, he married her. They have one child, year-old Erick, whom Bill Bailey proudly calls the "most beautiful kid in the world."

It was in October 1965 that his travels finally landed him in Louisville. Paradoxically, for a self-confessed "drifter," Bill Bailey hates to change jobs and was nervous about coming here. WKLO is a "Top 40" station, playing mainly rock 'n' roll, and he was afraid he wouldn't be acceptable because he is "not a typical Top 40 announcer."

"I talk," he explains, "and I don't sound as though I'm sitting on a tack all the time. If I decide to move on to something a little more subtle, I could do it and never have to change."

Disc jockeys at some Top 40 outlets are encouraged to say as little as they can, as fast as they can. The theory is that music, not talk, attracts listeners and boosts ratings.

DJ Bailey says he was tempted in the early '60s to leave the business, so strict were curbs on the "jock." "I had to sit behind a microphone and scream the time and temperature and the call letters of the station. And that was all I said."

All this is changing now, he feels, and more stations - including WKLO - are "trying to inject the human element."

"You've got to have the human element," he maintains. "Otherwise, it's just like a juke box. You put your money in, punch the buttons, and before you know it, the music's over and you haven't heard a note."

If he has the freedom to talk, Bill still has no say about the records he plays. A list of top tunes, called the "Kentuckiana Countdown," is drawn up weekly by station officials and, regardless of personal preference, that's what the disc jockey goes by.

Bill Bailey himself likes all kinds of music and lists as his favorite performers such varied types as Frank Sinatra, Vic Damone, Jim Reeves and Bobby Rydell.

"The first time I heard rock 'n' roll," he confesses, "I detested it. But the more I became involved, I realized it takes good musicians to turn out a good rock 'n' roll song." He has his share of teenage listeners - and teen fan clubs - but he claims he has an equal number who are 45-70.

"A few years ago, adults wouldn't listen to rock 'n' roll," he says. "Now 90 per cent do. I could name two professors at the University of Louisville who never miss my program. A lot of doctors listen to me, and attorneys."

A lot of disc jockeys play rock 'n' roll, too, but in Louisville there's only one "duke."

Louisville Times Article - July 11, 1969
Hired By Chicago Station
Bill Bailey Gets Big-Time Pact;
5-Year Contract Is for $300,000
Bill Bailey, one of Louisville's most popular radio announcers, has been hired by WLS-AM in Chicago at a salary that's "the biggest we've ever offered a new man," according to John Rook, WLS program director.
The contract guarantees Bailey a minimum $300,000 income over a five-year period, with the opportunity to make more if his ratings are strong. He leaves here July 25 and goes on-air in Chicago July 28.
The offer was made after WLS officials - who came to Louisville last week to listen to Bailey's 6 to 10 a.m. weekday show on WKLO-AM - decided "we had to have him," said Rook yesterday.
Bailey came to WKLO in October 1965. Since that time he has built up a listening audience that may outrank that of any other Louisville radio announcer. Recent ratings credit him with 32 per cent of the listening audience, eight percentage points above the nearest competitor.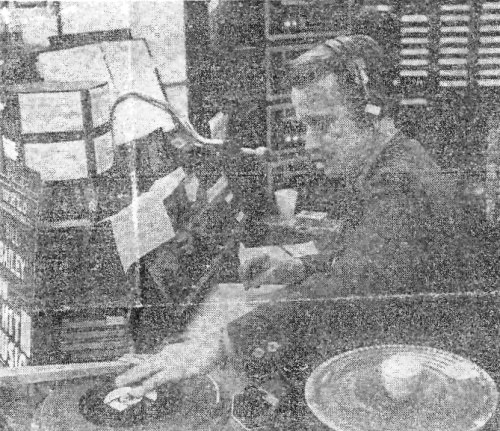 Bill Bailey spins a record on his morning show.
Going Big Time
His move to Chicago will place him in the big time - a 50,000 watt station in Chicago's metropolitan area. WKLO's power has been 10,000 watts since a short time ago.
Bailey's name had been known in Chicago broadcasting circles for some time, Rook said. "We had heard from various station in the Louisville market that they would like to see him out of there."
Last Wednesday, after winding up a business trip, Rook decided to stop by Louisville and sample Bailey's on-air style himself. He was impressed enough to call Gene Taylor, a WLS vice-president, to come to Louisville on the Fourth of July and listen.
Their decision was unanimous. Bailey is "one of the best morning men in the country," Rook said. "You never know what's he's going to say next."
The morning hours, especially 7 to 9 a.m., are a peak listening period for radio, and stations want a man with a strong audience attraction to put in that time period.
Bailey will continue his 6 to 10 a.m. schedule on WLS, replacing announcer Clark Weber, who had announced he was leaving before Bailey was hired.
The offer came as a surprise to Bailey, who did not know he was being studied by WLS officials. When he heard the size of the WLS offer, "I was a little stunned, frankly," he said yesterday.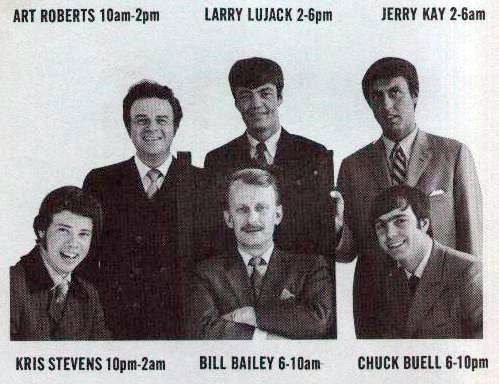 1969 WLS DJ lineup featuring Bill Bailey
One of Best-Paid
Bailey wouldn't reveal his salary here, but he is generally considered one of the best-paid announcers in Louisville. His Chicago salary, which starts at between $60,000 and $70,000 for the first year, is easily a "100 per cent increase" over his present pay, Bailey said.
Now 38, Bailey got his first broadcasting job at 16, and has announced for classical, country and rock 'n' roll music shows in his career. He was born William Clyde Boahn in New Bern, N.C.
His on-air voice and delivery are reminiscent of a carnival barker, and he frequently makes himself or his family the butt of his jokes.
Bailey's analysis of his success is that "I am a very strong personality. To a certain element of the audience I can be offensive, but I'm still interesting."
Rook's analysis is that Bailey is "believable," "real" and "human - somebody that doesn't sound like a disc jockey."

Louisville Courier-Journal & Times Magazine Article - December 16, 1973
An audience with the Duke
A Kentuckian Vignette
By Brian Woolley
William Clyde Boahn had just turned 16 and was clerking in a store in North Carolina when this guy came in. William Clyde approached him as he would any customer.

"Man, that's a big voice for a little fellow!" the guy said. "Did you ever think of becoming a radio announcer?"

"I don't even own a radio," William Clyde replied.

"Would you like to come out and audition?" the guy asked.

"Yeah, if I know what that word means," William Clyde said. "Yeah."

William Clyde took to the microphone like a duck taking to water, and he went to work for the radio station the next day.

Now fortyish, William Clyde, alias Bill Bailey, alias the Duke of Louisville, reigns with surly, cantankerous majesty over the 6-to-10 wake-up-and-commute track six mornings a week at WAKY, the self-styled "Super 79" on the city's radio dial. There, in tones as soothing and comforting as a wagon full of rocks rolling over a bumpy road, he plays what hits he can stomach, comments on the news of the day, tells the folks what kind of weather to expect when they step out the door, and fills them in on the latest thoughts, opinions and events in the life of the Duke. A lot of people think he's great, and get up early so as not to miss a single precious minute of his broadcast. Others screw up their faces at the mention of his name, call him "gross," "outrageous" and "pig," but listen to him anyway. He says he's Number One in his time slot, and he probably is. There's no doubt at all that he's Louisville's best-known disc jockey.

"Yeah, I get mail," he says. "That's unusual, too, for a radio personality to get mail. My employer gets complaint letters, which is fine. If you're going to be something other than background radio, there's got to be that dissident voice out there. The letters come when I take a stand on something. Most of the letters I receive - I don't know to describe them - well, the writer seems to be a little irrational when he sits downs to write. I raise their ire, man, and they let me know about it." He turns to the mike.

"Now, my friends, all you Sam Ervin fans out there. I want you to know there's an album on the market of old Sam. I'm not suggesting you buy it. As a matter of fact, I'm suggesting that you stay away from your record shops for awhile until they throw all those albums out…the album DOES exist, ladies and gentlemen, and we've got one locked up in a room in the back of the building here. Ervin on record…Can you imagine that? That guy's come a long, long way since before the Watergate hearings, right?"

His sandy, graying to-the-collar hair is tousled as he sits at the mike, fiddling with the dials, munching a glazed doughnut on a cold morning while the weak winter sunshine filters into the River City Mall, outside WAKY's plate-glass window. He was five minutes late this particular morning, because the heater on his car didn't operate properly. It's hard, when you have to get up at 4:45 a.m., to deal with a malfunctioning heater and still face the public in good spirits. The Duke doesn't even try.

"It's been a VERY enlightening morning. Somebody's been writing memos around here again. I'll read them to you verbatim so you'll know exactly what we have to go through here at the Super 79. Six-thirty. Thirty minutes after six o'clock. I'm trying to enjoy my coffee and eat a doughnut here this morning…If you have a scraper in the pocket of your car, you'd better get it out and use it this morning, because it's plenty cold out there…"

"Oh yeah, I ad lib everything," he says. "Many, many years ago, I prepared everything - one-liners, you know. Early in the morning, they just go over people's heads. People's minds just don't function that quickly early in the morning. I figure, you know, that if it takes me a little longer to work it up in my mind, then they'll be able to follow what I say. Adlibbing is the one forte I have in this business. There aren't too many people who do it today. I guess there never were many people who did it."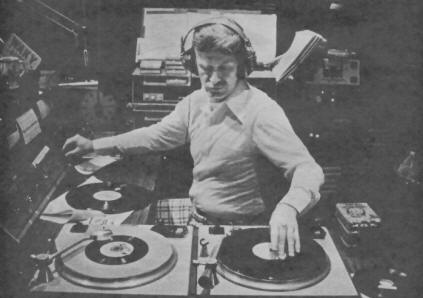 (With phony Irish brogue) "Had a delightful evening last. Yes I did. Watched a little TV. Nineteen minutes after six o'clock. It's going to be a nice day…I notice in the news that Gerald Ford hopes the President will not resign. I certainly hope so, too. I said so yesterday, did I not? There's no reason for him to resign, and he has certainly committed no crime for which he can be impeached. Stick in there, Richard, until it can all be proved!"

"People keep asking me why I've been so successful in this business. I think it's a matter of communication," he says. "There are so many people on radio and television today who talk at people instead of communicating with them. I think most of the audience out there who have listened to me for any length of time know exactly what the condition of my personal life is. They know I'm divorced. People are always reminding me of the time when my wife used to call in and talk with me on the air. My last wife, I should say. I don't try to hide anything. When I get upset, everybody knows it. I don't figure I'm developing any advantage by sitting here and grinning. I just don't figure that's going to pay off. If I play the part of a human being, it's going to be more effective, because I'm reaching out to other human beings. They know all about my problems, I tell all on the radio."

"Here's one of those memos I wanted to mention to you. It says right here: 'Jocks: Am getting reports that visitors are in the control room and the radio station at all hours, day and night. You know that I want no one in the control room at any time, and I want no one in this radio station at night, ever. Initial and fully understand.' It's signed, 'R.' That's John Randolph, the big R. He's our program director here. Somebody's been messing around with his authority."

He laughs. It's a harsh, bawdy laugh. Although he isn't large, he comes across as bearish, perhaps because of his deep, strong voice and shaggy mane. Sitting there with him among all that electronic gear, shoving aside the memos, cigarette butts, burnt matches, to find a spot for a plastic coffee cup, you get the feeling he's talking about more than the ratings and his survival as Number One.

"A long time ago, I decided that I had to be a human being before I could develop a following that was truly faithful to me. I want people to think of me as more than somebody who talks to them on the radio, you know. I like for them to feel close to me…"

"Gladys Knight and the Pips, hopping on that midnight train to Georgia. It's three minutes after seven o'clock at WAKY…"

Reed Yadon, the bright-eyed, baby-faced newscaster who shares Bailey's hours and serves as his straight man, pipes up on the intercom from the newsroom: "That's the one you're supposed to play for that girl out at the Luau Room. The other morning, she said she waited till seven o'clock, then got drunk."

"What's her name?"

"I don't know her name."

"Is she listening now?"

"Yeah, she's just getting off."

"She's the redhead."

"Yeah."

"Anyway, I decided I was going to be myself, just be a human being, you know, and hope that the listeners would develop a certain fondness for me, instead of thinking of me as just a mouth on the radio. That's the way it's worked out. I feel close to my audience, and I think most of them feel close to me. I can get away with anything. Of course, when I do something they're opposed to, right away, they let me know, which is fine. I figure if I can ask them to put up with me for one, two, three, four hour hours a day - and believe me, there are a lot of people who listen to the whole thing every morning - I figure if I've got nerve enough to ask them to do that, I should be willing to listen to their objections."

"The Duke of Louisville" is just so proud to be here! Honestly, I'm out of my mind with delight!"

"When did I become the Duke? Oh, God! Actually, to begin with, it was a psychological test. I believe in exuding confidence. I believe that a visible show of confidence will convince people. You've got to have confidence in yourself before anybody else will. I think the title has been invaluable to me."

"When did I become the Duke of Louisville, I've just been asked. I became the Duke of Louisville the day the doctor picked me up by the ankles and poked me on the po-po; that's when I became the Duke. At that time, I was the Duke of Winston, because I came about in Winston-Salem, North Carolina. Since that time, I have been the Duke of Raleigh; I have been the Duke of Greensboro: I have been the Duke of Anchorage; I have been the Duke of Seattle; I have been the Duke of Seattle; I have been the Duke of Twin Falls. I've been a shiftless, good-for-nothing, roaming rascal, haven't I? I have been the Duke of Houston. I have been the Duke of Twin Falls. I've been the Duke of Chicago. I have been the Duke of Louisville twice. No telling where it might end. You know, I'm thinking of giving myself a promotion. I'm tired of being the sick old Duke. The Pharaoh of Fern Creek…the Monarch of Maryville…the Prince of Posey Ridge…the Big Daddy of Baghdad…"

"I fell in love with Chicago, but I hated my job there. They gave me this five-year, $300,000 contract. Money's important, but it's not that important. If I can't be as happy with my work as I am right here, I'm simply ready to move. I guess I'm too sensitive. I simply can't function properly, or perform, you know, if my mind is heavy-laden with troubles. And they put so many restraints on me. They didn't want me to talk, you know. They wanted me to say what I had to say in 10 seconds, and most often they didn't approve of anything I said…It was such a damper on my spirit that I thought it was all over. After six months in Chicago, I was ready to get out of the game. I used to ask the program director, 'Why did you hire me? What are you paying me all this money for? Get yourself a nut off the street with no experience and pay him 150 bucks a week to come in and do it.'"

"We've got lots of money to give away today here at the Super 79. We're going to start giving it away in just a few minutes. We'll let you know when those call girls start making those calls…"

"You drink?" he asks. "Man, I thought I had a real problem. I was drinking so much because, damn, I got off work at 10 o'clock and had nothing to do till six o'clock the next morning. The doctor said, 'It's going to be rough, Baby, it's going to be rough.' I said, 'I believe it, I believe it.'"

"Eight-forty-four. Sixteen minutes before nine at WAKY. Somebody just asked me, 'Bill, how you doing? You still on the wagon?' Yep, and I'm working a lot, too. But I'll tell you one thing, the Duke of Louisville isn't going to die on the job. Nothing as embarrassing as that is going to happen to me."

"No, I don't miss the booze. It's just a matter of changing your living habits. You just got to find something else to do when you get off the job. I don't plan to stay on the wagon forever, but when I start drinking again, I want to make sure it's at a specified time, you know, like Friday night or Saturday. I firmly believe that's one of the big problems with this country - a serious problem - drinking."

Bailey and Yadon tell their audience a story about the Duke getting a little deep into his cups at a Christmas party once, and the Duke's wife hitting him in the back of the head.

"That was my favorite wife, out of five. It's unfortunate, you know, because I'm what you might term an unusually dedicated husband. Very attentive, very loving. Very faithful, too. I don't believe in infidelity in marriage, but, you know, when you're married to a jealous woman, there's no way in the world you're going to convince her of that…Actually, I play it to the hilt. When a pretty girl does by the window, man, I jump up and down, you know, and I'm very liberal with my comments and compliments. Wives just take it too seriously."

"Well, hello, Doll Baby! I tell you, things are picking up on the River City Mall this morning! Hoo boy! Things just went down again. The Duke of Louisville, in all his majesty, has another big old biggie for you!"

"Man, you really don't meet too many people these days who marry only once, you know? I honestly believe it has something to with the times. We're living in a very permissive society where the family unit has no real value anymore. Thank God, my youth has come to an end. People have asked me, 'If you had it to do all over again, what would you do?' I'd do the same old thing. Lord, I always feel sympathetic toward teenagers. I'd hate to have to go through my teenage years again. A lot of kids have come by here to interview me for their high school newspapers, you know. They all ask me the same question: 'What do you think is the greatest problem that teenagers have to face today?' I think they have to face a lot more problems that I had to face. I think that the permissive society that we live in is the greatest problem to them, because too many of them are growing up today with no real values. So many of them are growing up with no feeling of responsibility to themselves or to anyone else, and there's no one to take them by the hand and lead them. My dad died when I was three years old, and my mother died when I was just barely 16, so then I took off for Seattle, Portland, up that way. I didn't have anything to hold me in North Carolina. I had a very interesting boyhood. Because my family was so poor, I had an opportunity to learn a lot of things, you know, and develop a sense of responsibility to myself, anyway. I worked after school, on weekends and during the summers. All kinds of work. I was a sheet-metal worker, worked on the railroad, worked in a theater as an usher and also as a projectionist, worked as a clerk in a grocery store, also in a hardware store. God, I've done so many things…"

"Okay, there's a little redhead out at the Luau Room….I don't know the girl…Reed wants me to play a song for her. I already played the song she wants to hear, but I'll find something else suitable. Let's get with it!"

Yadon chimes in on the intercom again: "A lady just called up and said to tell you to hang in there, in reference to your remarks about the President."

A middle-aged guy in a dark overcoat, collar turned up, steps into the lobby and hangs around for awhile, until a receptionist shows up.

Bailey: "Who is that?"

Yadon: "I think he's casing the joint, William."

The guy leaves.

"I was scared there, Reed. A fellow walks in, looks around. I thought sure he was a process-server. I was wondering who wants me in court this time. The receptionist brings in an envelope the gent left. No, it's not a summons. It's a greeting card. A very nice greeting card, at that, sir. Your attention please. 'Wishing a beautiful day to one of the finest people I've ever been lucky enough to know…Bill and Reed, keep on truckin'.' Hey, man, that's real nice. We appreciate that…

"Can you imagine, Reed, that one of our listeners would believe that the Duke of Louisville would engage in a hazard? A listener calls up here, and he says to me, the Duke of Louisville, 'I have a tip for you, I have a horse for you that you can bet on,' thinking that the Duke of Louisville is going to pick up the telephone and call one of those - what are they called - bookies? Oh Reed! Do you think the Duke of Louisville will bet on a horse? Is a pig's rear end made out of pork? Yeah! Yeah! I'm going to bet on it, all right. It's 12-and-a-half minutes before 10 at WAKY!"

Exactly 12-and-a-half minutes later, he throws a switch and stands up. "Well, it wasn't much of a show. About the only thing we can say for it is, it lasted four hours. Thank God, it's over."

Louisville is awake now, and William Clyde Boahn has 20 hours to kill.


Courier-Journal Article - July 26, 1975
The Duke of Louisville
The radio voice and his beloved working 'slobs'
By John Flynn
Shooting from the gut and the gutter, 44-year-old Bill Bailey, every man's Brooklyn cabby, continues to reign as Louisville's legitimate radio superstar.

He is the Duke of Louisville, WAKY's 6-10 a.m. disc jockey. His stardom is gauged by the ratings in which he breaks the barometer month after month and year after year.

Nobody touches him in radio audience, attested to by his $45,000 a year salary, his audaciousness, his sandpapering attitude toward management, and his Muhammad Ali outlook toward his competitors.

"Off his latest ratings, he can reach approximately 275,000 listeners a week," said WAKY account executive Bob Meyer in explaining Bailey's influence. "He's also about the best salesman in town. In fact, before Bailey does ad-lib commercials on the air, a firm has to agree to do 13 weeks, so it's pretty easy to see why he's the Duke."

He talks to the middle class, both blue and white collar, with his growling, gravely-voiced outburst against welfare, taxes and whatever Bailey-style jerk may be in the White House at a given moment.

He prides himself on being Bill Bailey, the working slob's voice. He believes he says what his audience would like to say, over the airways, seldom apologizing, yet laughing all the way to the bank with corporate money.

He is a jumble of contradictions - six times married, five times divorced, brash, insulting, an upper-middle-class American who still finds the affection he yearns for among the working people who have booted him to the top of the heap and enjoy the show.

In bars, restaurants or wherever he wanders, the slots, as affectionately calls them, are lured to him, tipped off by his voice which sounds like a cross between Vince Lombardi and a bullfrog.

He enjoys the role of Duke of Louisville, the money and fame and the podium to tell his audience that he is nothing more than "a plant in the grass roots of America."

Ratings are somebody else's worry, certainly not the Duke's who began life as William Clyde Boahn in Newbern, N.C. "I quite worrying about the _________ ratings a long time ago because it's a forgone conclusion that I'm going to be Number 1," he said.

But there's more to Billy Bailey than a big mouth and a string of marriages. He feels as if he has earned the right to speak for the working slob - first as a teenager by supporting his mother, then by scratching his way through 30 different radio jobs until he was knighted by the ratings.

"It wasn't easy, pal," growled the Duke. "My father died when I was four, my mother passed away when I was 15 and I had to do a little bit of everything - including boxing until I got tired getting my brains beat out - to get along. I went on radio at the age of 15 and I ain't stopped working since."

He came to Louisville nine years ago to work for WKLO where he was told he never would earn more than $14,000 a year working in this city. But the ol' Duker," he said, "left town five years ago making $18,000 and returned in six months for $35,000."

He left Louisville for a job at WLS in Chicago - a little slice of heaven and a big chunk of money for disc jockeys. But Bailey, despite a $70,000 a year salary, couldn't take the hassle.

"The blankety-blank management of that station must have sandpapered me 50 times in those six months," he said. "But when the ratings came out I was Number 1, the first time in 20 years WLS had been Number 1 in the 6-to-10 time slot. I took the ratings into the office, threw them on the desk and quit.

"Then they asked me to stay - even gave me $1000 - and told me to visit my kid in Idaho. When I returned they asked me if I had changed my mind. I said, 'Hell no.' Then they wondered if I was going to take their thousand bucks and quit. I answered, 'Baby, I quit before I took your thousand bucks.'"

That's Bill Bailey, the corporate sandpaperer who hasn't changed a bit since he returned to Louisville, causing WAKY's cash registers to jingle but making that station pay the price for his stardom.

"Look at it this way," said the Duke. "The station does about $2 million a year and I turn about $900,000 for it with my show."

Recently he agreed to work Saturday mornings for a year, but only on the promise that the station would furnish his five-bedroom home.

"It'll cost them about $7,000," said Bailey, "Because the ol' Duker won't stand for no junk in his house."

"While most disc jockeys are devoured by the medium long before they turn 44 and grow a little paunchy and gray, Bailey keeps rolling.

Unlike Ali, he has no Joe Frazier on his horizon. He never has been beaten in the ratings game and he's sure that as long as he growls the public will listen.

"I have to be great," he said, "The silly music I play gets more sickening by the day but my ratings keep going up. They couldn't be listening to the music so they must be listening to me."

Louisville wakes up and goes to work with Bailey. To meet his audience he gets up at 4:30 every morning, the same as the working slobs. He's seldom late for work and is always turned on, the secret of a good morning, according to the Duke.

"To be successful in that time slot you have to turn on the moment your feet hit the floor like it was three in the afternoon."

Nobody turns it on like Bailey. He's always on, in fact, whether on the radio or off, in a feisty, insulting, yet funny and likeable way.

Having clawed his way to the top, he's as tough as the competition requires. The mere thought of someone bumping him off the throne brings out the fighter in him.

"Hell, man," he said, "I can sleep for a week on the air and then come up with something good and wow 'em again, because I've learned my job through hard work and can turn on more ________ than anyone can imagine anytime another jock starts closing in.

"Maybe I'll get bumped some day, but it won't be by some teeny-boppin' jock," he predicted. "It'll have to be a real personality, maybe someone I've trained. But more than likely I'll get threatened one of these days, then do the best damned radio show this town ever has heard and quit."

In quieter moments, however, Bailey refers to himself as a "tired old man looking for a little happiness and love, not a $50,000 a year salary.

"Peggy, the woman I'm married to now, has given me a little happiness," he said, "And I have all the good friends among radio people that being Number 1 will allow. There are some who don't like me but that's the few who can't stand defeat. But overall I've got the world by the tail."

But his audience needn't worry. He's not about to mellow. In fact, the thought sickens him in the best Bailey fashion. "Look at the things to be mad about," said the Duke. "For examples -

"The never wases and the mightbes who are taking over the radio industry.

"The fact my wife didn't have a lot of money.

"My three kids who can't jump a fence, who can't do nothin' but sit around and wait for the ol' man to leave them something except a heritage of corruption.

"The jerk in the White House. Gawd, man, there's always something to be mad about."

Rest easy, Louisville, the Duke's still dukin'.

Bill Bailey Live Broadcast Home Movie
One day in 1977 Bill Bailey and Reed Yadon originated the WAKY morning show from the home of contest winners J.K. and Doris Adams in Louisville. Luckily for us, this piece of broadcast history was captured on Super 8 film -- and was preserved until May, 2005 when it was converted into digital format. You see and hear the Duke and Reed have breakfast with the Adams and then do several breaks from the dining room table. If you're a Bill Bailey fan who's never had the honor of watching him in action, this is a "must see."
A great big Super 79 thank you to Swain Ottman of Shepherdsville, Kentucky who contributed the video to 79WAKY.com, as well as Bill and Linda Ottman of Louisville who paid for the format transfer. The cameraman and editor was Rusty Heaps.

Courier-Journal '70s Opinion Piece
Communication
Bullhorn Bailey Speaks
by Hadley Scottland
WAKY morning disk jockey Bill Bailey has become, in the furor over police wages, a snake in the grass on City Hall's lawn. A snake of miniscule proportions, considering the magnitude of governmental grapplings, but a nuisance nonetheless.

Bailey, a bit of a devil though by no means silver-tongued, took a vociferous stance on the side of the Fraternal Order of Police on his 6 to 10 a.m. show. With his grating voice, his flair for the outrageous, and his hefty ARBITRON ratings, Bailey made a lot of people wake up and take notice of the issue.

His detractors - and they are legion - say Bailey is obnoxious, misinformed, a turn-off.

FOP President Tom Denton is as eager to flout Bailey as the self-anointed Duke of Louisville is to take up the organization's cause. Says Denton. "If Bailey feels a certain way, he's going to talk about it.

"Along with other DJ's (among them Gary Burbank of WHAS and Joe Fletcher, who left WAVE in August), Bill Bailey is championing the cause of police officers on the issues of a pay raise and collective bargaining. We love them kind of DJ's. We just don't like people like Allen Bryan."

Allen Bryan, of course, is the city safety director who became a symbol of municipal recalcitrance during the dispute. Ironically, he is also Bailey's former second banana, having worked as a newscaster and straight man with the Duke when both were at WKLO in the '60s.

"An awful lot of things he (Bailey) says are irresponsible," says Bryan, "but I never noticed that would inhibit him." He does not elaborate on the charge and admits he doesn't listen to Bailey in the morning, but rather to WHAS or an FM station. "I worked with Bailey for four hours every morning for three years. That's more than anybody should have to listen to Bill Bailey," he explains.

Bryan says he feels "no responsibility" to respond to some of Bailey's comments. "If we did, we'd be calling WAKY every day, and that would only encourage more outlandish statements."

Mayor Harvey Sloane's press secretary, Joan Riehm, is of one mind with the safety director - with the exception that she does monitor Bailey every morning. "I would prefer he knew more what he was talking about, but I'm not going to argue with his opinion." she concurs.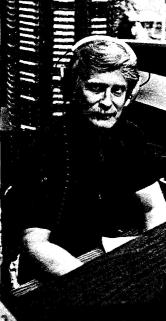 Bailey's not misinformed on the police case, insist the FOP's Denton and WAKY News Director Reed Yadon. While Denton has not personally discussed the wage issue with Bailey, Yadon, because he works the Bailey show and engages in some discussion with the Duke between newscasts, feels he is close enough to Bailey to call his bluff if need be. He concedes that Bailey knows only a limited amount on some subjects, but considers him "fairly well informed" on the cops-and-pols situation. "Bailey reads a tremendous amount - more than anybody would imagine," he says. "And a lot of his friends are policemen."

Because of Bailey's outspokenness on the issue, Yadon takes pains to maintain his own credibility as a newsman. Occasionally, Bailey ends a tirade about bussing or taxes or the police with, "Well, Reed, what do you think?" - whereupon Yadon finds a graceful out. The danger of being put on the spot goes with the territory, but both Bryan and Riehm hold the WAKY news department in high esteem. It's the adversary relationship between city government and the entertainer that pesters them.

That thin line between entertainment and editorializing is rarely tiptoed in Louisville. Not being a card-carrying member of the press, Bailey doesn't fit into that niche, and City Hallers don't treat him as though he does. Still, laments Riehm, "He should recognize that his opinion has considerable influence. This (wage dispute) is an issue of community concern, and he's in contact with the community. But we'd always prefer not to be in the adversary relationship with an entertainer."

Bryan is a little more terse: "It's irritating to deal with people who aren't held accountable for what they say." The Federal Communications Commission, which regulates the broadcast industry, has no objections to Bailey's fulmination as long as the station delivers the promised dose of news each hour.

As for Bailey, he's a bit blithe, plugging his position rather than philosophizing about his role in the civic hierarchy. He's a radio personality, he says, not merely a disk-spinner; nor does he exalt himself to the stature of a commentator like Paul Harvey. He's, well, a Bailey.

Even off the air, he passes up no opportunity to slip in a barb. He professes great respect for Bryan's competence and Sloane's projects, but in the next breath says, "If anyone's acting in an irresponsible manner, it's the city administration, and that includes the safety director." What follows is his oft-heard sermonette on city priorities and taxpayers' rights.

A more personal glimpse is provided at the end of a monologue about his five marriages and five divorces: "I guess you could say I'm a little hard to live with."

Enough said. Nobody ever said he wasn't a straight shooter.

Louisville Times Article - October 23, 1979
Sorry, Bill? Why?
WAKY Radio apologizes for Bailey's remarks
By Vince Staten
Louisville Times TV Critic
On behalf of WAKY 79 Radio (790-AM) and its employees, we publicly apologize for the statements made by Bill Bailey on Tuesday morning (between 5:30 a.m. and 10 a.m.), October 16, 1979, and on Thursday morning (between 5:30 a.m. and 10 a.m.) October 18, 1979. Mr. Bailey's views do not necessarily represent the view of WAKY 79 Radio, its employees or our company. - George R. Francis, Jr., General Manager, WAKY 79 Radio, Vice-Pres Multimedia Radio, Inc.

What did disc jockey Bill Bailey say that demanded a full-scale apology in the classified ads in Sunday's Courier-Journal and in yesterday's Times?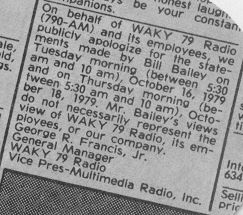 Even irregular listeners to Bailey's morning yammer-athon know that Bill Bailey is liable to say anything. That is his appeal. So surely it must have been something gosh-awful. A joke about the Pope? Queen Elizabeth II? Three of the Seven Dwarves? Or four of the Seven Dwarves?

George Francis, WAKY's general manager, declined to comment.

Bill Bailey, of course, never declines to comment.

"To tell you the truth, it (the newspaper ad) was a blanket apology. He (Francis) got several complaints for things I had said.

"I had stated that Bob Moody was here (at WAKY) under our rehabilitation-aid program.

"I said that the two-party system was ruining this country, that we needed more competition.

"I told a joke that I heard from a doctor over at Kupie's (a restaurant in downtown Louisville, near the radio station): 'There's good news in this morning's paper. The Polack boat people finally reached Vietnam.'"

Is that all? Isn't that just every-morning faire for Bailey?

The Polish joke is inexcusable, but the rest is just standard Bill Bailey. It's the kind of stuff that makes people want to listen to Bill Bailey.

The reason for the ad is that Bailey also made some comments about civil-rights leader Jesse Jackson and the Palestine Liberation Organization. A local resident has asked for equal time to respond to remarks.

WAKY will probably grant the equal-time request. But so what? That's what radio should occasionally deal with - controversy. There's more to life than "My Sharona."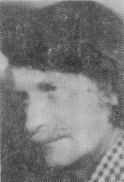 Bill Bailey, 1975
In an interview, Bailey said, "People are too damned sensitive. It's just a matter of trying to have a good time. Trying to entertain people. I'm not permitted a personal opinion. I can't mention John Y. Brown. I can't mention Louie Nunn. So I simply stay away from it."

Bill Bailey should not stay away from it. Of course, the things Bailey says don't "necessarily represent" the views of WAKY, its employees or the company. They don't necessarily represent my views, either.

But they are a damned sight more interesting to listen to than the 1,327th playing of "My Sharona."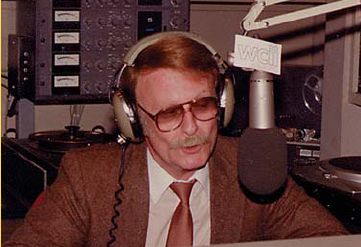 Bill Bailey at Louisville's WCII (the former WKLO) in the early 80s

(AP-KENTUCKY SPOT NEWS)

RADIO-TV

(BAILEY)

(LOUISVILLE)—ONE OF KENTUCKY'S BEST-KNOWN RADIO PERSONALITIES SAYS HE'S RETIRING FROM THE DISC JOCKEY BUSINESS, AT LEAST FOR THE TIME BEING.

BILL BAILEY TOLD HIS AUDIENCE ON W-A-K-Y IN LOUISVILLE YESTERDAY THAT HE'D BEEN GETTING UP EARLY TO REPORT TO WORK AT FIVE A-M FOR 30 YEARS. HE SAID IT WAS TIME TO "HANG IT UP." BAILEY SAID HE'D BEEN CONSIDERING THE MOVE FOR SEVERAL MONTHS.

BAILEY COMMANDED HIGH RATINGS FOR W-K-L-O IN LOUISVILLE FOR SEVERAL YEARS IN THE 60'S BEFORE LEAVING FOR W-L-S IN CHICAGO IN 1969. HE RETURNED TO LOUISVILLE A YEAR LATER AND JOINED W-A-K-Y. BUT IN 1981, BAILEY JUMPED TO W-C-I-I, WHICH HAD BEEN W-K-L-O BEFORE A CALL-LETTER AND PROGRAMMING CHANGE.

HE SPENT FOUR YEARS AT W-C-I-I PLAYING COUNTRY MUSIC, THEN RETURNED TO W-A-K-Y AND A GOLDEN OLDIES FORMAT.

BAILEY SAYS HE'S GOING TO PAINT SOME LANDSCAPES AND MAYBE DO A FEW RADIO AND T-V- COMMERCIALS. HE SAYS HE HASN'T RULED OUT A RETURN TO RADIO SOMEWHERE DOWN THE ROAD, SAYING (QUOTE) "I MAY GO OUT OF TOWN AND BUILD ANOTHER DYNASTY."

AP-LX-01-11-86 0840EST

From the Lexington Herald-Leader - October 10, 1989
WAKY "Golden Oldies" play it again
Radio voices from past fill the air
By Andrew Oppmann
Herald-Leader Staff Writer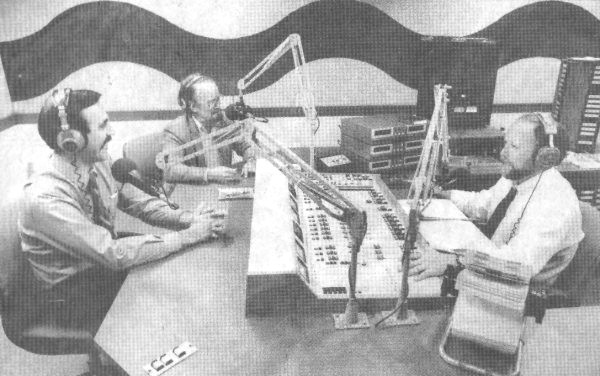 Former WAKY disc jockeys Johnny Randolph, left, and Bill Bailey, center, joined WVLK announcer Jack Pattie at a reunion of personalities from the legendary Louisville rock 'n' roll station.
Bill Bailey, the Duke of Louisville on the now-defunct WAKY radio station, was known for being unpredictable as an on-air personality. Yesterday, he lived up to his reputation.

During a reunion of WAKY disc jockeys on Jack Pattie's WVLK morning show, Bailey was a no-show. But just as Pattie signed off the air, Bailey appeared, out of breath, muttering something about car problems.

Pattie, living up to Bailey's standards, broke the rules and put him on the air anyway, stealing time from another WVLK disc jockey's show.

Pattie devoted the morning to remembering the old 5,000-watt AM station in Louisville, which built a national, off-the-wall reputation on rock 'n' roll. It signed on in summer 1958 by playing the song "Purple People Eater" repeatedly during a whole broadcast day.

Teenagers throughout Central Kentucky and Southern Indiana, as well as in Louisville, grew up with WAKY.

The station, which peaked in popularity in the late 1960s and early '70s, began to slip in the mid-'70s. It changed to a beautiful-music format in 1986 and surrendered its legendary call letters early last year. The spot at 790 on the dial is filled now with traditional country music, the result of another format change earlier this year.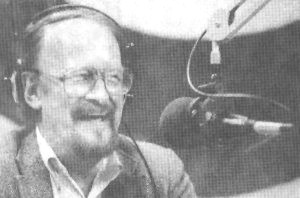 Car trouble caused Bailey, above, to be one hour late for the show yesterday.
It was extended so he could speak to listeners.
The gravel-voiced Bailey slipped on his headphones yesterday and immediately launched into a protracted excuse for his tardiness. "You, sirs, have been telling big, bold-faced lies about me," he said, having heard Pattie's show on his car radio.

Johnny Randolph, a former disc jockey and WAKY program director, rolled his eyes when his old colleague sat next to him.

"He was just as reliable during his 6 a.m. show on WAKY," Randolph, now manager and part owner of WKLO in Danville, said of Bailey. "I never turned on the radio at 6 a.m. I had to give him a few minutes to get to work."

But that was what Randolph wanted for WAKY's top morning show, which featured music ranging from the Beatles to the Mormon Tabernacle Choir.

"He told me, 'Bill, don't be predictable,'" said Bailey, 58, who worked as a disc jockey in Louisville until last summer.

"And that's what Johnny Cougar Mellencamp said about WAKY on the (Johnny) Carson show. He said he only listened to one station growing up - WAKY. They played everything." Mellencamp is a native of Southern Indiana.

Randolph attributed the station's success during the late '60s to its two top on-air people: Bailey and Gary Burbank, who joined Pattie's show through a telephone link.

Burbank, an afternoon disc jockey at WAKY from 1969 to 1973, is a disc jockey at WLW in Cincinnati and the voice behind the syndicated "Earl Pitts' America."

While Burbank was known for being extremely organized, Bailey was just the opposite. "The most preparation he did for a broadcast was turning on the mike," Randolph said. "We were all operating just under the guise of a format."

"We had a format," said Burbank. "We just couldn't find it."

That didn't matter to many of the former listeners who called during Pattie's show. "You were handed the ultimate compliment in a teenager's eyes," one caller told the ex-WAKY disc jockeys. "My parents said I couldn't listen to the station anymore."

"WAKY radio, during that time period, was the best radio station in the country," Randolph said. "I don't think anyone who heard us back then would disagree."
Webmaster's Note: After the great reaction to this broadcast, WVLK offered Bill Bailey the afternoon show. Bailey started a short time later and spent over four years at WVLK before wrapping up his radio career in 1994.

From the Lexington Herald-Leader - April 21, 1994
Lexington Radio Legend Signs Off After Four Decades of Stirring Up Airwaves
By Nancy Crane
After more than four decades on the air, Bill Bailey has hung up his headphones.
Bailey, the gravelly voiced afternoon disc jockey on WVLK-AM (590), spent his last day on the air yesterday playing songs and saying goodbye to his listeners - many of whom called the studio at Kincaid Towers to say they had listened to him for 20 years.
"It's nice to be remembered that way," said Bailey, 63. "A lot of people think they're insulting me when they say, 'I listened to you when I was growing up.' But they're not."
Bailey is a legend among some Kentuckians. People in their 30s, 40s and 50s remember Bailey as the "Duke of Louisville,"' an unpredictable and opinionated morning disc jockey who played rock 'n' roll on the now-defunct WAKY in the 1960s and 1970s.
"When I was a kid I used to listen to him," said Harold Browning, 48, an account executive at WVLK, where Bailey has worked since 1989. "To end up working at the same radio station with him is a dream come true."
Bailey started in radio as a teenager in North Carolina playing old 78s. His career took him to at least a dozen radio stations across the country - including one in Alaska - before he landed in Louisville in 1965.
Bailey's brash style- he once called police uniforms "pigskins" - attracted a large audience.
"He was the first one to push around politicians and make public officials shiver in their boots," said Terry Meiners, afternoon disc jockey on WHAS-AM (840) in Louisville, who hung around the WAKY studios as a youngster to watch Bailey work.
"Program directors were scared of Bill," said Johnny Randolph, Bailey's former boss at WAKY. "He borders on the edge...that scares them."
Bailey is just as irreverent in his personal life. He has been married six times and claims he can't remember the name of his second wife.
"A couple of those marriages were annulled. I was young," he said.
But Bailey is devoted to his four grown children - a son and three daughters - who live in Louisville. He said he will move there to be closer to them.
He also plans to spend a lot of time painting.
"I do have a love for painting pictures. I do landscapes, and I like oils. And I'll be happy to devote some time to that," Bailey said.
In addition to his age, Bailey says his health is a reason for his retirement.
"I have emphysema, and I am a smoker. And I suffer from hypertension...I certainly don't want to drop dead from a stroke on the air."
Although Bailey has no regrets about his decision to leave radio, he will miss it.
"It'll feel funny not getting up and going to the microphone every day. I've done it since I was 16."
WVLK program director Robert Lindsey says it won't be easy to replace Bailey.
"You don't really replace somebody like that," Lindsey said. "You find someone that can do the job. You're never going to find anyone who's going to be a Bill Bailey. He's unique."
While Lindsey looks for a new afternoon personality, part-timer Joe Thomas will fill the 2 p.m.-to-6 p.m. slot.
Bill Bailey not only raised a couple of generations of Kentuckians on rock `n' roll, he influenced other disc jockeys. Here's what some of them said:
Terry Meiners, afternoon disc jockey on WHAS-AM (840), Louisville: "I pretended to be him when I was a little kid. My brothers would laugh at me. Before school, I would play 45s on our little RCA record player and I would say 'I'm Bill Bailey, and I've spilled coffee all over my pants.'"
Gary Burbank, afternoon disc jockey on WLW-AM (700), Cincinnati, voice of the syndicated "Earl Pitts' America" and former Bailey colleague at WAKY: "Earl Pitts was heavily influenced by Bill Bailey. Earl is funny and witty, and you catch yourself agreeing with him, and then you smack yourself in the face and say this can't be right. Bailey is that way. Bill Bailey is the father of Earl Pitts, and I do want child support."
Jack Pattie, morning personality, WVLK-AM (590), Lexington: "I listened to him in high school...He's the greatest communicator I ever heard. He has the best handle on the language I ever heard. He just knew how to talk to people."

From the Kentucky State Senate - May 2, 1994
Mr. McCONNELL. Mr. President, I rise today to honor a Louisville and Kentucky legend. Bill Bailey, a radio personality for over 40 years, has decided to move on, retiring from his job at radio station WVLK in Lexington. Wednesday, April 20 was his last day on the air after entertaining generations of Kentuckians.

Bill Bailey got his start in North Carolina as a teenager. From there he worked in several States, including Alaska, before finally coming to Louisville in 1965. Long before America had heard of shock jocks, Bill Bailey was pushing the limits on his shows.

He was one of the first deejays to question what was considered to be normal. He spoofed local officials and politicians, earning him such descriptions as irreverent and brazen. In fact, in his early years his sometimes controversial sense of humor tended to scare some radio station program directors.

Bill Bailey's abrasive reputation did not preclude him from holding down the same time slot at Louisville's WAKY throughout the 1960's and 1970's. In fact, generations of Louisvillians, including myself, remember driving in to work and having difficulty seeing the traffic through the tears in our eyes caused by the laughter Bill Bailey's commentaries often provoked.

After 40 years of dedicated service to the profession he loves, Bill Bailey has decided to step down. After 30 years of working in the Louisville and Lexington area, those of us from Kentucky will never be able to forget him. We will remember him and we thank him for brightening our days.

Mr. President, I ask my colleagues to join me in wishing Bill Bailey a productive, happy, and healthy retirement.

Terry Meiners Pie Hole Article - October 6, 2004
COME HOME, BILL BAILEY
Legendary Louisville radio personality struggling after stroke
By Terry Meiners
Pewee Valley, Ky. --- His famous hearty laugh can be heard down the hallways at Friendship Manor, an assisted living home in Pewee Valley. But Bill Bailey, the most prominent Louisville radio personality ever, is laughing through steady pain. Today he is in physical therapy to regain the ability to walk. "I'll get there," he says assuredly. "I just want to get my strength back."
Bailey, whose real name is William Boahn, is recuperating from a May stroke and additional medical complications. But he still lights up a room with his magnanimous personality and his ability to tell a tale. Nursing staff members and other residents in the dining room were chuckling at Bailey's quips yesterday.
One attendant stopped by the table to ask if Bailey and I needed anything, he immediately came back with, "We'll take a couple of Yellowstones and Coke. I need a twist of lemon in mine."
The self-titled "Duke of Louisville" has lived more than nine lives. He was married four times, found trouble with alcohol and gambling, and eventually found peace in art. "I've got several paintings underway and I just want to get home and get them all finished," he said.
It will take a mighty miracle for him to finish his artwork. The stroke has left him immobile, gaunt, weary, and extremely weak. He has lost over 70 pounds and now weighs less than 100. Two attendants must lift him in and out of a wheelchair for any necessary mobility.
Bailey, 73, has been living with his daughter Jennifer and her family in a neighborhood near Friendship Manor. "If I don't like a meal here, I just call her and she brings me something more suited to my liking."
Bailey's stepdaughter Shelly is also a huge presence in his life. She popped in with a pot roast while Bailey and I visited yesterday. "She's a doll…an angel," said Bailey. "And so is Jennifer. I'm lucky to have such a wonderful family."
Stories of Bailey's wild days as the morning host on WKLO and WAKY radio stations are legendary in Louisville. Any Bailey recollection usually involves a bit of imbibing and a lot of bluster.
One morning on WAKY, Bailey bragged how he taught a local tough guy not to mess with The Duke of Louisville. The night before at a bowling alley, the tough guy was supposedly eyeballing Bailey's wife so he responded by "throwing that bowling ball so hard that it knocked over the ten pins, then had so much English on it that it rolled out the front door and jumped up to put a dent in that guy's car door."
Of course, the lecherous man in the story then slinked away into the night, never to threaten Bailey's love life again.
Bailey also kept Louisville audiences tickled by dressing down local elected officials. He would occasionally rib the mayor or county judge over some civic matter only for comedic fodder. "The trick to storytelling is to look at an ordinary event and circle around it over and over until you find a surprise entrance," he said yesterday.
When city officials completed a 1970s transformation of Fourth Street into a pedestrian plaza called The River City Mall, Bailey held a contest for listeners to guess which hour of the opening day "some old lady would be the first to get mugged."
City officials were none too pleased but the pedestrian-only mall proved to be a flawed concept that was largely ignored by Louisvillians. The only thing worth seeing on the abandoned strip was the showcase studio window to watch WAKY deejays work.
Johnny Randolph worked with Bailey at WKLO but was fired. He then switched to arch rival WAKY where he made it his mission to hurt WKLO's big ratings. Job One: Get Bailey hired in another town. In an interview with radio archivist John Quincy, Randolph said that he sent tapes everywhere, including WLS, a powerful hit radio station in Chicago.
Randolph succeeded. "We got him out of the market, because we couldn't get him for six months. So we figured he's gone forever. If we can't have him, we don't want the other guys in town to have him."
WLS program director John Rook says on his Web site that his morning man suddenly quit to work for another Chicago competitor, so he remembered a tape of "Kentucky's morning mayor, Bill Bailey of WAKY." Rook immediately flew to Louisville and checked into a hotel to turn on the radio and "audition" Bailey without his knowledge.
Awakening early so as not to miss the opening of Bailey's show, Rook recalled, "I waited to hear if my new WLS morning man was here. I was up and into my first cup of coffee before hearing his opening greetings, a loveable distinctive character, Arthur Godfrey with the voice of Elmer Fudd. He was entertaining, believable, imaginative, and certainly one to be remembered."
Goodbye Louisville, Hello Chicago. But only for a few uncomfortable months. Randolph continued his recollection in the Quincy interview, "I was listening to him (in Chicago) and could tell that he's not happy. Bailey does not respond well to heavy formatics."
Randolph, by now in charge of programming WAKY, brought The Duke of Louisville back home and was smart enough to leave him alone. He let Bill just be Bill.
"Here's the guy with the greatest (ratings) numbers in Louisville history, so who am I to go in there and try to make a formula jock out of him?"
Bailey first dabbled in radio broadcasting at age 16 in Winston-Salem, North Carolina. His father died when Bill was only three, and his mother passed away when Bailey was 17. "My mom and her brother raised me, and my uncle was a great storyteller," Bailey recalled.
Following a five year stint in the U.S. Air Force, Bailey hosted "The Far North Jamboree" for a station in Anchorage, Alaska. Then he migrated through several jobs until landing in Louisville in '65 to work for WKLO. Bailey built a loyal following at WKLO but struggled with the station manager over pay issues. "He told me that I'd never make over $15,000 a year."
The Chicago job quashed that silly idea. And when Bailey returned to Louisville for WAKY, he made "pretty decent money, but I was making a whole lot more for the station."
Bailey says he approached his WAKY general manager for additional raises but was constantly rebuffed. Finally, after going several years without a pay hike, Bailey says he demanded "that they double my salary and start paying me $15 for every ad lib commercial." He had been receiving only $2 per live commercial read.
"Can't do it," said the local manager. "The company president in South Carolina won't stand for it."
Bailey said, "Get him on the phone."
The manager called Multimedia's headquarters and explained the situation to his boss. Bailey says he could hear company CEO Mr. Buchanan's voice crackling out of the telephone. "So what's the problem? Do it."
The Louisville manager was fired soon thereafter.
That bold move helped other local radio personalities get paid higher salaries. Once Bailey moved the pay standards forward, many of his peers got to step forward with him.
Bailey has always been loved by his co-workers. "Lots of radio guys get the big head and don't talk to the sales staff or other employees," said Andrea Hogan Meiners, a former co-worker of Bailey's. "He was nothing but nice to me and everyone else in the building. It was a pleasure working with him."
In addition to WAKY and WKLO, Bailey worked at Louisville's WCII "Country 11," and eventually worked for WVLK in Lexington until his retirement in April, 1994.
More from Johnny Randolph; "Bailey was well read…he knew a little bit about everything. He'd just come in here and sit down and do it."
Another highlight tape of Bailey on WAKY reveals him scrambling back to the microphone as his music has faded to silence.
"That's what I get," Bailey barked, "I'm sorry, but that's what I get for going to the front door. A guy was standing out there frantically waving his arms. He wanted to know if this is where you catch the bus to Pittsburgh."
Then Bailey switched his voice to quiz himself. "What did you tell the man?"
And Bailey answered himself. "I sold him a ticket to Pittsburgh."
Send a get well card to Bill Bailey:
William Boahn (aka Bill Bailey)
Friendship Manor
7400 W. Highway 146
Pewee Valley, Ky. 40056

Courier-Journal Bob Hill Article - January 22, 2005
Bill Bailey now the 'Duke' of nursing home
By Bob Hill
Saturday, January 22, 2005
As if on cue, Van Morrison was rockin' on with "Brown Eyed Girl" from the small portable radio in the neat and tidy room of Bill Bailey -- the once and forever "Duke of Louisville."

Bailey's room is in Friendship Manor nursing home in Pewee Valley, where he has lived for five months since losing the use of his left leg and arm after a stroke. The stroke did not greatly affect his other appendages, his outlook -- or his sandpaper opinions.
"Oh good gawd, man," said Bailey, 74, who still begins every other sentence with that four-word preface, "I was working this morning."
He is the 9 a.m. Friendship Manor announcement guy, delivering information on the weather, the meals and scheduled activities. He still speaks in that injured, gravelly, growly -- though somewhat mellowed -- tone that was so connected to his middle-class, cab-driver sensibilities.

Breakfast with listeners
In his radio days, he weighed in on news, politics and station management. He -- and sidekick Reed Yadon -- would have breakfast in listeners' homes. He loved his listeners, enjoyed regaling his co-workers with stories, led tours of Louisville nightspots. His greatest surprise was the morning Miss Nude Universe walked into his studio dressed exactly as her title implied.

He stuck with "The Duke of Louisville" label but said he wasn't happy about it. "It seemed to elevate me above the people. I don't never like that."

For much of the late 1960s and 1970s, he absolutely dominated Louisville morning radio, mostly at WKLO and then at WAKY, with a brief, unhappy fling with WLS in Chicago; he couldn't accept its tightly scripted format. He does loom large in his current Friendship Manor announcement gig; management and residents there remember the voice, appreciate his style.

"The first day I did those things, I got a round of applause from every section in this place," he said. "One woman said she had cold chills."

His media stops -- which stretched from Alaska to Idaho to North Carolina to Kentucky -- ended in 1994 at WVLK in Lexington, but it was the aptly named WAKY that most stirs his heart.

WAKY was wild
Brash, noisy, teen-loving, rock-playing WAKY was a crazed and creative corner of the local radio world, and some of Louisville's most talented disc jockeys briefly rolled in: Bailey, a then howling Coyote Calhoun, the multi-talented Gary Burbank. Terry Meiners -- who grew up idolizing Bailey -- interned there.

WAKY began by playing two straight days of "Purple People Eater" and/or "Witch Doctor" and never looked back -- until the wave of heavy metal music pushed Bailey out the door.

"I told them I wasn't going to play that crap."

Bailey also has become Friendship Manor's artist-in-residence; he lost 60 pounds after his illness, has regained 30 of it and spends time in his wheelchair working on his landscapes and caricatures; a gift he's developed since he was 5 years old.

The Duke is upbeat but can always use some mail. Write him c/o Friendship Manor, 7400 La Grange Road, Pewee Valley, KY 40056. Maybe something about brown-eyed girls and/or purple people eaters.
You can reach Bob Hill at (502) 582-4646 or e-mail him at bhill@courier-journal.com.
You can also read his columns at www.courier-journal.com.

Terry Meiners Pie Hole Article - March 13, 2005
THE BILL OF HEALTH: IMPROVED
Radio legend Bill Bailey on the mend following stroke
By Terry Meiners
Sunday, March 13, 2005
Pewee Valley, Ky. --- Louisville's most popular radio personality ever, Bill Bailey, has shown marked improvement following a stroke he suffered last May. Although he's still in a wheelchair, Bailey has regained a lot of the 70 pounds he lost, saying he "looked like an advance man for a famine."

Bailey, the self-titled Duke of Louisville, is still a resident at Friendship Manor, an assisted living facility off of LaGrange Road in Pewee Valley. "But I hope to move back in with (his daughter) Jennifer's family…maybe in a month or two," he said with a grin.

Whenever that occurs, the other residents at Friendship Manor will feel a huge loss. Bailey has turned the morning announcements into his own personal deejay show.

"I give the daily menu, the weather forecast, and throw in a few lies to spice up things," chortles Bailey. "One day I was holding an employee's dog up to the microphone to get him to bark out the news."

Bailey, whose real name is William Boahn, has been unable to walk since the stroke and suffers from paralysis in his left arm. "It looks like those problems won't improve, but I'm feeling a ton better," reports Bailey. He also experiences sporadic breathing difficulty due to emphysema, presumably caused by a half century of cigarette smoking.

He finally quit smoking last July. "You start when you're young and dumb and think you'll live forever," said Bailey.

His room features a collage of family photos, a seldom-used television ("I never had much use for those things."), some framed spiritual quotes, a boombox, and one of Bailey's landscape paintings. "It's still not finished; I want to touch up a few colors on those trees."

Bailey's boombox stays tuned mostly to oldies music stations, although he says he sometimes listens to 84WHAS during the afternoons to hear one of his buddies. "But I don't have any use for those morning show guys who do bathroom humor," said Bailey. "That kind of stuff is insulting to your audience. I always loved my audiences and respected their collective intelligence."

Sitting up at a table reading Dan Brown's Angels & Demons, Bailey is surprised when Roman Catholic Archbishop Thomas Kelly is summoned into his room. The two exchange pleasantries and after the archbishop leaves, Bailey says, "Man, I should've given him my book. It's all about an international conspiracy to overthrow the Catholics," said Bailey. "He'd probably love the irony."

Bailey's reading is often delightfully interrupted by any number of radio buddies dropping by to check up on their hero. "Gary Burbank & his wife Carol came by again last weekend," Bailey said yesterday. "They've been here several times. I love both of them." Bailey noted that a steady stream of former WAKY performers have popped in for visits. Bob Moody, Mason Lee Dixon, Coyote Calhoun, Johnny Randolph, and Steven Lee Cook have checked on The Duke. "And Dude Walker is coming Monday," Bailey reported with a smile. "He was another great one (on WAKY)."

Bailey is strong enough to venture out for special occasions, like his recent visit to the fabled Easter Pageant at Southeast Christian Church. "My God, I've never seen such a magnificent show. I saw those little angels floating around in the air and said, 'I want to be up there with them.'"

Bailey didn't mean that he was ready to meet St. Peter quite yet; he is still enjoying the chance to spread joy throughout Friendship Manor. "He's just hilarious on the announcements and everyone loves his cheerful demeanor," said one visitor. "His laughter is infectious."

Bailey still has an eye for the ladies, too. Nearly every woman that walks by his room seems to call out a friendly, "Hi, Bill" and he'll bark out a snappy reply. "Hey darlin', you know my day just ain't right until I get a hug from you."

The Duke of Louisville was married four times and has three daughters and a son. "I'm crazy about all of (his children) and appreciate any time I get to see them," said Bailey.

A former WAKY employee who won a radio station-sponsored beauty contest 35 years ago recently visited Bailey at Friendship Manor. "She's still a stunner, and she's in her 60s now," Bailey noted while staring at her pageant photo she left with him. "If she plays her cards right and keeps talking so sweetly to me, I may just make her #5."

Bailey is happy despite his physical limitations. He especially enjoyed the trip to Southeast Christian and said he'd like to hear a sermon by "that fellow Bob Russell," the outgoing pastor of Louisville's largest flock. "I've heard that he's pretty good. I'm sure he can't out preach The Duke, so he must be a strong second to me."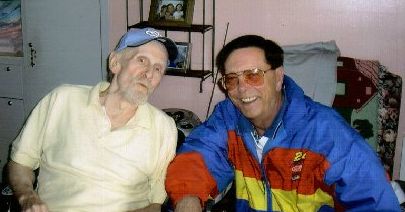 Bill Bailey and Dude Walker - March 15, 2005
Former WAKY midday guy Dude Walker had the honor of spending some time with Bill Bailey on March 15, 2005. Dude writes:
"John, I had a great time with Bill. He is still the Duke of Louisville. He still has a great sense of humor and had me laughing much of the hour. We talked over old times. We also talked about our health problems. I might add that Bill's health problems have not slowed him down a bit. He is still as sharp as a tack and a joy to be around. It was a trip well worth taking. Bill Bailey is and always has been one of my idols in radio. I would have given anything to have his natural ability. To know Bill Bailey is great. To be his friend is a blessing. I could write all day and never do the man justice. What a wonderful way to spend part of my day."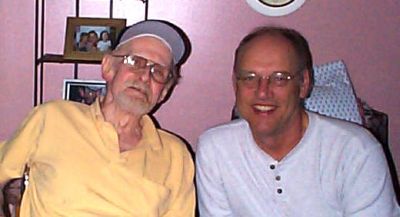 Bill Bailey and Bill Graham - March 19, 2005
Bill Graham, WAKY newsman between 1975 and 1978, filed this report on March 20, 2005:
"I spent a couple of hours with Bill yesterday and took pictures. I'm going back in May and he said bring along a tape recorder. He's promised to name names and let it fly.
"It might take me some time to find my old airchecks, but I have some classic Bailey moments on tape and I'll get him to comment on them when we visit in May. He remembers everything, including the night he slept in a snow pile on the River City Mall when a blizzard kept the morning team and our chief engineer John Timm downtown. We had tried to get him out of a gay bar but couldn't. He later showed up with snow from head to toe. I have at least one moment when we read the PD's memos on the air. The Program Director stopped posting memos after that episode.
"And who could ever forget the 'WAKY Loves Me' stickers that Bailey put all over the commode and then made a big deal about it on the air?"

George Francis Visits The Duke
Former WAKY GM George Francis writes on November 11, 2005 of a recent visit to see Bill Bailey:
I had a great visit with the Duke last Thursday.

I walked into the room where he and the other gentleman were talking and said, "I'm Jay Epstein with the IRS...looking for Mr. William Clyde Boahn."

No one said anything.

"Are either of you a Mr. Boahn?"

Bailey: "What's this about?"

Francis: "Are you Mr. Boahn?"

Bailey: "Who wants to know!"

Francis: "Sir I'm here about a set of encyclopedias you received in 1979 and failed to report as income on your tax return."

By this time, the Duke says, "For God's sake...George Francis! Never thought I'd see you alive again!"

I had a blast with him. He's still one funny SOB! He was telling me about announcing lunch and dinner menus at the rest home: "If you survive lunch, for dinner you'll enjoy..." (We should get someone to tape that!)

The short version of the encyclopedia deal is that sometime in my first 6-8 months at WAKY, Bill stopped coming to work. While it wasn't unusual for your Duke to miss a day here and there, after a couple of days someone came in and told me that he had quit! I went out to the D of L Plantation and met with Bill to see what the problem was. Among other things, he told me that the station owed him a set of encyclopedias for his kids! And he wouldn't be coming back to work until he got his books.
Eventually, I went and bought a set of encyclopedias and took them out to him.

Steven Lee Cook Spends Time With Bill Bailey
Former WAKY "Weekend Warrior" and current WASE AE and Weekend DJ Steven Lee Cook writes on December 17, 2005 of his then recent visit with the Duke of Louisville:
After visiting with Bill on Tuesday, as I shared with you and Johnny Randolph by phone, he said that he had recently gotten out of the hospital for problems with his kidneys. He was in overall good spirits. However said, he was feeling really weak.

He said he had been listening to a lot of Beatle tunes on his CD player. I asked him to name 15 or 20 songs that he would like to have and I'd put them on CD for him. He said, "just some of the stuff we played at WAKY would be nice, some Tom Jones (one early morning over coffee at The Big 79 during the chorus of "I'll Never Fall In Love Again," he turned to me and said, Man, nobody, and I mean nooobody on the planet can touch that guy vocally"), maybe some Gary Puckett..." I knew he liked P.J. Proby's "Nikki Hokey," Richard Harris' MacArthur Park, California Dreamin' and others. (Thanks to Michael Marvin at KOOL 103.5 for his help in rounding them all up).

I dropped off the CD last night and we talked for over an hour about the times he'd come up for cookouts when I lived at Waddy. The night he was our special guest speaker at Shelby County's annual Farm City Banquet, he stepped to the mike, reached into the pocket of his herringbone jacket and pulled out a folded piece of paper and waved it to the 300 or so businessmen, farmers and politicians who had filled this huge conference room at Shelby County High School. He then said, "Folks, here in my hand are the notes on a couple of issues I'd planned to cover this evening, a few things I thought a gathering such as this might find relevant, but just before we broke bread together this evening, and what a fine meal it was, could we have a generous round of applause for the men and women from the Kentucky Pork Producers who prepared it for us." (thunderous applause) "I had the pleasure of meeting and talking with many of you fine Shelby County people who have gathered here tonight and what I am going to do right now...is put these notes back in my pocket and speak to you straight from the heart…of your Duke of Louisville." At this point he put the folded piece of paper back into his jacket and proceeded to bring down the house with story after story and relatable after relatable item. Anyone who has ever stood on stage to address a large group in a setting such as the one he faced that night would have considered this a very tough crowd to play because of its great diversity. Not Bill. He received the most thunderous standing ovation that I had ever had the pleasure of witnessing...before or since.

After the Mayor, County Judge, Congressman, State Senator and over 100 other attendees came up afterwards to shake the Duke's hand, he and I and about a dozen others left for the County Attorney's home on Main Street, where we shot pool and had a great time for the next couple of hours.

Oh by the way -- the sheet of paper he had pulled out of his jacket that night -- was one he had asked me for just before we left my home for the banquet. He showed it to me after the "speech." There was nothing on it.

Last night he was especially pleased to show me the postcard of Bob and Karen Moody taken at Stonehenge. He said, "You know I've always been crazy about that 'ole Bob...and his wife is the best thing that ever happened to him." He then said the same thing about Gary Burbank about Gary's wife Carol Burbank...and said he's sure Gary would agree with him.

Bill asked if I knew that Terry Meiners had just lost his Mom. I told him that I did and had just the night before stopped by to visit with Terry for a moment. With this Bill showed emotion, and then said, "You know, I think that Terry and that whole Meiners family are made out of very strong stuff...good people."

With that it was time for his nurse to come in and we said goodnight.

Steven Lee Cook Spends More Time With The Duke
Former WAKY "Weekend Warrior" and current WASE AE and Weekend DJ Steven Lee Cook writes on January 31, 2006 of another visit with the Duke of Louisville:
I stopped in to check on the Duke this evening and just wanted to pass along his condition for the guys and gals who are out of the area.

Upon my arrival he was positioned out in the area near the nurses station in his chair and was in a very jovial mood. He said he was feeling well and commented on the excellent care he was receiving there at Friendship Manor.

His skin tone was excellent. His cheeks were rosy and his voice was strong and clear. He asked how i was doing at the station (KOOL 103.5) and I told him everything is coming along fine. He said that he when he was at WAKY he had always enjoyed going on sales luncheons with the salespeople. He really enjoyed that part of the business and by so doing, he knew first hand what the client was hoping to accomplish and therefore the direction he should take with his ad-libs in order to satisfy those expectations.

He said, "I always felt that my primary job on the air, was that of a salesman...to sell the format for Johnny Randolph...and to sell the products of my sponsors."

As one who has pulled his first hour for him at 6 a.m. on several occasions, even this early in the morning his stack of commercial carts would be nearly 3 feet high, not counting the live ad-libs. I said, "Duke... there's absolutely no doubt as to who the salesman was around there." He chuckled and said, "I loved it man."

He went on to say that Johnny was the best program director that he had ever worked with. I asked him what he thought it was about J.R. that made him so good, from his own perspective, in terms of how J.R. wanted the morning show to sound.

He said, "Man...in the first place the guy was brilliant at hiring the right people...and then letting them do their job with minimal interference. Some program directors want you to do...this...at exactly...this... time...with no variance. Not Randolph. He let me know how he wanted the station to flow and feel...how many weathers he wanted an hour. With me he just said, 'Get me a couple in an hour.' He hired people ...and then let them do what he hired them to do. Of course, he knew quite a lot about the guy before he hired him. He's a prince of a guy."

He said that once he had taken a job as Program Director in Winston-Salem. He did it a while but it really wasn't his thing.

He recalled some good times he had working with Gary Burbank, and said all the people he had worked with in the business were like brothers to him.

He was glad that Ralph Hacker had been by to visit...in the Dukes words, "also a prince of a fellow" who had treated him well when he worked at WVLK.

He said to let everyone know that he is feeling fine and that he is so appreciative of everything that everyone has done for him. "Man...it would be impossible for me to tell you what it has meant to have all the visits, calls and cards."

He said that he thinks of all his friends...all the time.

He said a nurse had recently brought him an order of biscuits and gravy from the Dairy Queen just down the street...and he couldn't believe "how good they tasted." (FYI: I asked him what time he usually likes to have breakfast and he said around 7:30.)

I asked him if there were any songs he would like to have. He said that the first song he could remember playing on "Wackie" was "Downtown" by Petula Clark. Okay, anything else? "Yeah, how about 'Don't Sleep in the Subway' and 'Delta Dawn?'"

I told him that if he needed anything at all, not to hesitate to call my cell. He said he appreciated that, but they were treating him so nice, he didn't need a thing.

We shook hands and said goodnight.
Read Max Highbaugh's article about his April 1, 2006 visit with Bill Bailey and Dude Walker here.

Louisville Courier-Journal Byron Crawford Column - June 1, 2008
'The Duke' is back where he belongs, on WAKY
The legendary "Duke of Louisville," Bill Bailey, is back on the radio from his room at Friendship Manor nursing home in Pewee Valley.

Bailey, who during the late 1960s and early '70s reigned as king of morning radio on what was then WAKY-AM and before that on WKLO, now is doing recorded brief drop-ins during morning and afternoon drive time on the new WAKY (103.5) FM.

"I think I'd be full-time at a radio station somewhere … if I hadn't had that stroke," said Bailey, now in his mid-70s. The stroke in 1999 affected his left arm and leg.

Bailey's unmistakable voice and delivery -- a cross between Ralph Cramden and Walter Matthau, with a hint of Fred Flintstone -- is still essentially intact.

And his golden laugh has withstood time like an Elvis record.

Crowned the "Duke of Louisville" by former Kentucky governor and U.S. Sen. Wendell Ford, Bailey was born William Boahn in New Bern, N.C.

He was only 3 when his father was accidentally killed. His mother died of cancer several years later. By age 6, one of Bill's heroes was a disc jockey named Bill Bellis on WPTF in Raleigh.

"He was so personal about everything," Bailey said. "He talked to people on a one-to-one level."

Besides an interest in radio, Bailey showed an early aptitude for art.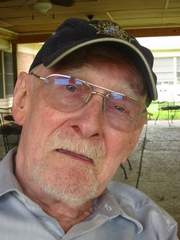 'The Duke' is back where he belongs, on WAKY
"When I was 7 years old, I could draw anything I could see, so I had a great interest in art -- and shooting my mouth off," he said. He later would become an accomplished artist in both oils and pencil.

At age 17, he persuaded his guardian uncle to sign for him to join the Air Force, where he stayed five years and served as a "communications expert" on the DEW Line in Alaska.

He hosted "The Far North Jamboree" on KBYR in Anchorage after the Air Force. The rest of his broadcast career would be a blur of road signs and station call letters from Idaho to Utah to Texas to Maryland, from WKLO in Louisville to giant WLS in Chicago and back to WAKY.

"Two things made WAKY the legendary station that it became: The people that worked there, and the people that listened to it," said Bailey. "The people that listened to it were so dedicated. God, they loved that station. And you couldn't help but love them."

Johnny Randolph, the program director who hired Bailey at the old WAKY and who now is an afternoon on-air personality at the new WAKY, remembered that Bailey, though lacking the classic DJ voice and production skills, was "one of the great communicators, ever, and latched on to the audience, and they absolutely loved him. That's why the guy became a legend."

Les Cook, the current WAKY program director and morning on-air personality, said Bailey still gets loads of listener mail, and that "The Duke" is planning to make an appearance this July 4 when WAKY resurrects its free picnic celebration in the Churchill Downs infield, with appearances by some of Louisville's own great bands from yesteryear, as well as many former WAKY on-air personalities.

"We plan to have a place for him to sign autographs," said Cook. "And we plan to have him up on stage to say a few words."

If you'd like to send Bill Bailey a note, visit the WAKY Web site at www.WAKY1035.com.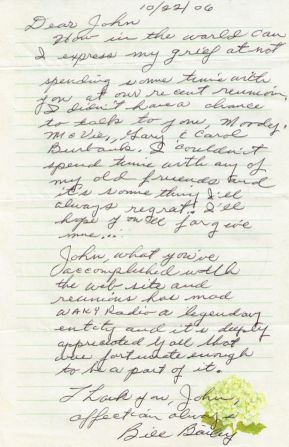 2006 Bill Bailey note sent to John Quincy
(Click on it to enlarge)

Reed Yadon Remembers Bill Bailey
January 16, 2012
[Note: Reed Yadon was Bill Bailey's newsman during much of Bill's time at WAKY.]
It was not lost on me after hearing that the Duke has passed away this past Saturday it was also the date on which the "Today" show first aired. It is ironic that a program that invented a form of morning television shares a date with Bill Bailey who pioneered a form of morning radio that is now the standard,
Many times it is only in looking back that we gain perspective and insight into events. That is the case with the Bailey Show. I am still amazed how often people will share their memories with me via email or in person. The impact of that show was far and wide. I was the "straight man" for Bill. It was not the Bill and Reed Show it was the Bill Bailey Show. I was there to steer the car from the backseat. When Bill would try to run us off the road my job was the keep us out of the ditch. If Bill was not quite factual I had to get him back on track. Many times I also played the devil's advocate.
I was just a kid at the time, but I also realized I was so fortunate to be a part of something bigger than either Bill or me and something that would live on and on. I owe much credit to Bill for whatever success I have had in this business. The over a decade spent working with Bill was not unlike studying with the greatest in any profession. Bill was a born communicator who could in a matter of seconds "read" a group of people when he was speaking. I am often asked how we decided what we were going to talk about on a given morning. The answer is we didn't. As the chemistry developed it was my job to "feel" where Bill wanted things to go each morning. In the vast majority of cases I could get that feel within minutes of Bill coming in the back door of the station. I could tell by his mood and energy level what was on his mind. Whatever the topic, you could be sure it set the agenda for water cooler conversation the rest of the day in Kentuckiana.
Bill connected with people because he was real. What you saw or heard is what you got. His roots were blue collar. Bill took his job seriously, but never took himself too serious or over rated his importance. He was just a guy who enjoyed talking to people. Listeners hung on his every word. Knowing that he made someone's day a little better or gave someone a reason to laugh on a miserable morning was the fuel that fed his fire.
The Bailey Show had the ability to take everyday slices of life and turn them into humor and human interest. NPR calls them driveway moments today, but during the Bailey Show era they were a daily thing. Listeners sitting in their car waiting to get out because they were glued to whatever was happening on the program.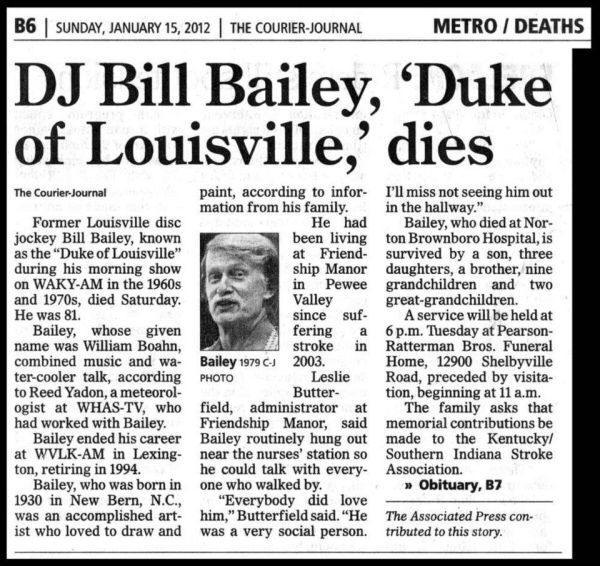 Permit me share a few "Bailey" stories, since that is the most common request I get to this day.
Bill was the original management pit bull. When a memo would come out that work areas should be cleaned and everyone dress accordingly because the home office "suits" were coming to town, that memo ended up in the trash. The Duke would make some on air comments ending with "I am going to wear that I always wear and do what I always do, and I don't care what they think". He was true to his word. When our New York consultant would send down comments about things he thought could be done differently on the air, Bill would read the actual memo on the air and add his own comments about why he didn't care what that "little creep" in New York thought. He might also ask that I let him know if I were to see the guy in the station because he wanted to explain a thing or two him, to which I would suggest that maybe the Duke should think twice because the boss put a lot of stock in what the guy had to say. The on air discussion would end with Bill saying, "the devil with all of them, your Duke of Louisville doesn't have time for such balderdash". Bill just knocked one out of the park for everyone driving to work with similar feelings about their own boss.
We did quote a few preacher routines. This gave Bill a platform to rant and rave about any given topic. He would do it in the form of a fire and brimstone preacher. I would drop in organ music as Bill was preaching and at times Bill would launch into a verse of "I Come to the Garden Alone" (probably his favorite religious song) or "The Old Rugged Cross". These bits were classic and Bill was able to draw on a pretty darn good knowledge of the Bible. He was raised in the Bible belt and was a Sunday School regular. At the beginning of Lent one year Bill announced he was thinking of preaching on Easter Sunday. We had an instant history making bit. I took the bait and asked Bill if he knew where and any other details. During the next couple of weeks it was decided Bill would hold an Easter sunrise service at the top of Iroquois Park. We discussed sermon topics, time of service and decided Bill would be dressed in a white robe. This theatre of the air was becoming reality to our listeners who started calling and writing. Where could they get tickets, how would they get to the top of the park? A bus company actually offered to provide buses. This thing was taking on a life of its own. I can't tell you the amount of mail and number of calls. Management got a little worried, so about two week before Easter we toned it down. This was a routine that was just that, but it went viral. Turns out we had to cancel because of too many "logistics" and other details. I will always believe Bill could have pulled off the sermon and we would have had a crowd.
The station was located near Kunz Restaurant in downtown Louisville and the chef, J.B. Hart was a Bailey fan. Thus we had steak, ribs, you name it for breakfast. I would make the short trip up the ally between newscasts. One morning J.B. sent rabbit for breakfast. Guess what the Duke did while eating the rabbit? He proudly announced that J.B. Hart had killed the Easter Bunny, and so kids needed to know there would be no Easter Bunny this year. Within minutes our phones lines were in melt down mode and J.B. was calling our private line pleading "get Bill to say something because I am getting calls". It didn't take the Duke long to cool things down when he announced it was not THE Easter Bunny we were having for breakfast, but one of the Easter Bunny's elderly assistants, thus Easter was safe.
These stories go on and on, and to this day our listeners remember them.
The Bill that many people didn't know was a guy with a heart the size of Texas. A guy with untold talents. He was a great portrait painter, who could also paint landscapes. One of which I own. He could refinish furniture and give it new life. Bill was also quite a carpenter where designing desks, bars and the like are concerned. He also actually had a pretty fair singing voice, which at times you got samples of on the air. The Duke kept up with current events and could converse on current topics with a lot of knowledge.
Money and fame were not what drove him. It was reward enough knowing he made someone laugh, gave them something to think about or made someone's bad day a little brighter. Bill's life and priorities underwent a major change when his first daughter was born. He came to the TV station to cut a voiceover one day with a very young daughter. There was no doubt what was now occupying Bill's total attention. His pride and joy were his daughters, his son and yes he totally loved being a grandfather and great grandfather.
We were fortunate to have managers and program directors, Don Meyers and John Randolph especially, who had trust and faith in us to not cross the line, even if at times they had to define the line. In all fairness the role for Bill's straight man was defined by Allen Bryan when he and Bill were first paired at WKLO. I had the good fortune to take over the job at WAKY with Bill. It was the ride of a lifetime and a front seat to radio history.
I feel free to share this personal detail now. Bill and I had agreed many years ago we always wanted to remember each other and our time together as it was in the day. We never wanted to see each other in decline. To the extent possible I have tried to remain true to that conversation with Bill. My last conversation with Bill ended with "I love you Reed". I said the same to him, but we never said goodbye.
Thanks Bill!!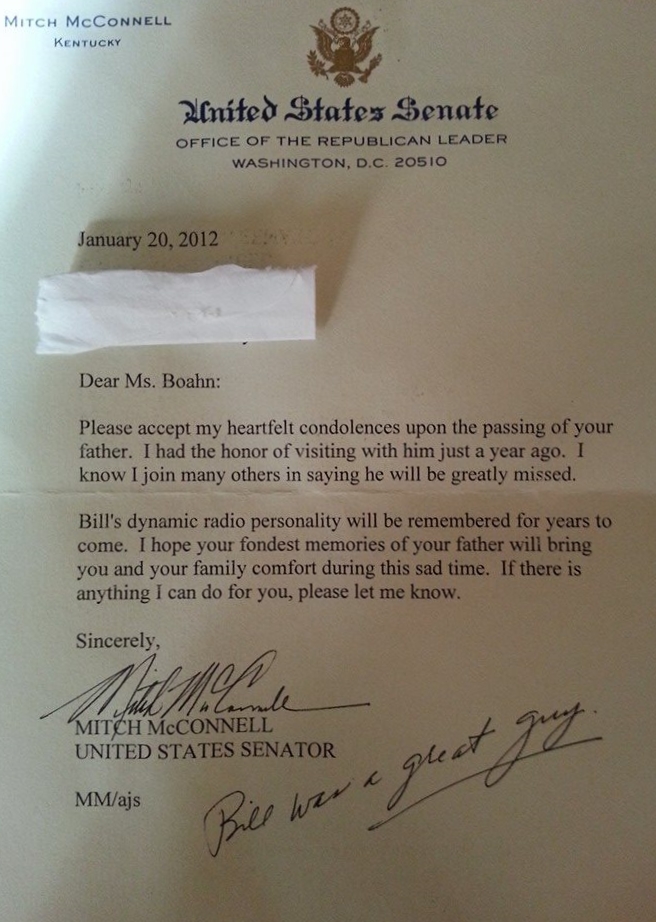 Letter sent to one of Bill Bailey's daughters by U.S. Senator Mitch McConnell (R, Kentucky)