This page last updated Sunday, August 25, 2013
Jack Sanders Page
One of WAKY's earliest star DJs was afternoon man Jack Sanders. Any articles, information or photos we can find about Jack will be posted on this page.
Jack's real name was James Dale Spence. According to Jack's former brother-in-law, the Jack Sanders airname was born at KGKO in Dallas in 1956 when the KGKO Program Director told him, "Jim Spence sounds like the name of the guy who delivers my mail. From now on you are Jack Sanders."
Jack was voted "America's Greatest Disc Jockey of the Year" by Movie Mirror Magazine (article below). He was by far the most listened to deejay in Louisville in his time. A leader in the Louisville music scene, Sander established several record labels, recording studios, talent agencies and booking agencies.
After charges that Jack had "carnal knowledge" with an under-aged girl, Jack left Louisville for Nashville where he worked as road manager for Hank Williams, Jr. He later owned and operated the Spotland Company, one of Nashville's most successful advertising agencies.
Jack died in February, 1978 in Nashville from liver disease and pneumonia.
Former WAKY news director Bob (Tom) Watson is collecting tales about legendary WAKY DJ Jumpin' Jack Sanders for an upcoming project. They can even be "adult oriented" stories. Have something to share? E-mail him: twscribe@yahoo.com.
Listen to Jack Sanders WAKY airchecks here; enjoy some of his WAKY monster movie commercials here.

Tape box label for a commercial demonstration tape (circa 1970) from Jack Sanders. The tape featured full-length Sanders-voiced commercials for Kool cigarettes, Fast Sweet, Third National's Bankamericard, Frigid King auto air conditioners, Chicken Chef's golden nuggets, Mr. D.C. men's clothing, and Easy Street shoes.
Tom D. Kennedy Remembers Jack Sanders
We asked Tom D. Kennedy, Jack's ex-brother-in-law, to shed some insight on the man many regard as one of WAKY's most popular DJs. He sent us this excellent piece on June 20, 2006.
Much of what has been contributed relates to Jack's presence in the Louisville market and his notoriety as part of the WAKY air team. True, he was part of a talented stable of jocks that McLendon dispatched to "Kentuckiana" to mark the literal bursting forth of WAKY from the old WGRC and the first rock and roll thunder on the Ohio. And what followed, plainly, was a long line of super (hyper) gifted air people of whom Jack said, "The open-up people Gordon has put here won't be the end of what WAKY is setting out to do in this market."

So with this as a scene setter for my observations on Jack I thought I would couch my contribution in terms of where Jack came from and what his evolution in the business was like. It seems that the "early years" of a notable talent's development often are overlooked. Endless information has been published on Jack's presence at WAKY -- dances on the Belle, promotional campaigns, and such -- so I will address what he was like and what he did before Jack Sanders was "born."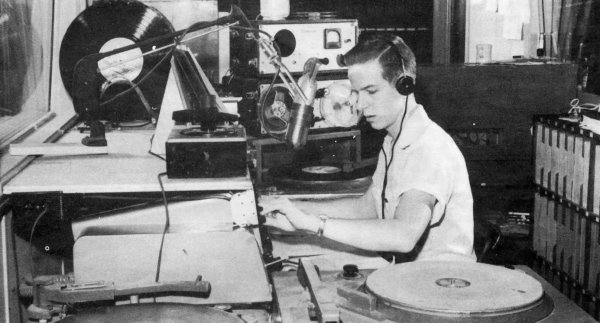 Jim Spence, Staff Announcer of KLTI, waiting for his cue to
make station identification and switch on the next program. (1955)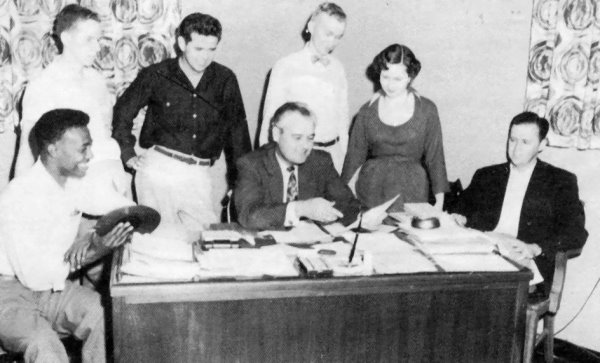 The KLTI staff; the future Jack Sanders is the second from the left. (1955)
James Dale Spence in the early 1950s made a rather normal (read that inauspicious) entry into radio working for one of his relatives in what still is known as typical small market radio -- horrible hours, worse pay, and using the out-of-the-way settings to learn the craft or radio and be able to make mistakes and not be fired for them. Early airchecks of newscasts he did showed him struggling with diction and delivery, but, as he would prove time and again, Jack was a fast learner who profited from his mistakes.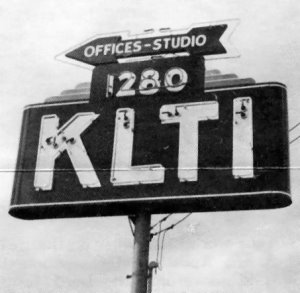 Long story short, still known as Jim Spence he began the inevitable announcer's trail of market advances winding up along the way in Longview, Texas, on staff at station KLTI which belonged to a world famous industrialist. Jim at that time was only 18 or so but already possessed a commanding on-air presence and a pro-quality voice that caused everyone to ask him, "Why are you here instead of at some larger station?"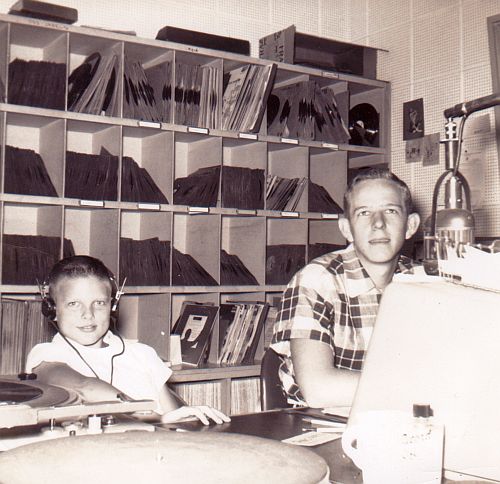 A young Tom D. Kennedy with Jack Sanders circa 1957
Truth was he used every air shift as a learning experience and didn't dream of "someday," although he was ambitious. Jim realized that he did indeed perhaps have more talent and ability than many, considering his lack of tenure in the business. But he fully knew when the time was right and all the factors came into focus, it would happen.
It was during his stay in Longview that he met my sister Carole, and the first time he appeared in our family living room I remember the windows literally vibrating when he talked. With Jim it wasn't a put on, that was the way he talked. Even my parents who were impressed by little, took note.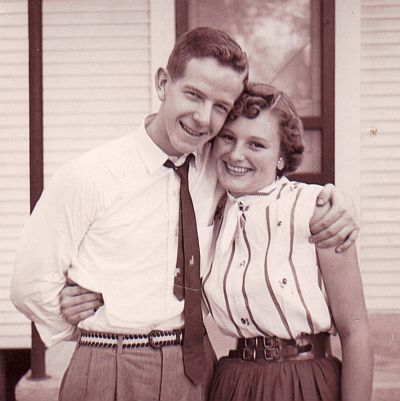 The future Jack Sanders with wife Carole on their honeymoon in March 1956
Cutting further to the chase, he and my sister married shortly thereafter and Jim Spence established a notable presence at stations in Lufkin, Texas, Waco, Texas, and Amarillo, Texas. At each stop people around him acknowledged that he wouldn't be there long, that bigger and better opportunities awaited him. The amazing fact about his professional growth was that Jim consciously learned from everyone who surrounded him in those early years. He thoroughly enjoyed radio and everyday behind the microphone was an adventure for him.

One day in 1956 he received a call in Amarillo from the PD at Dallas station KGKO, an early-on competitor to Gordon McLendon's legendary KLIF. (KGKO would later become KBOX) and continue doing battle with KLIF until its owners gave up the run and switched to a country format. But it was at then KGKO that the PD told Jim Spence his named lacked pizzazz and didn't sound "flashy" enough and that he needed a new air name. Accounts vary as to exactly how the name "Jack Sanders" was chosen but he adopted it minutes before going on-air at KGKO, and the name stuck.
McLendon and his national PD kept close tabs on the competition at the group's stations all over the country, so when Jack Sanders began stealing some of KLIF 's notoriety (or thunder), McLendon used a much-relied-upon ploy and moved to relocate him out of the Dallas market. McLendon in 1957 had purchased an existing station in Shreveport, Louisiana, and gave it the call letters KEEL. Jack soon heard from McLendon as he was putting together a top-flight open up team to go into Shreveport and set the up until then rather sleepy radio town on its ear. Shreveport was at that time best known for station KWKH and its Louisiana Hayride but not much else in terms of radio. Jack began in PM drive and held that slot until his departure for Louisville and WAKY. KEEL's signal had grade A coverage across the Louisiana-Texas line in East Texas, and that's when I more or less lost my identity and became known simply as "Jack Sanders' brother-in-law."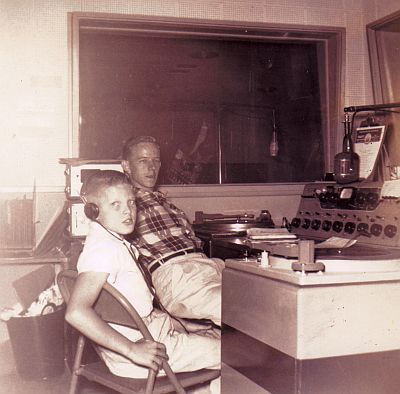 A young Tom D. Kennedy with Jack Sanders circa 1957
The stay in Shreveport was a wholly successful venture. McLendon, as was his bent, stopped at nothing to promote and position KEEL. Every month brought something new -- the period's ever-popular flag pole sitting promotions, treasure hunts with high money and prize payoffs, the works. Jack found Shreveport a comfortable venue and attracted a widespread following the likes of which in Louisiana and East Texas had never been privy the brand of powerhouse radio and jocks that Jack Sanders and company ushered in to the region.

In 1958, McLendon notified Jack and several others they were going to Louisville to start WAKY. Jack and my sister truly liked Shreveport and my sister, when told of the plan, asked, "What on earth is in Louisville?" Jack told her, "If Gordon has his way, one outstanding radio station."

John -- the rest would be a rehash of what everybody for the most part already knows. What some people may NOT know is that Jack was a loyal Alfred Hitchcock fan. Every Sunday night he was literally glued to the television screen, soaking up Hitchcock's latest plot and surprise ending. His favorite episode was the one in which a woman beat her husband to death with a frozen roast, then cooked it and served it up to the police officers investigating the homicide. So much for "method" in her commission of the crime.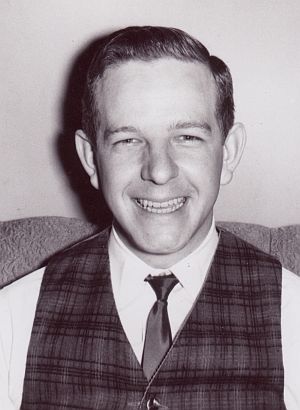 Photo of Jack Sanders taken during his Louisville days
All this, I cheerfully admit, is much too long, but I'm hoping it will provide some context on Jack's existence and give you some material from which you can edit, summarize, and somehow add a new dimension to the man who became Jack Sanders. Let me know if there are any gaping holes you would need me to fill. Along with the lost airchecks and personal pictures I had on Jack, a special loss consisted of the endless pictures I had of him doing a marathon in Dallas at KGKO in 1957. [Webmaster note: the KGKO photos have been found, and several are posted below.] The images were priceless and I've often thought the episode of The Dick Van Dyke Show in which Rob Petrie does a department store window marathon was based on some specific incidents in Jack's 100-hour plus run on the air, done (as many of them were) in a high visibility location--this one in the showroom of Mohr Chevrolet on Central Expressway in Dallas.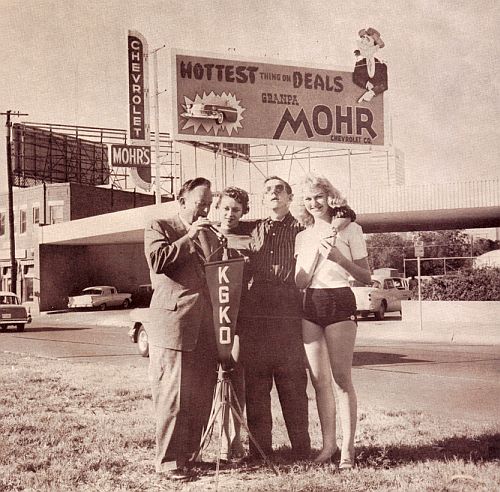 KGKO publicity shot for Jack Sanders' Mohr Chevrolet remote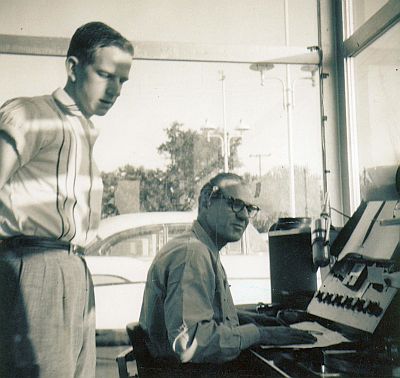 Jack Sanders (standing) and unidentified KGKO engineer before the Mohr Chevrolet remote started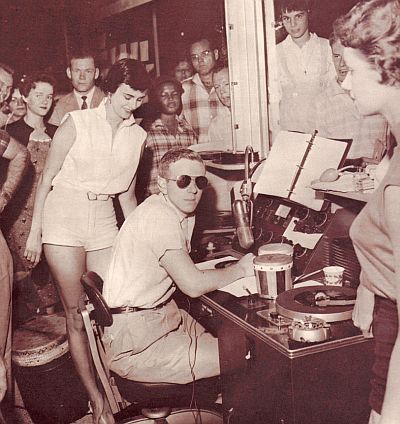 Jack Sanders during the Mohr Chevrolet marathon remote on KGKO in 1957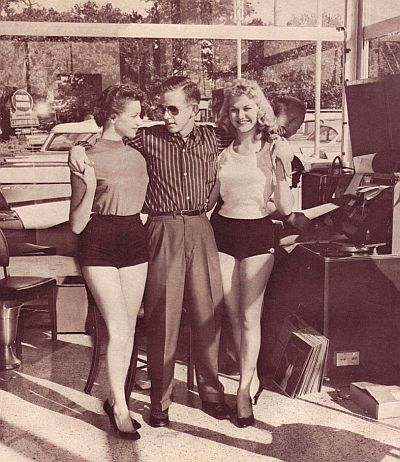 Jack Sanders and two lovely ladies at the Mohr Chevrolet marathon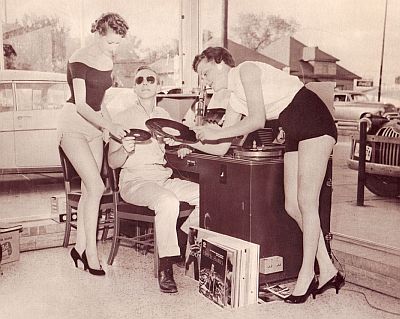 Jack Sanders and two lovely ladies at the Mohr Chevrolet marathon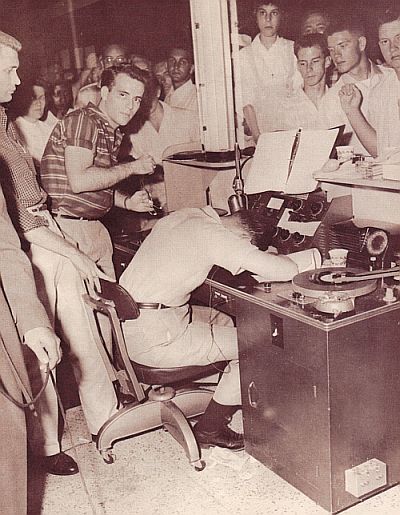 Jack Sanders catches some shuteye during the 1957 Mohr Chevrolet marathon remote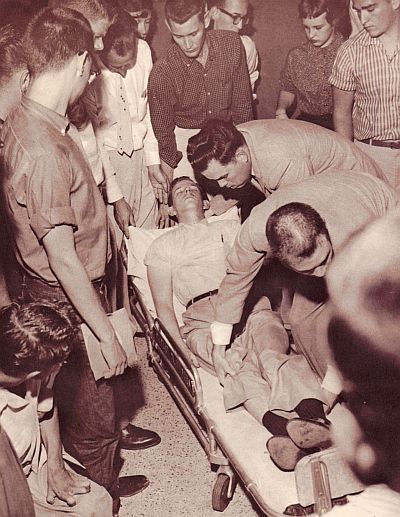 Jack Sanders gets carried out after the Mohr Chevrolet marathon broadcast
My objective here is to supply information that most likely is little known or not known at all about the Jumper. And the Jumper moniker originated in Louisville. I can't recall it ever being part of his persona before then. I do recall, though, at endless hops and shows with the Trendells, Carnations, Cosmo, et al when he would go up on stage the crowd would chant, "Jump, Jump, Jump," and he would bounce all over the stage--admittedly a bit campish by today's standards but a big hit in those crazy times of the late '50s and early '60s when rock and roll was king and the jocks who sold it were almost as big as the groups who played it.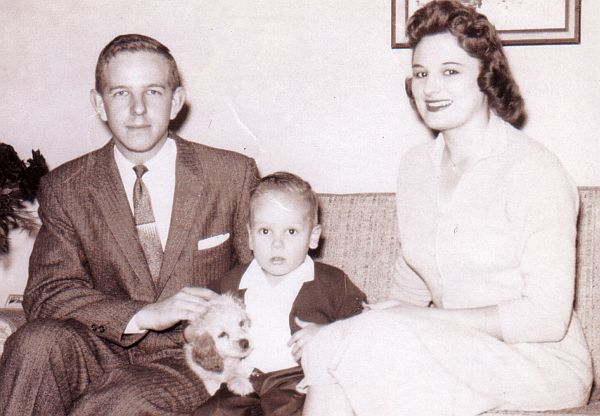 Jack Sanders with son James Dale Spence, Jr. and wife Carole at home in Louisville
I must admit to really regressing while writing this piece. Those magic moments that were so real yet just a flash pop in time are very, very special to everyone who not only experienced but actually lived the era. It provided the context for what actually is music today. This period's teenagers and those in their early 20s-30s fail to realize that had it not been for those of the McLendon-Sanders-et al era we might still be listening to block programming and announcers who lead into a song with, "Patti Page now asking the musical question..." Jack said many times this music will last almost forever, but times and people certainly will change and the Top 40 format will move into something else, with our music now taking on a less prominent role than it assumes now.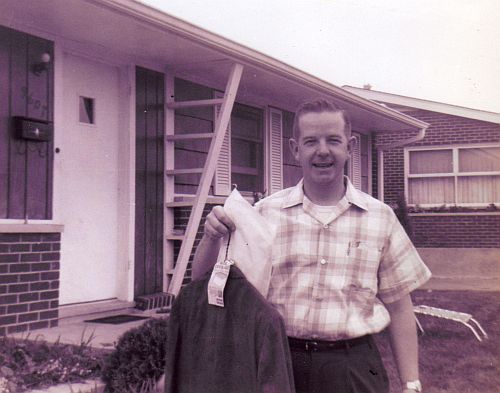 Jack Sanders in front of his Louisville home
Jack was very much a free spirit, but also extremely introspective -- and realistic enough to know it would be a good run but not a permanent run. It sort of resembles the changing times theory that flowed underneath the story line in American Graffiti. I recall Jack once saying driving on the Watterson past the Ralston-Purina plant (which always smelled like a huge bowl of Wheaties), "These are fantastic times and this town is being very good to us, but we'd better enjoy it because it'll only be a memory someday." Much like the Margaret Houlihan character once said in an episode of M*A*S*H, "One day they'll declare peace and THEN where will I be?"

I've received a few e-mails from people who saw my contributions on the Reel Radio site, people who didn't care much for Jack and his ways. To them I have simply responded that I was aware of it all but certainly had no power to change him. Right or wrong you had to let Jack be Jack. There was some definite bad there, but also not to be denied was a wealth of talent. I've always maintained that "show folk are just different" and chose to let it go at that.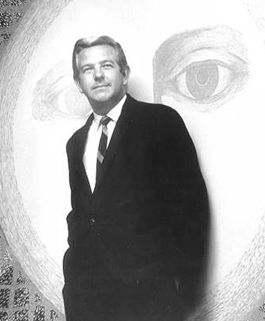 Jack Sanders in Nashville in the '70s
I think of Jack often and choose to remember the good over the bad. I'm just sorry we lost him in such an untimely way. One of the great regrets in my life is not being able to attend the memorial service for him in Nashville in 1978. I was in the throes of completing my doctoral degree and couldn't manage even a day away for a trip to Nashville. To have taken leave would have caused me to delay graduating for a semester, and after three plus years in the doctoral program, I NEEDED to finish and get away. (Doctoral programs have that effect on candidates--to get the degree before it gets you).

For what it's worth in closing, Jack constantly recognized the tremendous talent of his contemporaries at WAKY -- and all the other stations at which he worked. He had a great appreciation for people such as Tim Tyler. Jack Grady, Jim Brand, and a host of others who made up the initial roster of talents who put WAKY "on the map". I am appreciative to have been asked to share my perspective on Jack's presence in the business.
Note: Tom Kennedy passed away May 11, 2010 in Longview Texas.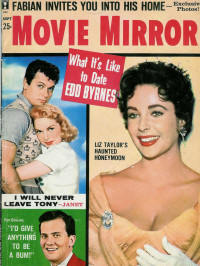 Cover of the issue that included this article
America's Greatest Disc Jockeys
Louisville's Jack Sanders

Things are really movin' -- from Louisville to Cincinnati -- when Jumpin' Jack Sanders takes to his turntable six days a week at WAKY in the Kentucky city. An estimated 40,000 people in Kentucky, Indiana and Ohio tune his way for the Top 40 Show, which is broadcast from 3 to 7 p.m. Monday through Friday, and from noon till 6 p.m. Saturday.

A native of Hutchinson, Kansas, twenty-three-year-old Jack (whose real name is Jim), has made the move from a "dime-a-dozen" announcer on a small radio station owned by his cousin to one of the top-rated air salesmen in the country. But speed comes naturally to the good-natured deejay who's crammed a powerful lot of accomplishments into his young life. Like how? Like so. When he was ten years old and living in Eastland, Texas, he set out to become an excellent rider. At twelve, in Lampasas, Texas, he became interested in golf and won several titles. The summer he was fifteen he worked at KERC, an Eastland radio station owned by his cousin. After graduating from high school in Brownwood, Texas in 1952, he started classes at Cisco Junior College, going to school in the day, working as a deejay at night. Six months later he had his first offer as a full-time disc jockey in Thomasville, Ga. Rated tops in the area at eighteen, Jack then moved on to Moultree, Ga., as announcer, deejay and news director. Within six weeks he had helped local police solve a murder case involving a prison warden and was rewarded with special awards from both the Associated and United Press wire services.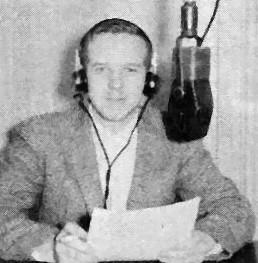 An estimated 40,000 people tune in on
Jack Sanders' Top 40 Show, aired on WAKY.
Jack's next deejay assignment was in Longview, Texas, where he soon advanced to program director -- at nineteen. That's when he also met his future wife, Carol, who'd won a Voice of Democracy Speech Contest. As acting news director Jack got involved in breaking up a vice ring, and on his dates with Carol he was often supplied police protection. After he and Carol were married on November 15, 1955, they moved first to Amarillo and later to Dallas, with Jack working at KFDA and KGKO, respectively. Jack was twenty and working in Dallas when he decided to break the national record for radio marathons. Broadcasting from the window of a new car showroom, he carried on a deejay show for 130 hours, 32 minutes and 12 second without stopping!

Jack next went to Shreveport, La., where he became the teenagers' symbol of fun and fair play. In addition to managing Dale Hawkins, a top recording artist, he put on floor shows and dances for teenagers of the area every weekend. Three months later, Jack, along with five other disc jockeys, was called to Louisville to start another station -- WAKY.

Jack, Carol and their two-year old son Jack Sanders, Jr. live in an eight-room apartment overlooking the Ohio River Valley. The busy young deejay still likes horseback riding, polo, swimming and yachting - and in his "spare" time he makes personal appearances to fight juvenile delinquency.

Why did Jack start in the business? "I just generally dug the idea of being a jock." Why has he stuck with it? "I love working with young people." Would he do it all again? Silly question!

1960 Movie Mirror Article
America's Greatest Disc Jockey of the Year
The Winner: Louisville's Jack Sanders
Our nation-wide contest to choose America's Greatest Disc Jockey brought such a staggering response it took weeks to tall the votes! The winner? WAKY's Jack Sanders, who won by a landslide!
Reviewing his fabulous career, it is easy to se why Jack, one of the youngest deejays in the business (he's a mere twenty-three!), won your unanimous votes. Seen six days a week on WAKY, Jack began his brilliant career at a mere fifteen. That year, while still attending high school, he worked at KERC, an Eastland station owned by his cousin.
In 1952, he juggled classes at Cisco Junior College with a night-time deejay job. At eighteen, in his first full time triple-role job as deejay, announcer and news director for a Moultrie, Georgia station, he sleuthed enough to help solve a significant murder case. Jack next worked in the Texas, then Shreveport, Louisiana areas.
While a program director in Longview, Texas, Jack met lovely Carole, a Voice of Democracy Speech contest winner who was was soon to become his bride. She'll never forget those early dates, vows Carole even today. Since Jack was an active participant in cracking a vice ring, he needed police protection so a "bodyguard" chaperone gave them little seclusion for hand-holding!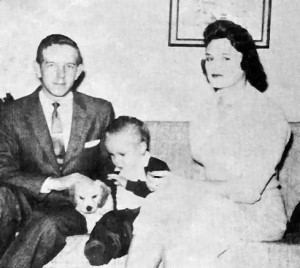 Kansas-born Jack, son Jack Jr. and wife
Carol, live near the Ohio River Valley.
Now Mom of two-and-a-half-year-old Jackie Jr., Carol is rightfully proud of her successful hubby -- and Jack is grateful to WAKY for giving him the biggest break of all.
Our hats off to you, Jack, for winning our America's Greatest Disc Jockey poll. You deserve it.
Former WAKY newsman and Jack Sanders fan Byron Crawford remembers Jack:
"I remember when Jack Sanders recorded this weird, mysterious thing that sounded like a commercial for some new product but nobody ever knew what it was. It began with dramatic heavy music, then Sanders' big movie spot-like delivery: 'Sleek, black trucks roar through the night...on a mission for better living in Kentuckiana. Eola Piles are on their way to Louisville. Stay tuned for further information about this revolutionary new....blah, blah, blah.' He never said what they were, only how fantastic they were. Everybody was saying, 'What in the Sam Hill are Eola Piles?' That was Sanders and that WAS WAKY in the glory days."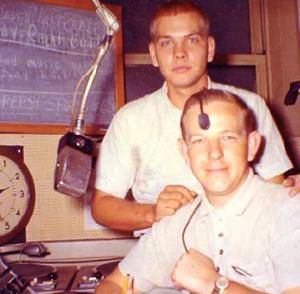 Jack Sanders (sitting) and WAKY engineer Todd Kirk
Here are David Cox's memories of an early '60s visit to WAKY while Jack was on the air:
"My interest in radio started early in life, I can't remember exactly when, maybe at birth. Anyway when I was fourteen, I discovered that in order to get into radio, I needed to pass my FCC Third Class license test. After a week or so of preparing for the exam and being too young to drive, my friend Jim and I boarded a train in Winchester for a trip to Louisville, where the test was being administered.

"At that time in my life, WAKY was 'The Station' and Jumpin' Jack was 'The Man.' After completing the FCC exam, and with several hours before the train was scheduled to make its trip back to Winchester, we decided a visit to WAKY and meeting 'El Jump' would be a great way to top off our trip. I located a pay telephone near the front of the Federal Building, where the test was given, called WAKY and managed to talk my way into the control room and connect with Sanders. I conveyed my interest in radio and especially with WAKY. Jack said 'Hell Yes! Come on up,' and gave us directions. It didnít take us long to arrive at the original WAKY studios where we were greeted with near VIP hospitality, of which I was unaccustomed to, but welcomed. The receptionist gave us the grand tour, which ended with an invitation to have a seat in the control room for a visit with Jack.

"Jack was very quick-witted and was quick to hone-in on my keen interest in radio. He was using the first tape cartridge machines I had seen. This was most interesting because prior to this visit, I had only seen small, three-inch reel-to-reel tapes used for commercials and jingles. Jack took the time to explain exactly how they worked and let me examine one of the cartridges.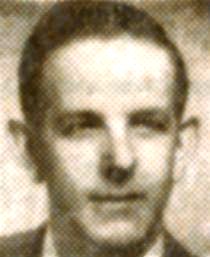 Jack Sanders from an early 60s WAKY promotional flyer
"It was shortly after I had returned the cart to the lazy-Susan wire-rack when a cocktail waitress, in full traditional early 60s attire, came through the control room door. She was dressed in high-heels and a mid-thigh length black skirt with her bosom pushed up and overflowing out of her top, quite a sight for an Eastern Kentucky fourteen-year old boy. She was carrying a round tray and gracefully balancing three drinks, probably Manhattans. Jack received the drinks one by one placing them in a straight line just behind one the turntables and winking at the waitress as a gesture of thanks. With one hand he placed a ten-dollar tip on the round tray while with the other hand patting her, playfully on the behind. The waitress laughed with a sexy giggle as she exited the control room. With all of this distraction and a side game of Chess going on with his newsman, Jack didnít miss a single break or segue on the air. His 'on the air' style and personality flowed with ease as if this was an everyday experience. To this day, I have never seen anyone so relaxed and at ease during an afternoon drive-time shift.

"After downing two of the drinks, Jack asked us to please excuse him a minute, picked up the telephone, and dialed a number. After doing a live tag on the air about bus advertising in Louisville, he was talking with his bookie, placing bets on afternoon races at Churchill Downs. He was on the phone for perhaps five minutes or so, taking time from the conversation to intro a record, read a live spot and make a move on the chessboard. Was I impressed? You know it. Was this part of Jump's show, to impress visitors, or just the norm? I am still not sure.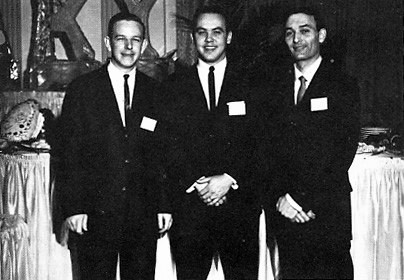 WAKY DJs Jack Sanders, Gene Snyder and Greg Mason (1962)
"The old clock on the wall was moving toward 3:55 PM, our train was scheduled to depart at 4:55 PM, so I knew we needed to end our WAKY visit shortly. I thanked Mr. Sanders for the visit, and said we needed to get to the train station. While downing another one of the drinks, he insisted that we needed to experience a Gerry Wood newscast before we departed. Gerry, in the adjacent studio, was well into the news, when Sanders grabbed a 45 record from the rack and rolled his chair under the console desk. From our vantage point; we couldnít exactly determine what Jump was doing with the record and both of his hands under the desk. With about two minutes remaining in the newscast, Sanders rolled the chair out from the desk, got up from the chair and climbed onto the desk just in front of the control board. He was facing Gerry, only separated by about two feet and the glass window. It was only seconds until we figured out what he was up to under the desk. With both hands in the air and his manhood dangling through the hole in center of the 45-record, he did a hip-rolling imitation of Elvis. Wood ended his newscast as quickly as possible, with the last thirty seconds totally in complete hysteria.
"That was my only encounter with Jack Sanders. Needless to say, Jim and I had lots to talk about on our train trip home."
Have a memory about Jack Sanders (or any facet of WAKY) you'd like to share?
E-mail the Webmaster