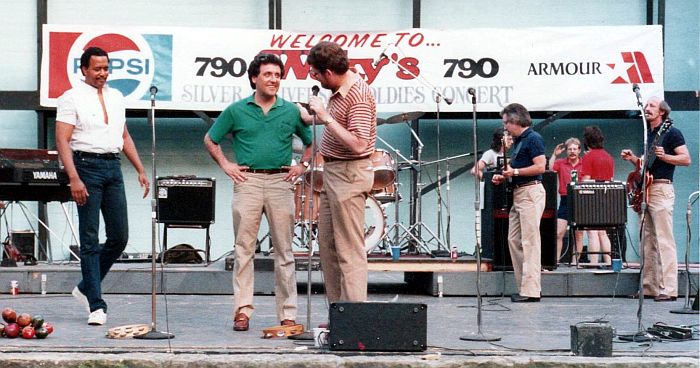 DJs Keith Landecker, Steven Lee Cook and Bob Moody at WAKY's Silver Anniversary Concert
at Louisville's Iroquois Park. The Epics are getting ready to perform. (1983)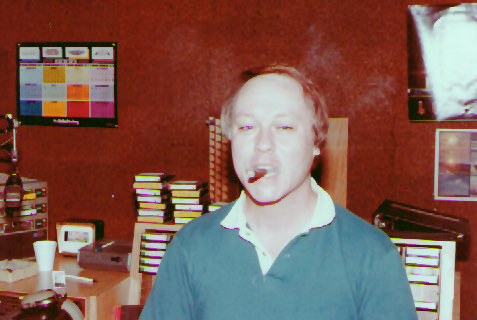 B.J. Koltee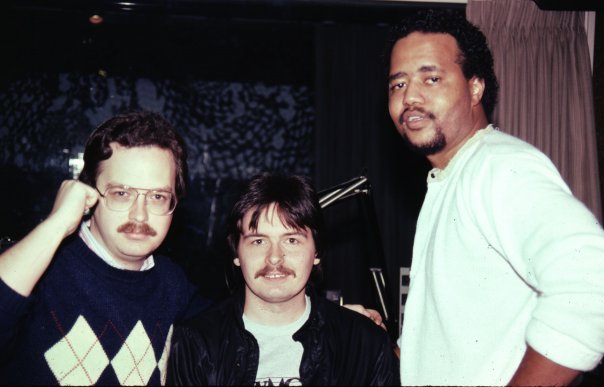 Gary Clark, Bobby Ellis and Keith Landecker (1984)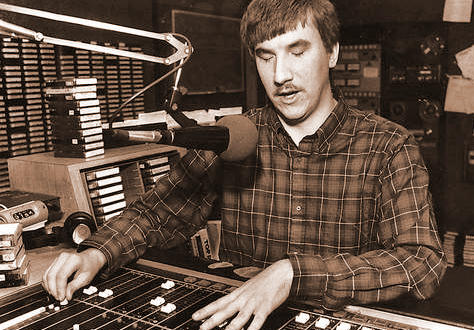 Joe Elliott (Mid-1980s)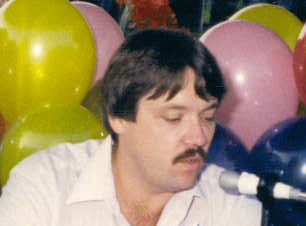 Mark Strauss (1987)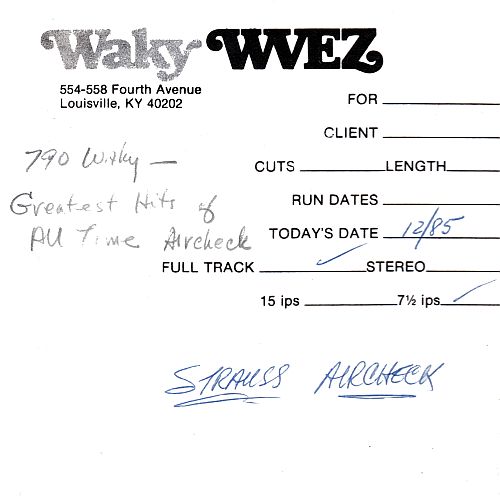 WAKY tape box label (1985)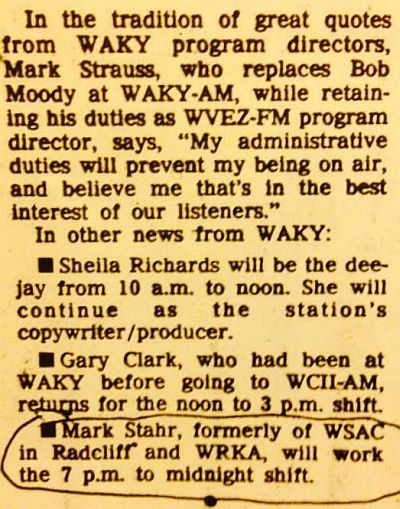 Mid-1980s newspaper clipping about WAKY staff changes

These block letters were mounted over WAKY's showcase studio on 4th Street and are in the possession of former WAKY PD Mark Strauss who writes: "I do not know what year they were hung, but they remained until 1987. For the life of me, I do not know why I've carried them around these past 18 years." Hang on to them Mark!

Here's an August 11, 2009 update from Mark Strauss on the above picture: "On photo page 19, you show the old WAKY call letters I took from the showcase studio. Well, attached is a new photo of the letters. My wife, Jeri, and I refinished and mounted them onto a single board. They now hang in Bill Walter's office located above the WAKY 103.5 studio. These letters were installed over the new showcase studios in 1969. So, they're 40 years old!"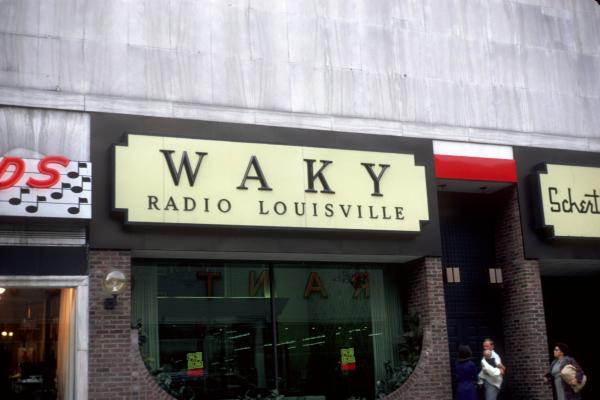 The entrance of WAKY as it looked in November of 1969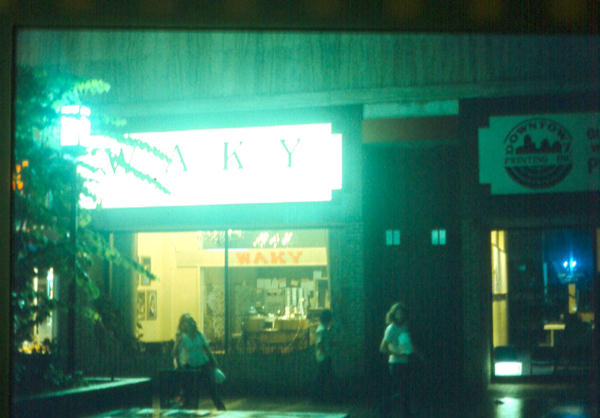 This picture of the WAKY studios was shot around 1974 by WKLO DJ Ron Lake who, along with WKLO's Bob Cline and two female companions (pictured) were on their way to visit WAKY's Chuck Jackson.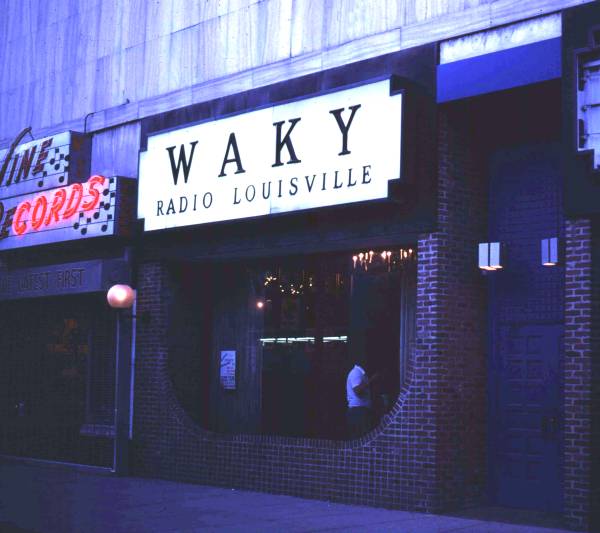 This exterior photo of the WAKY studios was shot by Bobby Ellis in 1982, a short time before the sign was updated with the combined WAKY-WVEZ logos. Notice Vine Records to the left.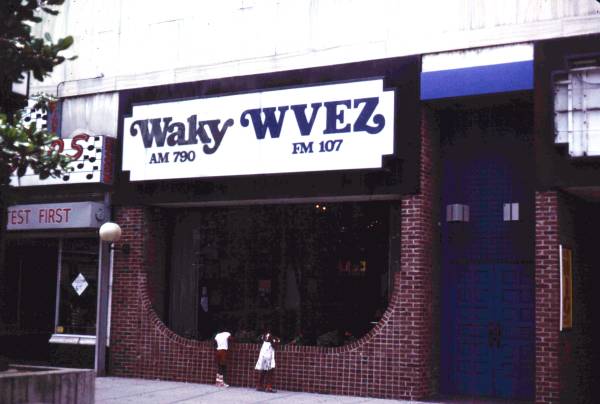 Outside the WAKY-WVEZ studios in 1982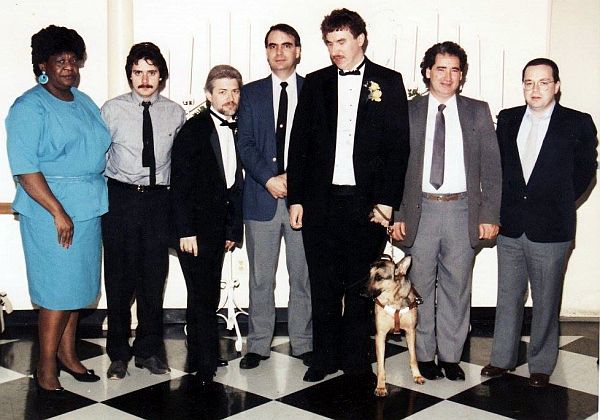 WAKY folks at Joe Elliott's wedding
L-R: Mary Ann Prescott, Mark Stahr, Stan Cook, Alan White, Joe Elliott, Tom Hardin, Gary Clark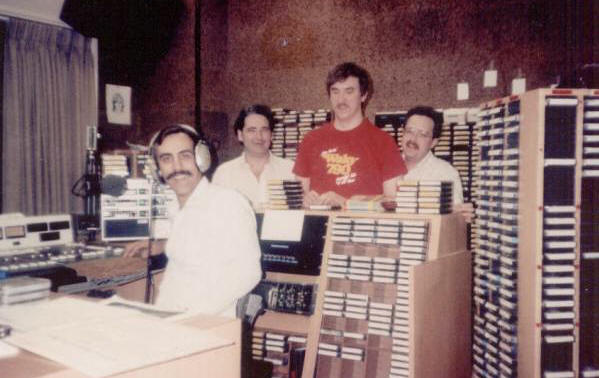 This picture and the four below it are from WAKY's last night in 1986.
L-R: Johnny Randolph, Tom Hardin, Joe Elliott and Gary Clark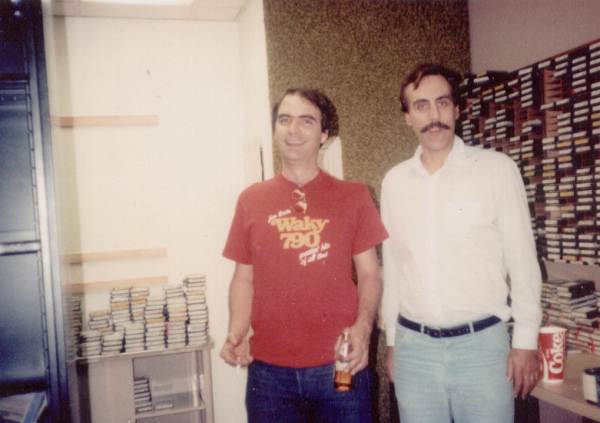 Alan White and Johnny Randolph
Joe Elliott writes: "Alan was our production guy for both WAKY and WVEZ. I don't think he
ever jocked on WAKY, but he was the voice of Beautiful 790 when the format was changed.
He's a great guy and still lives in Louisville."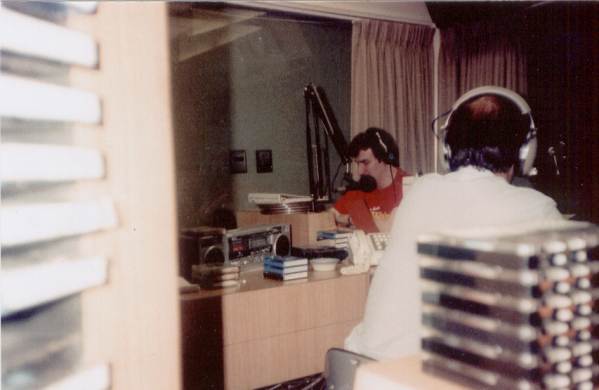 Joe Elliott and Johnny Randolph's back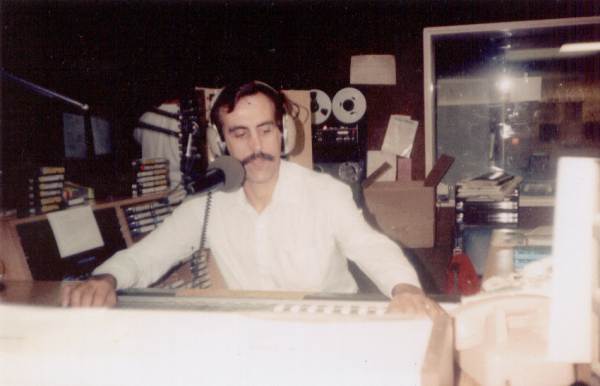 Johnny Randolph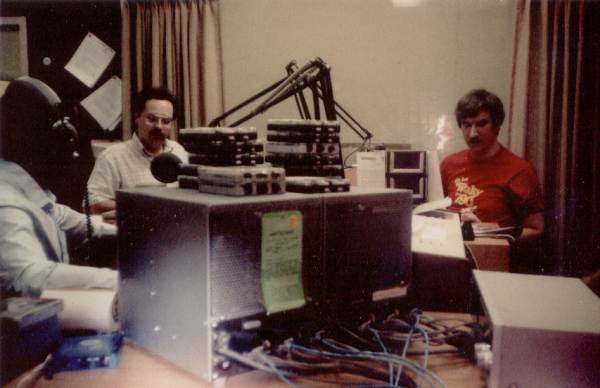 Johnny Randolph, Gary Clark and Joe Elliott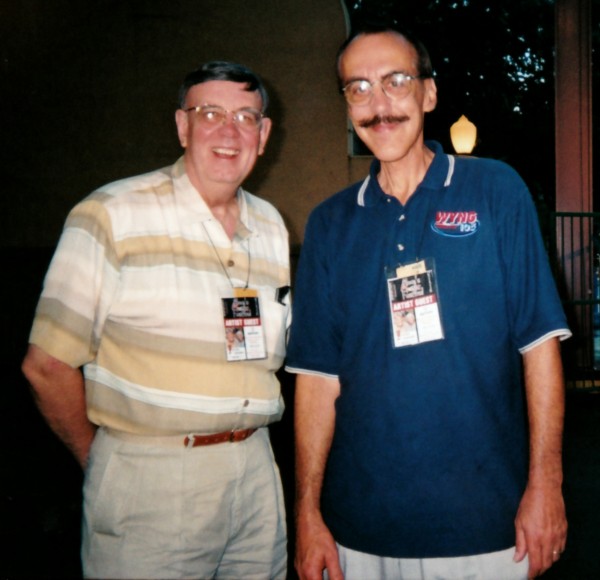 Tim Tyler and Johnny Randolph (2004)