79WAKY.com is pleased to offer this CD presentation: "WAKY Remembered."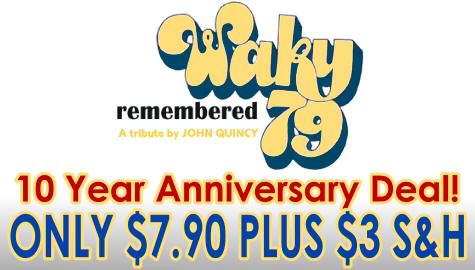 This one-hour tribute to WAKY was produced by John Quincy in 2003 with the assistance of former WAKY Program Director Johnny Randolph. It features several airchecks of some of WAKY's top personalities during the Johnny Randolph years, lots of WAKY jingles, and an interview with JR himself.

Listen to the first five minutes here!
In honor of its 10th anniversary, CD copies of "WAKY Remembered are now available for $7.90 (normally $10) plus $3 USPS shipping and handling (usually $5) in the United States. Or you can get a copy for free when you buy Bill Bailey: A Louisville Legend.
If you'd rather contribute via check or money order, the address is:
Ted Tatman
107 Cannonsmill Lane
Summerville, SC 29485
All proceeds go for Website and archiving expenses. Thank you!