This page last updated Monday, May 29, 2017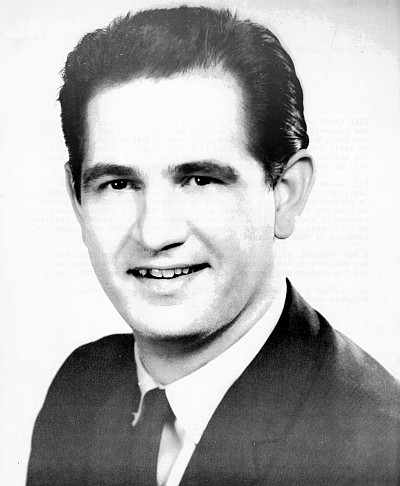 Bill Crisp WAKY publicity photo

BILL CRISP is without a doubt Louisville's top air "Salesman" and Louisville's most popular morning dee-jay. It's not a guess on our part, but simple fact. Crisp-cut commercials are heard daily on radio and television stations from Cincinnati to Atlanta and as far west as Omaha. All the rating services confirm our belief that Bill is the most listened to announcer in Kentuckiana.

Bill seems to have that special talent of getting "close" to the listener...to entertain, inform and to motivate. To put it briefly, 'a picture-book morning man,' that is at peak performance the minute he hits the mike at 5:30AM each morning. - Bill is a truly tested veteran of the radio field, having served on the air staff of stations in California, Florida and Tennessee. He also doubled as program director of WKGN in Knoxville, Tennessee.

A Navy veteran, Bill used his G.I. Bill for radio instruction at Dan Martin's in Los Angeles. He was graduated from the course as the top student engineer and placed second in the announcing field.

Just a few of the reasons WHY Bill Crisp makes mornings brighter on WAKY.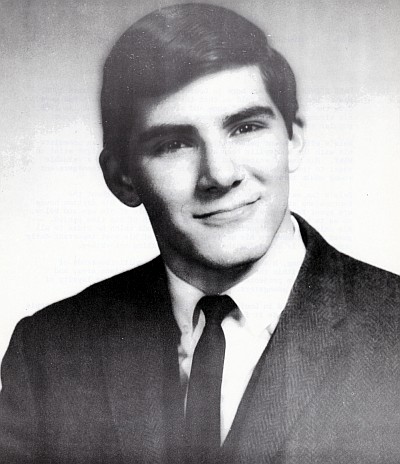 Dale Reeves WAKY publicity photo

Dale was born in Louisville, Kentucky, in March 1946. His father has often told us that the first words Dale uttered were from the old "Amos & Andy" show and since WAKY's conception in 1958, his strongest desire was to become a deejay on Louisville's most popular station - WAKY!

Dale's effervescent personality and his youth made him an immediate hit with the Louisville teen audience during his 9-midnight stint on WAKY. His use of voices and teenage humor has made him a valuable asset to the growing market and to the vast number of teenagers and young adults throughout Kentuckiana.
Dale's fan mail and fan clubs have sprouted up throughout the Kentuckiana area with such enthusiasm that most of his daytime hours are spent talking, and encouraging young people of his age and below, so as to better understand the audience reach of his time period.

His only motor transportation is his 350 Honda which he rides to all guest appearances in his active life. One of his most important daily occupations is stressing the safety of handling motorbikes.
Although young, his mature voice is heard by multi-thousands of youngsters within the reach of the Greater Kentuckiana area, and the enthusiasm projected by this voice has captured the loyalty of many of these youngsters.

It has been said in Louisville, "If you want to reach the young people, Dale Reeves can do it for you."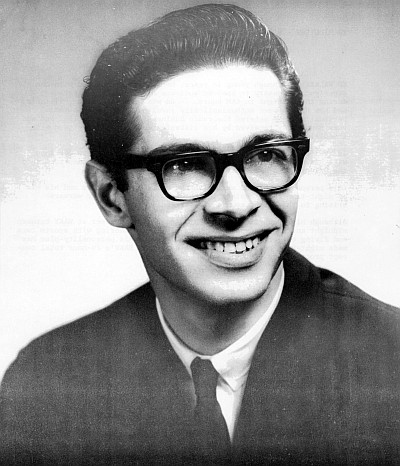 Ed Walker WAKY publicity photo

Although young in years, Ed Walker is heavily endowed with the experience necessary to keep an audience mix and flow generated during the midnight to 6AM hours.

Ed was born in Chicago, Illinois, and has always been enthusiastically involved in becoming a radio personality. He entered the radio business in Chicago in 1962 and was very handsomely received by his listening audience and bestowed with immediate fame.

In 1963 Ed Walker married a Louisville girl and decided to continue with his education. At that point, he gave up daytime radio to attend the University of Indiana.

Ed's personality blends well with the early morning hours and his mix of night-time radio assists the thousands of blue-collar workers arising to the bright sounds of WAKY Radio.

Although his occupation is that of disc-jockey/Engineer at WAKY between midnight and 6AM, he spends much of his time tinkering with sports cars and flying out of Louisville's Bowman Field. His personality-plus has made night-time radio as listenable as all of WAKY's 24-hour total concept programming!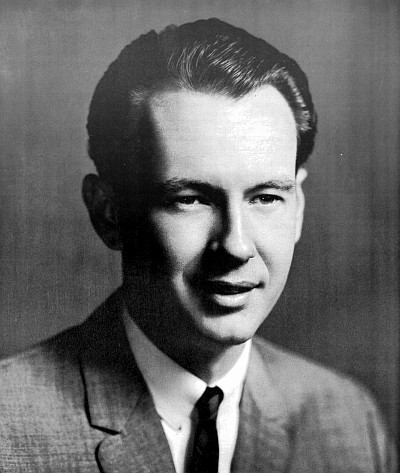 George Williams WAKY publicity photo

If it's true that a man is known by the company he keeps, George Williams is known by thousands as the "fun favorite" of WAKY. Quick wit and driving persuasiveness established George as one of the best known radio personalities in Kentucky and Southern Indiana! George proves this with a substantial share of the audience in Lexington, Kentucky, which is 80 miles down the road, and a market with four radio stations of its own.

As a "Radio Rookie" in 1955, George has shown a steady, if somewhat dramatic, understanding of the youth market and the social and cultural implications attached to it. George has only worked for three radio stations in his career which is indicative of the respect and confidence surrounding him.

A demanding schedule keeps George constantly on the go from show window to stage to recording studio and back again.... always finding time for appearances at teen hops and proms.

This is George Williams "on the go radio." If fact, we think that saying, 'Let George do it' emanated right here at WAKY."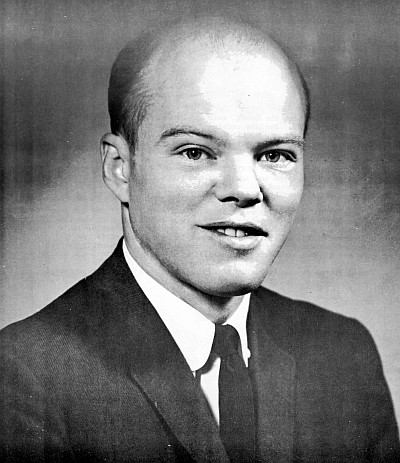 Jim Brand WAKY publicity photo

JIM BRAND has been the heart, soul and backbone of the WAKY air staff since 1960. Besides serving as program director, and operations director, plus his daily air bloc, Jim is also one of the most sought after talents in the city for free-lance commercials.

During the six years at WAKY "The Brandstand" has become a watch-word with housewives and scurrying motorists all over Kentuckiana. A bright bouncy sound coming over the air waves of 790 makes listeners and advertisers alike recognize "The Brand."

Jimmy's day just begins with his regular air shift. It may end over a conference table, in the production room at 2AM, or with the conclusion of a special WAKY promotion. It's hard to determine Jim's greatest attribute, but one that's not to be overlooked is the enthusiasm and drive that radiates from a bubbling personality. He has his own technique for instilling the same drive into his staff.

Next to the transmitter, Jim Brand is WAKY's most important property!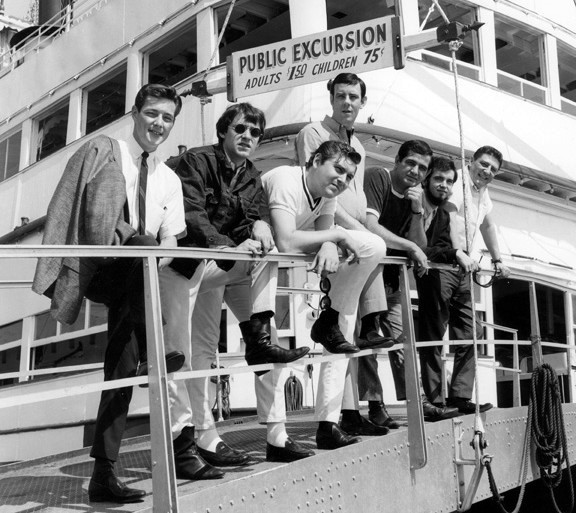 1967: Johnny Locke, Al Risen, Steve Baron, Tim Tyler, Bill Crisp, Weird Beard and Farrell Smith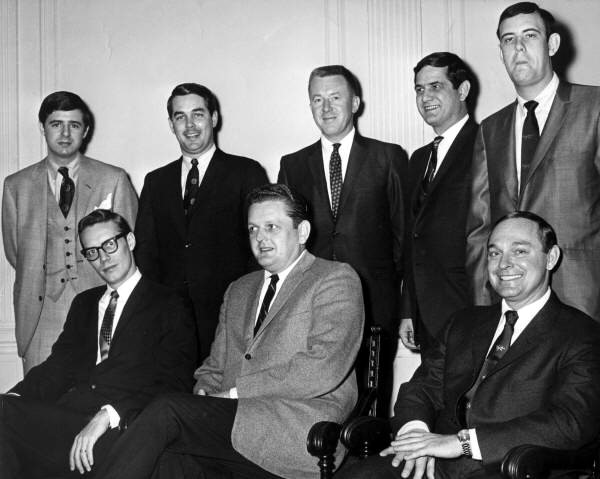 WAKY Sales Department and management (plus Bill Crisp, PD), taken on December 16, 1967.
Standing, left to right: Jay Epstein, Dick French, Jim Davis, Bill Crisp (PD), Tim Tyler
Seated: left to right: Al Smith, Don Meyer, Jack Sumner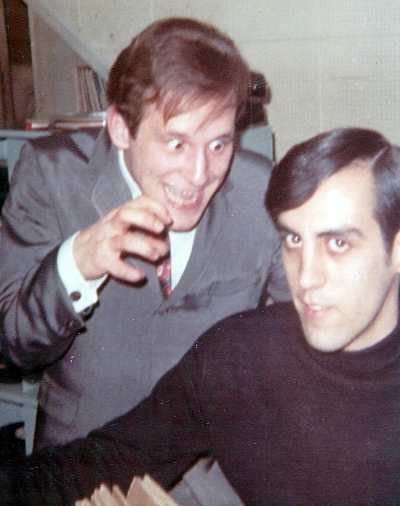 Tom Dooley and Johnny Randolph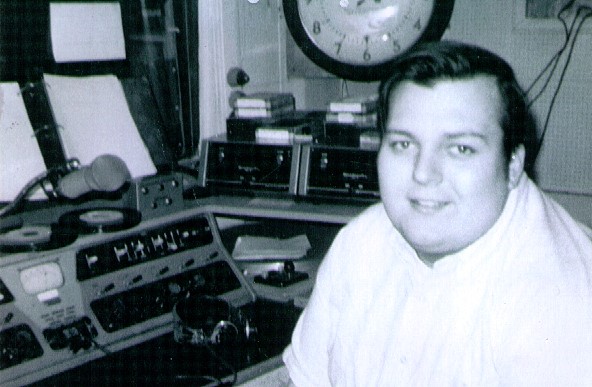 Buddy Kay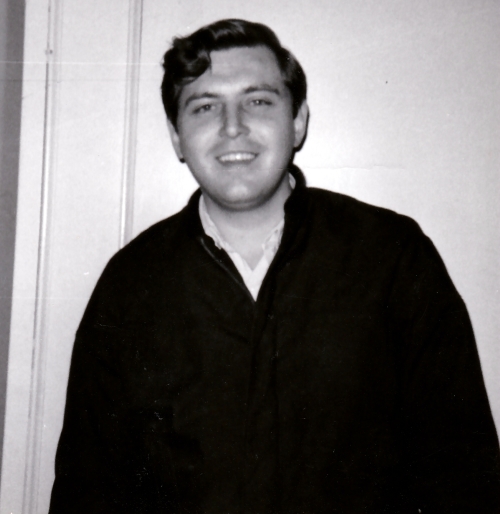 Steve Baron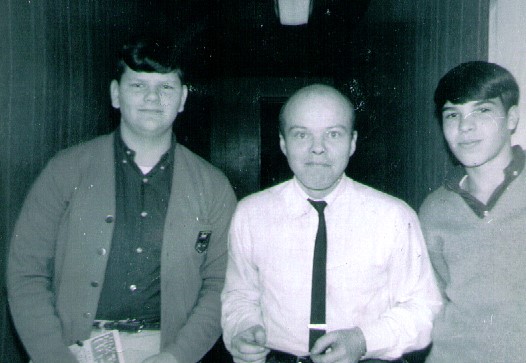 Jim Brand (C) with two visitors, Joey Stamper (L) and Galen Poole (R)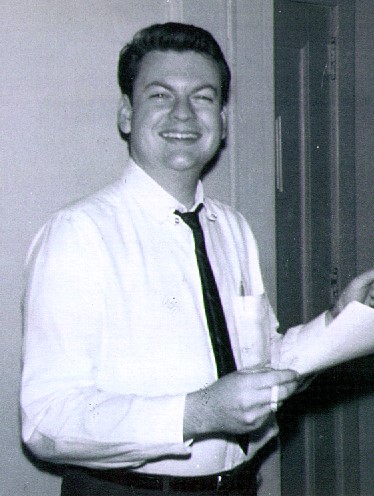 Bob Watson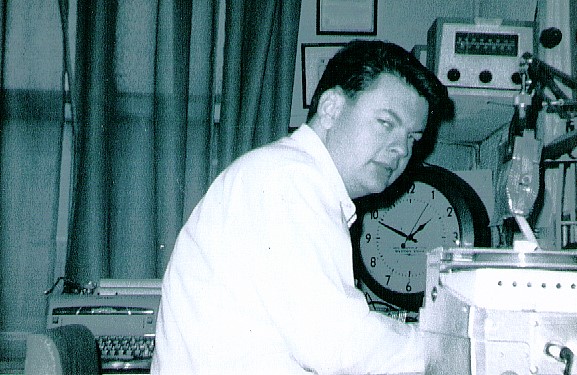 Bob Watson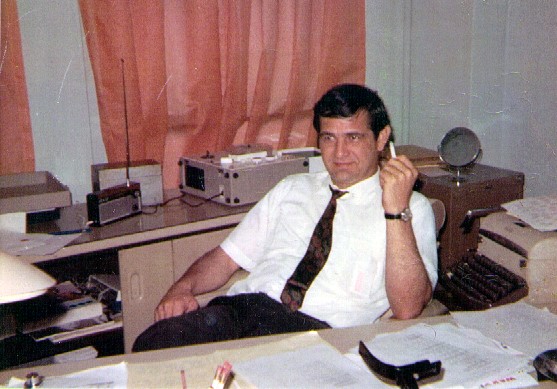 Bill Crisp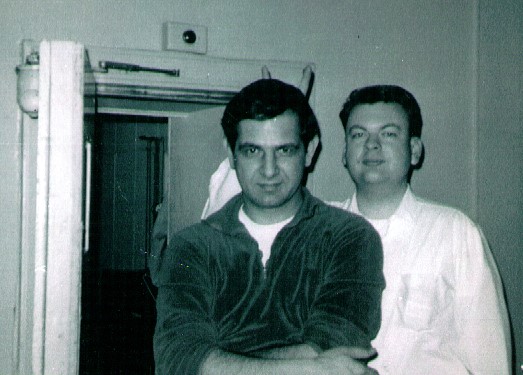 Bill Crisp and Bob Watson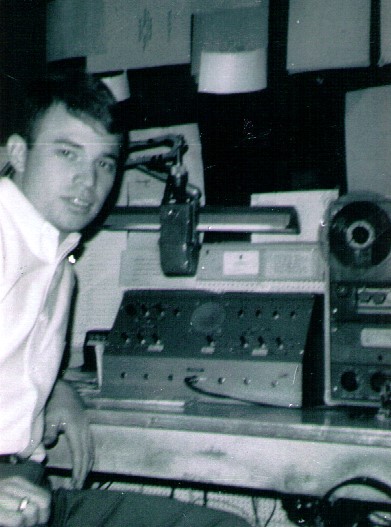 Byron Crawford
Check out more great 1966-1967 WAKY photos from Robin Ballard here!
<- Previous Page | Next Page ->