Larry Aiken Night jock in the late '50s. Died February 13, 2010 at the age of 69 after longstanding health problems. "Lonesome Larry" wrote in 2005:
John Alexander Early '70s newsman. Do you know where he is today?
Johnny "Alligator" Argo Mid '60s WAKY nighttime DJ. Previously worked at WKLO, as well as WPOP in Hartford and KUDL in Kansas City. Deceased.
John Ashton WAKY jock in 1979 and 1980. He replaced Daryl Douglas on the midday shift in late 1979 and later moved to the Production Director's slot for WVEZ when it moved into the WAKY building. Did mornings at WSSX in Charleston, SC in the early '80s. Was morning host at WVEZ in Louisville for many years through July 21, 2008.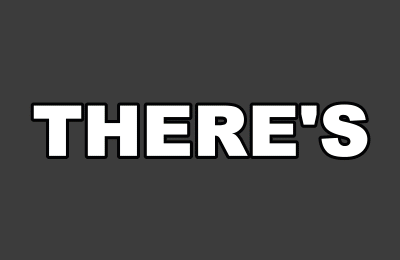 Bill Bailey [Audio Interview Available] Longtime WAKY morning man known as "The Duke of Louisville." Bill came to the Derby City from Winston-Salem, North Carolina in 1965 to do morning drive at WKLO. In the summer of 1969 he departed for AM drive at WLS in Chicago but quit after six months. Bill returned to Louisville and joined WAKY in 1970, where he ruled the morning roost there through 1981. Bill left WAKY for country-formatted WCII (the former WKLO) but returned to WAKY for another stint in 1985 and 1986. After leaving WAKY the second time, Bill did some airwork for Louisville's WTMT. In 1987, former WAKY PD Bob Moody asked Bill to join him at WPOC in Baltimore, where Moody was PD. Bob writes:
Bill then retired from radio -- until being coaxed out in 1989 to do PM drive at WVLK-AM in Lexington where he remained until April 20, 1994. Bill spent his last years in a Louisville-area nursing home recovering from a 2003 stroke. Up until the end, his mind was still sharp and the old Bill Bailey wit remained. Bill died January 14, 2012 at the age of 81. [Real Name: William Clyde Boahn]


Jack Baker News anchor in the late 1950s. Do you know where he is today?
Robin Ballard WAKY part-timer between 1966 and 1968. [Real Name: Robert Ballard] Robin writes:
The Outrageous Marty Balou Marty writes:
Steve Baron Mid '60s WAKY midday personality. Do you know where he is today?
Jerry Barr WAKY night jock in 1963. Deceased. [Real Name: Jerry Barbier] Ben Pflederer writes:
Glen Bastin News Director 1980-1982. Now works as an executive for the Honorable Order of Kentucky Colonels in Louisville. Glen writes:
Charlie Blue Part-time DJ during the Mike McVay era. Later known professionally as Charlie McGraw. Charlie was married to fellow WAKY on-air talent Adele Gleaves. Now Station Programmer for the City of Las Vegas' KCLV, Channel 2. [Real Name: Charles Hosmer]
Kevin Boyle Newsman in 1982. Do you know where he is today?
Jim Brand [Audio Interview Available] Program director and jock in the 1960s. Passed away on November 3, 2012 after over 40 years in the radio business in Gainesville, Florida. Jim wrote in 2005:
Lauren Brown Mid '80s WAKY/WVEZ newsperson. Also did news at WHAS/WAMZ. Born in Lexington, KY. Graduate of Western Kentucky University. After her radio career Lauren Brown Roberts became the Director of Communications at Christian Church Homes of Kentucky. She also spent over two decades as Public Information Officer at the Jefferson County Public School System. Died June 28, 2016 at the age of 52 after a short illness.
Gloria Buchanan Early '80s WAKY newsperson. Do you know where she is today?

Gary Burbank [Audio Interview Available] WAKY afternoon DJ between 1969 and 1973. Came to WAKY from WMPS in Memphis where he was known as Johnny Apollo. Left WAKY to become PD of WNOE in New Orleans. Later did mornings at CKLW in Detroit before coming back to Louisville in 1976 to do PM drive at WHAS. Left WHAS for a station in Tampa, Florida for a short period of time before going to WLW in Cincinnati, where he handled afternoon entertainment duties for over 25 years. Retired from the daily on-air grind on December 21, 2007, but still voices the nationally syndicated Earl Pitts features. Inducted into the Radio Hall of Fame in 2012. [Real Name: William E. Purser, Jr.] Gary Burbank Airchecks - Gary Burbank Ink

Coyote Calhoun [Audio Interview Available] WAKY DJ between 1973 and 1979. Originally from Oklahoma. Came to WAKY directly from WKGN in Knoxville, Tennessee where was known as "Jack Diamond." Coyote started his WAKY tour doing nights, and later moved to PM drive. His first post-WAKY gig was doing nights at Top 40 station KULF in Houston, Texas. He returned to Louisville in 1980 and became the PD (and first live announcer) at country-formatted WAMZ in Louisville where he remained full-time until 2014. [Birth name: Greg Embody] Coyote Calhoun Page | Coyote Calhoun Airchecks
Bob Campbell McLendon-era WAKY newsman. Do you know where he is today?
Gary Clark WAKY jock in the mid '80s. Worked at WAKY twice: first in PM drive, then 12 noon-3 p.m. Was handling mornings at Louisville's "Country Legends" WRKA until November 29, 2010.
Mark Clark WAKY jock in the mid '60s. Do you know where he is today?
Brian Conn WAKY DJ in 1981. Now at the Public Radio Partnership (WFPL, WFPK and WUOL) in Louisville. Brian writes:
Stan Cook Newsman in the mid '80s. Also worked for WKLO in the mid-to-late '70s as well as stations in Indiana; Elizabethtown, Kentucky; and Lexington, Kentucky. Most recently did news for Louisville's NPR News Station, WFPL.
Steven Lee Cook "Weekend Warrior" DJ 1972-1976. He came back to WAKY and worked fulltime middays 1982-1984. Steve left WAKY to go into radio sales at WHAS (where he also did some weekend air work.) Also worked at WASE in Elizabethtown, Kentucky in 2005 and 2006 as an Account Executive and weekend jock. Now sells ads for WAKY-FM. Steve wrote in 2005:
Byron Crawford WAKY newsman from October, 1966 through sometime in 1969, when he moved to Cincinnati to do news at WCKY. He returned to Louisville in 1973 to work at WHAS, where he remained until 1979...first in radio news, then in TV as a reporter and weekend anchor. Spent many years as a columnist for the Louisville Courier-Journal, retiring in late 2008. Inducted into the Kentucky Journalism Hall of Fame in 2009. Byron writes on May 16, 2005:
Bill Crisp [Audio Interview Available] Morning DJ and PD in mid '60s. Bill came to WAKY after over a year doing mornings at WKLO. After leaving WAKY, Bill became PD and morning man at WLAP in Lexington, Kentucky. He later went to work as News Director and Anchor at WTVQ-TV in Lexington, plus did a morning slot at WKXO in Berea, Kentucky. Bill also co-owned radio stations in Delaware. He retired in 1993 and lived in Millsboro, Delaware until his death on December 6, 2011. Bill wrote in 2005:
Liz Curtis 1981-1984 DJ. Left WAKY to go to WHAS. She is now a successful Christian author and motivational speaker. Liz writes:

Jack Daniels Night jock in the mid '60s. Died on February 1, 2009 at the age of 69 after a battle with cancer. Spent the last several years of his career as editor of TV Business Confidential writing a daily report for TV station owners similar to Inside Radio. [Real name: Floyd H. Thackery] Jack e-mailed us in November 2005:
Johnny Dark Overnight DJ in the late '60s from the Bowling Green, Kentucky area. Later worked at WKLO in the early '70s using the airname Jonathan Stone, as well as stations like WHK, CKLW, WQXI and WZGC. (See the WKLO Tribute Site for more details.) [Real Name: Harold Hines] Died of cancer in 2002.
Ralph Dix Newsman at WAKY between 1972 and 1978. Left WAKY for WHAS radio where he worked in the news department there (as well as at WAMZ) until 2003. Still lives in Louisville where he works for Brantley Security Services.
Mason Lee Dixon [Audio Interview Available] Overnight DJ who started at WAKY in March, 1969. Previously worked at other Kentucky stations such as WEKY in Richmond, WIRV in Irvine, WVLK in Lexington and WDXR in Paducah under his real name and as Jay Rabbit. Left WAKY in September, 1972 to work at a KXOK in St. Louis. Along with spinning the Top 40 hits, he had a WAKY call-in talk show called "The Mason Dixon Line." Later came back to work at WAKY in the late '70s. Also worked at WKLO, WQMF, WINN and other Louisville stations. Was employed at the Holiday Manor BP on US 42 (Brownsboro Road) in Louisville for many years though December 7, 2007 when the business closed. Mike Griffin reports on December 21, 2008: "He is retired now." Died September 24, 2020. [Real name: David Bratcher] Mason Lee Dixon Airchecks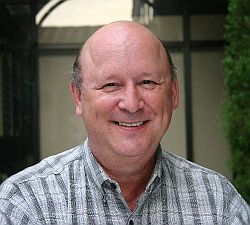 Tom Dooley in later years
Tom Dooley [Audio Interview Available] WAKY afternoon drive jock twice: 1968 and 1974-1976. Worked at KELI (Tulsa), WQAM (Miami), KNUZ (Houston) and WSAI (Cincinnati) before coming to WAKY the first time. Left WAKY to concentrate on his musical career full-time. Lost his voice and had two operations. When his voice returned, he got back into radio and worked at WMPS (Memphis, Dooley's hometown), WORD (Spartanburg, SC), KRIZ (Phoenix), WFIL (Philadelphia), WHBQ (Memphis) and KHJ (Los Angeles) previous to returning to WAKY. Left WAKY to go to work for the Jimmy Carter campaign in Atlanta. While in Atlanta, he got a job with WGST, leaving there to go to FM100 in Memphis. Tom also did time at stations in Rockford, IL, Cleveland, OH, and Knoxville, TN. Did a nationally syndicated Contemporary Christian radio show ("The Journey") and more out of MasterMedia Ministries in the Dallas-Ft. Worth area. Sidelined due to health issues in the spring of 2010. Tom passed away due to complications from brain cancer on November 9, 2010. [Real name: George Patrick Dooley, Jr.] Tom Dooley Airchecks Tom Dooley's Showtime Revue
Craig Douglas News reporter in the late 1950s. Hal Smith reports Craig is living in Nashville, Tennessee and owns a studio from which he does voiceovers. Also does "Tax Tips" which is supplied to radio stations.
Darrell Douglas WAKY DJ for six months starting in June of 1979. Before WAKY he worked at WKBW (Buffalo), WLOF (Orlando), WMAK (Nashville) and KX104 (Nashville) in addition to various independent production companies. His airshift was 1 to 4 p.m. weekdays and Saturdays from 3 till 7 p.m. Now lives in Binghamton, NY where he runs Douglas Media Productions.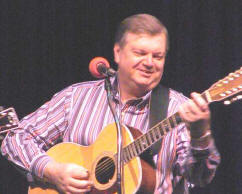 Darrell Douglas Today
Eileen Douglas WAKY newsperson in 1970 from September through November 1970. After WAKY she went to a six-year stint at WKLO, first as reporter/anchor and then as one of the first female news directors in the country. Eileen now lives in New York City, where she has had a distinguished career as a broadcast journalist.
Ken Douglas Haberdashery employee-turned-WKLO personality during the British Invasion years. A native Englander, his British accent and knowledge of the Beatles and other English acts took the WKLO airwaves by storm in 1965. Toured with the Beatles and filed reports on WKLO. Friend of Davy Jones of the Monkees, with whom he went into the haberdashery business in California after leaving Louisville. Worked nights at WAKY for a brief time after he and WKLO parted company. Also worked at WINN. Passed away in England on November 21, 2016. From his obituary in the Courier-Journal: "Ken lived a very exciting life from working on cruise ships sailing around the world to touring with the Beatles in 1966, and meeting and interviewing many celebrities. Ken worked for the Monkees in Los Angeles and became life long friends with Davy Jones. Ken then became manager of the men's store at Fred Segals in California. After retiring, Ken returned to England to be closer to family and his daughter, Heather. Ken loved meeting people and making friends. No one was ever a stranger."
Later lived in Marina del Ray, California where he worked in the retail clothing business. Eventually returned to England to be with his daughter Heather. but might have returned to Great Britain.
Bob Dries WAKY night jock in the early '80s. Left WAKY to go to WRKA. Later worked at WHAS radio as a morning show producer during the week and as part of the "Saturday Morning Crew" show from 6 a.m. to 9 a.m. on Saturdays. Now lives in Southern Indiana where he does freelance DJ and voice work.
Chuck Dunaway Midday DJ who was part of Don Keyes' original staff. Chuck also had stops at WABC, WIXY, and KLIF and is credited as the father of the Progressive Country format. Chuck and partners also owned Big Mack Broadcasting Co. (KIXQ, KSYN, KXDG and KJMK, Joplin, Missouri). He is retired and living in Houston, Texas.

Joe Elliott WAKY DJ in the mid '80s. After a long tenure at WHAS, both as a DJ and a talk show host, Joe now hosts a daily talk show at Louisville's 970 WGTK. Joe writes:
Bill Evans WAKY overnight DJ for a couple of months in 1964. Originally from Litchfield, Kentucky. Now owner/operator of WQXE in Elizabethtown, Kentucky.

Joe Fletcher DJ in the 1960s. His radio and television career spanned from 1960 through 2002. He was a WAVE/WAVG 970 TV and radio personality who received awards for his popular show "The Joe Fletcher Show" by TV Radio Mirror. Joe was also known to fill in on the weekend weather at WAVE TV-3 and hosted the program "High Q". He worked for Louisville radio stations WAKY, WKLO, WINN, WAVE, WAVG, and WKJK (where he retired). Early in his career he worked for WSAC, Ft. Knox, KY and WSLM, Salem, IN. He also worked at WFBC in Greenville, SC. Died at the age of 75 on December 23, 2009 at Springhurst Health & Rehabilitation after a prolonged illness.
Jim Fletcher WAKY Production Director in the late '60s from Guthrie, Oklahoma. Deceased.

Bill Gill WAKY News Director during the McLendon years, who later was a TV newsman for ABC and ABC's White House Correspondent. Do you know where he is today?
George Gillis Newsman in the early '80s. George died in June of 2004. He was the producer of the evening news for WJAR-TV in Providence, Rhode Island up until his passing.
Rich Gimmel WAKY Production Engineer, Jock and Newsman in the late '60s. Rich writes:
Adele Gleaves (Hosmer) WAKY part-time/swing DJ in the late '70s. Prior to WAKY, she was a member of the United States Gymnastics Team for four years. Adele was married to fellow WAKY on-air talent Charlie Blue (Charlie Hosmer). According to Gary Burbank's wife Carol, Adele died of cancer in 1989.
Kevin Goemmer WAKY Sunday morning board op in the '70s. Later became one of the region's best-known horse-racing callers, most closely associated with Cincinnati's River Downs. Died in January 2004 at the age of 48 after apparently suffering a heart attack while driving to his home in Independence, Kentucky. Remembrances of Kevin:
Scott Goettel WAKY 7 p.m. - midnight jock from May through July 1985. Previously worked at WWKK, WSAC, WRKA and WHAS. Left WAKY to do down the hall to WVEZ to do afternoon drive until WVEZ became automated in March 1986. Later worked at WIEL and WRKA (again). Became Production Director at WHAS in 1987 where he remained until 2007. Now doing production at WQXE in Elizabethtown, plus various other radio and TV voiceover work.
Jack Grady Jock during the McLendon days. He started out doing WAKY's version of the all-night show, "The Milkman Matinee". He then moved to the 7 to Midnight shift, and was also WAKY's Music Director. After leaving WAKY in 1962 when McLendon sold the station to LIN, he got out of radio and was with Columbia Records and other music business interests in New York and the West Coast. Jack was the overnight personality on ABC's "Stardust" format, based in Dallas, Texas between 2001 and 2009. Passed away around June 1, 2015 at his home in Dallas. [Real name: John K. Anderson]
Bill Graham [Audio Interview Available] Newsman and News Director. He also worked at WKLO between 1974 and 1975 using the name Mike Scott. [Real name: John "Mike" Wascher] Bill writes:
Lee Gray WAKY jock in 1973 and 1974. (He also worked at WKLO before and after WAKY.) Passed away in 1996 in Houston, Texas. [Real name: Royce Lee Darling]
Mike Griffin Worked at WAKY 1971-1977. Previously worked at WREY and WXRX. Mike writes in 2005:
Allen Guess Newsman for about 6 months in 1973 or 1974. Do you know where he is today?
Gary Guthrie WAKY Program Director 1977-1979. Joined WMC-FM (FM100) in Memphis in the summer of 1979. Read Gary's "WAKY Thoughts" here.

Thom Hall Newsman in the early '60s. Later worked at WTMT and other Louisville stations. Believed to have moved to Florida. Do you know where he is today?
Tom Hardin DJ at WAKY in the 1980s. Tom writes:
Bobby Hatfield WAKY jock in 1979. [Real Name: Joe Reilly] Bobby writes:
Skinny Bobby Harper WAKY Morning man from mid-1969 through the end of January 1970. Died of cancer in Atlanta, Georgia in 2003.
John Henderson Weekend WAKY jock between 1970 and 1972. Worked at WLAP in Lexington, KY before coming to WAKY. After WAKY he returned to Lexington to work at WVLK for several years. He still lives in Lexington where he works in the horse racing industry.
Jack Holiday See Al Risen
Dan Hutti Part-time DJ in 1980 and 1981. Dan writes on February 17, 2010: "I was full-time WVEZ and part-time WAKY. I did a lot of fill-in for Bill Bailey, and was on the air on both stations at once sometimes, running from one studio to the other. Great memories and great fun. In brief my radio log is as follows: WLCV, WUOL, WLRS, WMMG, WAKY, WVEZ, WKJJ, WCII, WQXE, WRKA, WHTS, WRVI, Eagle Broadcasting (Traffic), Metro Networks (Traffic)."


Chuck Jackson [Audio Interview Available] WAKY night jock in the 1970s. [Real name: Fritz Lape] Chuck writes:
Dave Jacob Weekend newsman in 1973/1974 while Program Director/Morning Drive at WSAC in Fort Knox. Later was morning news anchor at WKLO in 1977 and 1978 using "Dave Jacob Straub." Left WKLO for a news position at Atlanta's WSB. [Real name: David Jacob Straub] Dave writes:
Bob Jannsen Part-time DJ in 1969 and 1970. Also worked at WREY in New Albany, WJPS in Evansville (where he used the airname "Roger W. Vanderbilt") and WORX in Madison, Indiana. [Real name: Bob Boling] Johnny Randolph recalls, "He ALWAYS wore sun glasses and I don't think I ever saw his eyes. He was worth his weight in gold because he had a first phone." Do you know where he is today?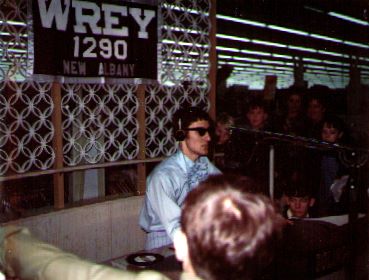 Bob Boling at a WREY late '60s remote
George J. Jennings WAKY News Director in the '60s (right before Bob Watson). He also worked at KAAY in Little Rock, Arkansas and WOIA in San Antonio, Texas. Died March 15, 2007 at the age of 67 due to renal failure. Mike McCormick wrote in 2005:
Adam Jones WAKY part-time all-night DJ in 1962, possibly using the airname "Daddy Cool". Filled-in for the regular overnight DJ Gene Snyder, and did record hops for WAKY PD Jim Brand. Simultaneously worked full-time for Louisville's WINN. Was in radio from 1954 to 1991. Now retired and living in Akron, Ohio. [Real name: Robert Ocepek] Adam Jones Website
Randy Jones Newsman in 1972 and 1973. Now morning man and PD of WDHR in Pikeville, Kentucky. Former WAKY News Director Bob Watson says of Randy:

Jackson Kane WAKY midday personality hired from Memphis in April 1969 at the same time as his friend Gary Burbank. According to former PD Bob Todd, Kane tried to make WAKY a union shop, but was unsuccessful. Kane went to WKLO in December of 1969 as a newsman. He retired in 2002 after a long career in radio news. He produced a syndicated commentary called "Kane's World" for a number of years. He served in the United States Marine Corps, and fought in the Korean conflict. [Real name: Carl Wigley] Died October 27, 2004.
Buddy Kay 1967 WAKY overnight and afternoon drive DJ. Went on to a long programming career using the name Buddy Scott. [Real Name: Buddy Kincer] Buddy writes:
Art Keller McLendon-era WAKY midday personality. Do you know where he is today?
Kris Kelley Full-time overnight/weekend personality in 1974 and 1975. Previously worked in Chattanooga, Tennessee and Huntsville, Alabama. Left WAKY to go back to Huntsville, Alabama and worked afternoons at WAAY for about two years before moving to Dalton, Georgia to go into radio sales. Eventually became a station owner. Now owns a Cable TV system in Spring City, Tennessee. [Real name: Walter Hooper III]
Ev Kelly morning drive personality (part of the "Tim & Ev" husband-and-wife team), beginning in September of 1981. Left WAKY in 1982 for KPPL ("K-People") in Denver. Last heard to be living in Los Angeles with her husband, Tim, and two kids.
Tim Kelly WAKY morning personality (part of the "Tim & Ev" husband-and-wife team) beginning in September, 1981. Left WAKY in 1982 for KPPL ("K-People") in Denver. Was Executive Vice President and General Manager for Premiere Radio Networks in Los Angeles until March 2002. Do you know where he is today?
Sherrie Kendall Newsperson in 1977. Also worked at WKLO and WDGS in New Albany, Indiana. Do you know where she is today?
Gary King [Audio Interview Available] Gary writes:
Gary later became the VP/GM of KVEG in Las Vegas, NV. Today he's an insurance agent in Henderson, NV. [Real Name: Gary Cox]
Len King [Audio Interview Available] Afternoon newsman in 1972 and 1973. Left WAKY with Gary Burbank to go to WNOE in New Orleans. Also worked with Burbank at CKLW and WLW. Later went on to become the head of CNN Radio in Atlanta. Now does voiceovers for CNN from his home in Alabama, plus Web design work.
B.J. Koltee DJ during WAKY's oldies days after a long run at WINN. [Real name: Richard Upton] Died on July 9, 2005 at the age of 59.
Dave Knight All-night DJ in the Summer of 1964. [Real name: John Bowles] Died in 1993.
Mark "Buzz" Knight Assistant to WAKY DJ Ed Phillips. Mark writes:

Keith Landecker WAKY jock in the mid '80s. Now works afternoons at Power 94 (WJTT-FM) in Chattanooga, Tennessee, plus is the PD and Operations Manager.
Jerry Lee WAKY jock between December 1963 and August 1964. Came to WAKY after a three-year stint with KQED in Albuquerque, New Mexico. Jerry writes: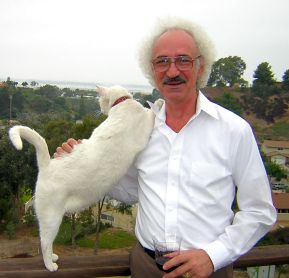 Jerry Leitzell and friend
Jerry Leitzell WAKY newsman circa 1981. Previously did news at WQXE in Elizabethtown in the mid '70s and WHAS (1975-1980). Non-radio gigs have included teaching English at Elizabethtown Community College; Director of Corporate Training in the Bingham family-owned media companies; working at Creative Video Productions; Humana's Corporate Community Relations Manager; and weekend news producer at WLKY-TV. In recent years he has held several supervisory positions within the Fort Knox School System, including Director of Technology, Director of Instruction, and Director of Communications. Currently Jerry is Administrative Officer, representing the school system's interests with faculty, staff, parents, the media, the military, and Headquarters.
Betsy Lewis WAKY newsperson circa 1980. Believed to still be in the Louisville area after marrying and having a family. Do you know where she is today?
Jim Light Program Director and Morning Man 1959-1963. Previously worked at KWK in St. Louis and WSAI in Cincinnati. Left WAKY for KFWB in Los Angeles to become Director of Operations and eventually became General Manager. Deceased. [Real Name: Jim Lightfoot]
Sonny Limbo Mid '60s WAKY personality. Went on to work in the music industry with acts like Alabama and Bertie Higgins. Deceased.
Johnny Locke Mid '60s WAKY midday personality from Lafayette, Indiana. Later worked at WKLO. Left radio in the early '70s to work in the construction of water towers, which took his life in January of 1974 at the age of 35. Last lived in New Albany, Indiana.
Chris Lundy WAKY midday jock 1969-1972. Started his radio career at WLEF in Greenwood, Mississippi in 1966 using the airname Greg Allison. Became "Chris Lundy" at WWUN in Jackson, Mississippi in 1967. Begin using his real name (Hardin Browning) in broadcasting after leaving WAKY. Chris writes on August 20, 2006:
Harry Lyles Joined WAKY as night DJ in late 1978 and stayed until 1982. Previously worked at KATZ, St. Louis; WTLC, Indianapolis; and WMEE, Fort Wayne (among others). Now president of the Lyles Media Group in Marietta, Georgia.

Michael Marvin WAKY 790 part-time jock (Sundays and occasional fill-in) between late 1985 and late 1986. Worked for stations in Elizabethtown, KY including 103.5 WAKY. Retired.
Greg Mason WAKY 9 a.m.-12 noon DJ hired in early 1962 by Hal Smith. After Hal left WAKY, Greg went to a station in Atlantic City, New Jersey. Do you know where he is today?
Diane Mast WAKY news anchor in 1985. Believed to have worked in Louisville public radio before joining WAKY. Do you know where she is today?
Lee Masters [Audio Interview Available] WAKY jock twice in the early to mid '70s. Came to WAKY from WIFE in Indianapolis to do nights in the Fall of '72. Replaced Gary Burbank in afternoons in 1973, and left WAKY in the Fall of '74 to go to Y100 in Miami, Florida. Came back to Louisville to be a DJ at AOR WLRS. Returned to WAKY to do middays for about six months starting in the last part of '75. Went on to program WLRS in Louisville and work both afternoon and morning drive at WNBC in New York, as well as partnering with the owners of WLRS to co-own and manage two radio stations in El Paso, Texas. Came back to Louisville to become PD and afternoon drive jock at WAVG (now co-owned with WLRS), before going to Tulsa, Oklahoma to manage a Country FM. Became GM of MTV and VH-1, and later helped launch the E! network in 1990, where he stayed for nine years. Left E! for Liberty Digital. Currently President and CEO of NPR. [Real name: Jarl Mohn] Now lives in Los Angeles, California. Lee Masters Airchecks
Tom Maxedon Newsman in the '60s and early '70s. Also worked at WKLO. Later became a Methodist minister. Deceased.
Dave McCann Afternoon host (2:00-4:00 p.m.) and production assistant hired from WKYX in Paducah 1979. Left a short time later to do afternoons at "the New" KJ-100, where he stayed until 1982. Tom Prestigiacomo reports that he was a solid air talent, was good with a blade in production, and played on the WAKY Wackers basketball team. Now lives in O'Fallon, Illinois (just across the river from St. Louis) and works in the eCommerce support division of Network Solutions. Dave writes on July 1, 2009:

Kevin McCarthy Overnight jock from Huntsville, Alabama between 1972 and 1974. Came to WAKY from WAAY; left WAKY to go to WFIL in Philadelphia. [Real name: Kevin Webb]. Today he's VP/GM, Urban Radio Mississippi, in Jackson.
Mike McCormick Morning news anchor in 1959. [Real Name: Mike Hankins] Mike writes:
Bill McQuage WAKY morning newsman 1979-1982. Bill writes on October 3, 2006:
Mike McVay [Audio Interview Available] WAKY Program Director and on-air personality from February 1979 through June 1981. Mike went on to found and head a successful programming consultancy, McVay Media. Served as SVP/Content & Programming at Cumulus Media in Atlanta. Mike writes:
Jim Miller Overnight DJ, deceased. Mike Griffin writes:
Mike Mills WAKY DJ between 1978 and 1983. Now working in security in the medical industry.
Harry Minnich Newsman in the late '60s. Came to WAKY from WEKY in Richmond, Kentucky. Left WAKY to go to Winston-Salem and got into TV. Died of a heart attack a good many years ago.
Howard Modell Newsman between 1978 and 1980. Howard writes:
Bob Moody [Audio Interview Available] WAKY DJ, ND and/or PD between 1976 and 1985. Came to WAKY from Detroit's legendary CKLW where he worked with Gary Burbank. Bob writes:
Jack Murray WAKY jock in the mid '60s. Do you know where he is today?

Irene Nolan Worked in the WAKY news department as a writer in 1969. Went on to a long career at the Courier-Journal. Left Louisville in the early 1990s for coastal North Carolina where she continued to work in the newspaper business. Died March 3, 2017 at the age of 70.
Aaron Notar WAKY newsman circa 1980. Also worked at WHAS and CNN. Passed away in 2007 at the age of 62, due to cancer. [Real name: Ron Grueniensen]

Jason O'Brian [Audio Interview Available] Spent 2 years at WAKY from September 1971 through August 1973. Came to WAKY from WRFC in Athens, Georgia to do overnights. Later moved to nights. Left WAKY to go to a station in Birmingham, Alabama for a short period of time and then went to WNOE in New Orleans where he became PD after Gary Burbank left. He spent 15 years doing sales at Atlanta's WVEE and WAOK. Later got involved in radio station GM and ownership roles. Now majority owner of Rome Radio Partners, a cluster of stations in the Rome, Georgia area (which is near Atlanta). [Real name: Howard Toole]

Phil Page Morning DJ who was part of Don Keyes' original staff members when WAKY signed on the air in 1958. Do you know where he is today?
Ken Parks Newsman circa 1979. Now is a minister at First Presbyterian Church in High Point, North Carolina. [Real Name: Ken Broman-Fulks]
Tom Perry News anchor and/or News Director 1959-1963. Left Louisville in 1963 for Dallas, Texas to worked for the NBC radio affiliate at the time John Kennedy was shot. He later was offered a network position with NBC (as Dan Rather received from CBS), but turned the offer down. Tom was also the GM of WIL-AM which was LIN Broadcasting's ill-fated dive into an all-news format, complete with 26 teletype machines, all painted different pastel colors. Later became the GM of Louisville's WCII/WDJX. Eventually worked in sales at WAKY-FM in Elizabethtown between July 27, 2010 and January 15, 2016. Died May 2, 2018 at the age of 81. [Real name: Tommie Lee Perryman] Tom wrote on April 11, 2005:
Jack Petrey Midday jock in 1980/81, replacing John Ashton who became WVEZ's Production Director. Was also WAKY's PD when Mike McVay departed the second time. Jack worked at WBT in Charlotte in the early '70s. Left WAKY to go to work for WKYT-TV in Lexington, Kentucky. Now is President of StudioLink, Inc., a video production company in Lexington.
Jon Poston News Director and news anchor circa 1960. Jon is retired and living in Cave Creek, Arizona.
Ed Phillips WAKY jock from 1973 through 1978. Died June 10, 2018 at 68 after a battle with cancer. Ed wrote:
Tom Prestigiacomo On-air at WAKY in 1978 and 1979. Previously worked at WLCS, Baton Rogue; WSAC, Fort Knox; and WTMT, Louisville. After WAKY, Tom spent over 25 years as afternoon host at FM100 in Memphis (more on that here) then moved to Memphis' WKIM where he remained until April 2010. Tom writes:
Bill Purdom WAKY Production Director and jock in the late '70s and early '80s. Today he's Creative Director at the Cox Broadcasting cluster of radio stations in Orlando, Florida.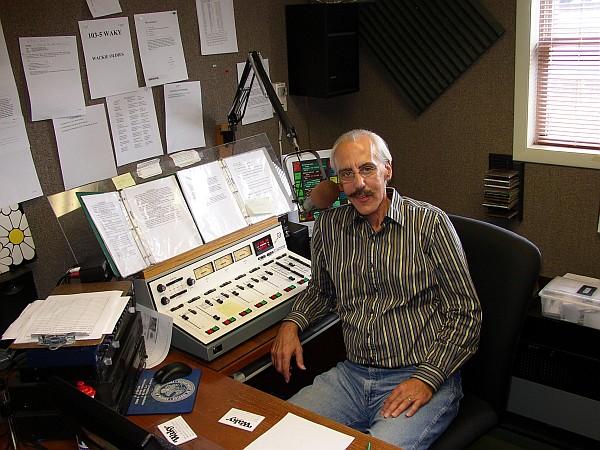 Johnny Randolph in the WAKY-FM Control Room on September 19, 2008
Johnny Randolph Former WKLO DJ that joined WAKY as a jock and Assistant Program Director April 1, 1967. Replaced Bob Todd as PD in 1970, and was at WAKY's programming helm through 1977. Later co-owned a station in Danville, Kentucky with the WKLO call letters. Worked as Director of Programming for Walter May's East Kentucky Broadcasting Group in Pikeville, Kentucky from February 2005 through February 2007. Last did PM drive on WAKY-FM in Elizabethtown from 2007 to 2020. Died July 22, 2020 at the age of 78. [Real name: John Randolph Aspenleiter.] Johnny Randolph Airchecks
Rudy Ratfink Rudy Ratfink was actually programmed by Ben Allen, one of the WAKY Engineers from 1964-1968. WAKY, the "Mighty 790" was without an overnight personality for a long time, when in late 1964 it created a chipmunk (or in this case, its rodent cousin, a rat) voice with a simple audio technique. Rudy added the live fun with Telephone Instant Requests, Fun-n-Games for the late-night crowd, party goers, night shift workers, and the insomniacs from "Fun Lovin' Wacky". It was like an "All Request Party" from Midnight to 5 AM through early to mid 1966. Ben crossed over to the Engineering Department of WKLO in 1968-1970. He moved to WROK AM/FM Rockford, Illinois in 1970, as Assistant Chief Engineer. Now retired from Comcast Cable Communications, Inc. where he was a FCC Compliance Manager and Field Engineer. Still lives in Rockford. [Real Name: Ben Pflederer]
Dale Reeves Night jock in the mid '60s. Was the 6 p.m.-midnight jock on the Sirius Country Channel, plus ran a voiceover business out of his home in Panama City Beach, Florida. Dale writes:
Marty Reising Early '80s newsman. Do you know where he is today?
Jay Reynolds WAKY DJ between 1961 and 1963. Native of Mount Vernon, Illinois. Left WAKY in late 1963 for WIFE where he helped launch the Indianapolis Top 40 station. Hosted the nationally syndicated TV music program "Scene '70". Also worked at WABC in New York City. (He did overnights between 1970 and 1976, longer than anybody else.) Other on-air stints included WFMS, WNDE, and WGGR. Held a number of management positions in Indiana radio, plus owned stations in Ohio and West Virginia. Reynolds died in March, 1996 at the age of 59. (Some sources say he was 61.)

Rusty Reynolds Mid '60s afternoon personality, replacing Jack Sanders at WAKY. Rusty was a jock, salesman, play-by-play announcer and eventual radio station owner in a number of markets in Texas. On the air he was at KXOL and KCWM in Ft. Worth, KDOK in Tyler, WAKY in Louisville and KEEL in Shreveport. He also managed KMCO in Conroe. Rusty partnered with colleague Dick Osburn from KXOL in the late 1970s and formed a chain of Texas small market station including KEAN in Abilene, KYKS in Lufkin, KYKX in Longview, KIXS in Victoria and KAGG in College Station. Reynolds was the recipient of the Texas Association of Broadcasters "Pioneer" award, and was an inductee of the Texas Radio Hall of Fame. In the last years of his life, he and his son were still the owners of three broadcast properties in the Tyler/Longview market. Rusty became a victim of Alzheimer's Disease, but it appears that a stomach virus was the cause of his death on March 19, 2012.
Sheila Richards WAKY midday personality in the '80s. Died on August 30, 2011 after losing her fourth battle with ovarian cancer. Last worked as half of the "Sheila and Jerry" morning show at Atlanta, GA contemporary Christian station J93.3. Sheila wrote us on November 12, 2005:
Wes Richards Mid '80s jock. Do you know where he is today?
Bob Riggle WAKY jock in the 1980s. Died in 2006.
Al Risen WAKY 1960s midday personality. When he first came to WAKY he used the airname "Jack Holiday". Also labored at Louisville's WKLO, WINN, WKRX (now WVEZ) and WXVW, as well as Lexington's WLAP. Left Louisville in the mid-70s to work at WKDA in Nashville, and later WSM, where he syndicated a country music show. Also worked at country-formatted WELE in Ormond Beach, Florida in the '80s. Eventually spent many years working for the Post Office in Edgewater, Florida. Died in New Smyrna Beach, Florida on April 18, 2009 at the age of 65. [Real name: Albert H. Risen, Jr.]
Jay Rogers Early WAKY personality. Left WAKY in the summer of 1959 for KTSA in San Antonio. Do you know where he is today?
Rusty Rodgers WAKY DJ for a short time circa 1979. He previously worked for WKLO (1976-1979) in evening and afternoon drive slots. Before his death on May 14, 2005 at the age of 50, Rusty was a director at WKLY-TV in Louisville. [Real name: Eugene Rodgers III]
Bob Russell McLendon-era WAKY midday personality. Bob let us know in February 2015 that he came to WAKY from KTSA in San Antonio. He left WAKY to go the WMAK in Nashville as PD. Bob became the first National PD for LIN after it added WAKY and KEEL in Shreveport from McLendon. He then went to Topeka, KS as part-owner and PD of KEWI. Bob started "Big KeeWee" and later became General Managers of KEWI/KSWT and Executive VP of Midland Broadcasters. After 20 years, he bought KOZA in Odessa, TX, later selling it and going to KGNC and KGNC-FM in Amarillo. Bob converted the 10KW AM to News-Talk 710 and KGNC-FM to Country. After 12 years, he retired, coming out of retirement to help start KXGL-FM ("100.9 the Eagle"). Bob then retired for good and is living in Amarillo with his wife of 40 years, Kathy. They have two daughters and three grandchildren.

Jack Sanders WAKY afternoon personality during the McLendon era and the first part of the LIN Broadcasting days. Voted "America's Greatest Disc Jockey of the Year" by Movie Mirror Magazine, Jack was the most listened to deejay in Louisville in his time. A leader in the Louisville music scene, Sander established several record labels, recording studios, talent agencies and booking agencies. Left Louisville for Nashville where he worked as road manager for Hank Williams, Jr. Owned and operated the Spotland Company, one of Nashville's most successful advertising agencies. Died in February, 1978 in Nashville from liver disease and pneumonia. [Real name: James Dale Spence -- According to Jack's former brother-in-law, the sobriquet Jack Sanders was born at KGKO in Dallas in 1956 when the KGKO Program Director told him, "Jim Spence sounds like the name of the guy who delivers my mail. From now on you are Jack Sanders."] Jack Sanders Page
Don Sattell WAKY newsman in 1969. Previously worked for Gordon McLendon at KEEL.
Kim Scott Midday DJ in the early '80s. Before WAKY she was at WZZX in Louisville, WSAC in Ft. Knox, Kentucky, WDXY in Sumter, South Carolina and WJER in Dover/New Philadelphia. Left WAKY to go to to WHAS radio; also did announcing for WHAS-TV. After WHAS, Kim worked at several Cleveland, Ohio stations: WWWE, WMJI, WKYC-TV and Q104. She lives in the Cleveland area today where she freelances as a voiceover talent for stations around the country. She's also a personal fitness trainer, a mother of twin girls (13 years old in the seventh grade as of 2005), a room mom and a volunteer at school and church.
Reed Scott Night jock during the oldies era. Do you know where he is today?
Tom Scott Late '60s WAKY jock. Do you know where he is today?
Karl Shannon Part-time DJ in the 1970s. Became Production Director when Mike Griffin left. Was part of the morning team at 92.9 The Bear (WLXX) in Lexington, Kentucky until April 2009. Later did mornings at "Coyote Country" WCYO in Richmond, Kentucky. Died June 1, 2022 at the age of 68. [Real name: Karl Schmidt] Karl wrote:
Don Sheridan Newsman in the early '60s. Left WAKY for WMSK in Morganfield, Kentucky, where he spent 50 years. Died August 20, 2013 at the age of 80.
Farrell Smith Mid '60s WAKY midday personality. Deceased. Scott Miller from Lexington, Kentucky writes: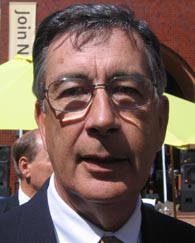 Hal Smith (2004)
Hal Smith [Audio Interview Available] WAKY DJ between October, 1959 and August, 1962. Started doing 7 p.m. - midnight ("The Night Creature"), then moved to Noon - 3 p.m. Also acted as Program Director during the latter part of his time at WAKY. Came to WAKY from WKDA in Nashville. Left WAKY for WMPS in Memphis. Later worked promotions for Capitol Records, programmed KLAC in Los Angeles, and was General Manager of KNEW in San Francisco. Also worked as GM in Philadelphia and Little Rock. Now retired in the Sacramento, California area.
Ike Smith Newsman in the '70s. Also worked at WKLO and WCII. Later radio work included News Director positions at WTTB in Vero Beach, Florida and KNUZ in Houston, Texas. Dave Steele writes: "I worked with Ike Smith when I was the Program Director at WEHR 105.1 (Shepherdsville/Louisville) at its inception in the early '90s. We hired Ike as the News Director, and he did an excellent job - not to mention he was a joy to work with. The station was sold, and the last time I ran into him was at the Hawley-Cooke Booksellers on Shelbyville Road in the late '90s. At that time, he wore a pager from Jewish Hospital - waiting for a page when a heart became available." Deceased.
Mike Smith WAKY DJ around the turn of the '70s. Also worked at WKLO. Dude Walker reports that he thinks Mike is working at an advertising agency in Memphis, Tennessee. Do you know where he is today?
Gene Snyder WAKY DJ between 1962 and 1964. Previously PD at WINN. Also worked at WCEF, Parkersburg, West Virginia; WJBW, New Orleans Louisiana; the ABC Radio Network (as a tape editor); and WOWI, New Albany, Indiana. Recorded song called "Able and Baker", a novelty tune which dealt with two monkeys sent into space. Started Joni Talent Agency in Louisville. Was 63 years old when he died in West Virginia on March 29, 1999. [Real Name: Raymond Snyder]
Chary Southmayd Did news at WAKY from 1978 through 1980. Departed WAKY to go to WRKA. Today she's a newspaper editor in the Tampa Bay area, after leaving the radio business fulltime in 1994. (Q105 was her final destination on the radio dial.)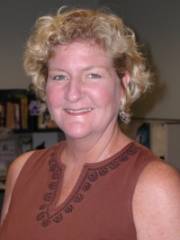 Chary Southmayd Today
Mark Stahr DJ and Production Director in the mid '80s. Before WAKY, Mark worked at WSAC, WQXE and WIEL. After WAKY he was at WAVG and WLRS -- plus he spent many years as the Production Director for the Clear Channel/iHeart Radio cluster in Louisville. Died November 25, 2021. Several years ago Mark provided some WAKY history:
Ron Statzer Newsman in the early-to-mid '60s. Went on to WLW in Cincinnati, where he later became a TV anchor. He eventually went to Baltimore where he died in a hang-glider accident.
Sam Stephens WAKY news director between 1984 and 1986. Also did news at Lexington's WVLK. Moved to the Seattle, Washington area where he taught full-time and worked part-time for Westwood One. Died on February 6, 2021 after suffering injuries from a bicycle-car collision in Austin, Texas.
Woody Stiles Newsman in the 1970s. Also worked at WKLO. Killed in 1981 in a plane crash:
Mark Strauss WAKY DJ from 1980 until the station's demise. He eventually replaced Bob Moody as Program Director. Previously worked at WKLO as Mark Sebastian in 1975-76. Mark writes:
Mike Summers [Audio Interview Available] WAKY newsman between 1969 and 1971. Now lives in the Atlanta, Georgia area. [Real name: Mike Cunningham.] Mike writes:
Carol Swanson Newsperson in the early '80s. Left WAKY to do news at WCII. Today she lives in Louisville with her husband Chuck.

Chris Taylor Morning DJ in the mid '80s. Warren McDonald reports Chris died of a heart attack on March 22, 2008.

Byron Thomas Newsman from late 1973 through early 1974. Also worked at for WKLO in Louisville 1969-1970 under his real name and at WORX in Madison, Indiana, plus did news as "Cy Atkins" at WLRS in Louisville for a couple of weekends in the late '70s. He bounced back and forth between radio and print news (including stints at the former Bloomington Herald Telephone) and worked as a reporter for the Evansville (Indiana) Courier & Press from 1991 to 2007, when he took early retirement. He now has returned to radio part time in the news department of 104.1 WIKY in Evansville. He also works as a substitute school bus driver, hoping to become a regular in the fall of '08, and is a part-time musician and songwriter with one CD, "The White Disc", under his belt. [Real name: Byron Lee Rohrig.]
Bob Todd WAKY Program Director from January 1, 1969 to March/April of 1970. Now runs a video production company with his son. [Real name: Robert Thurgaland.] Check out Bob Todd Remembers WAKY.
Tim Tyler [Audio Interview Available] WAKY jock in the '60s. In May of 2005 he retired from broadcasting, selling his partnership share of Brewer Broadcasting in Cleveland, Tennessee. He and his wife Sandy live in Houston, Texas. [Real name: Don Schwartz] Tim writes:


Tom Van Howe Newsman. Now a news anchor at WOOD-TV in Grand Rapids, Michigan.

Ed Walker Overnight DJ in the mid '60s. Joined WJIM in Lansing, Michigan in early 1967. Do you know where he is today?
John W. "Dude" Walker [Audio Interview Available] Came to WAKY from Memphis (where he was known as "Johnny Dark") in 1968 to do afternoon drive. Moved to nights to make room for fellow Memphis radio personality Gary Burbank ("Johnny Apollo" in Memphis). Later became WAKY's midday jock. Dude left WAKY in November 1971 to take the PD/PM Drive position with Top 40 WDXB in Chattanooga. The station was partially owned by former WAKY PD Bob Todd, who did mornings at WDXB. Despite WDXB becoming number one, Dude missed Louisville and returned to WAKY by the summer of '72. He stayed at WAKY until late 1973 when CHUM in Toronto made him an offer he and Mrs. Dude couldn't refuse. Later, Dude did stints on WMAQ and WJJD in Chicago. He returned to Memphis to work in radio for the legendary Sam Phillips, and then later began an 18-year career doing sports and weather on TV in Memphis, which he did until 1994 when he retired on medical disability. Died March 11, 2019. [Real name: John Doughtery] Dude Walker Airchecks
Art Wander WAKY newsman and DJ in 1959. Art writes in July 2008:
Bill Ward WAKY morning personality 1959-1962. Previously worked all-nights at WRR in Arlington, Texas. Left WAKY to do evenings at WPRO in Providence, Rhode Island. Later went to WPLO in Atlanta and KBOX in Dallas as well as KBLA/KBBQ and KLAC. He moved up through the broadcast ranks to run Gene Autry's Golden West Broadcast. Retired in 1997. Passed away in 2004. [Real Name: Bill Wardlaw] Memorial Website
Ricci Ware [Audio Interview Available] WAKY PM drive personality for several months starting in July of 1958. Was the first DJ heard on WAKY. Came to WAKY from KKBC in Austin, Texas. Left WAKY to go to KTSA in San Antonio, Texas. Ware called KTSA home for most of his radio career. Also worked at KBUC. Member of the Texas and San Antonio Radio Hall of Fame. Passed away on October 21, 2016 at the age of 79.
Bob Watson Newsman and/or News Director 1961-1967 and 1968-1973. (He worked at WIL in St. Louis, also owned by WAKY's parent company -- LIN Broadcasting -- in between.) His first job at WAKY was a weekend news shift in 1961. Less than six months later Bob went full time as Evening News Editor. He moved to the midday slot a year later and in 1964 was named News Director. Prior to Watson's appointment as ND, WAKY had never won a national award for news coverage or reporting. However, under Watson's direction WAKY News won national awards for 1964, 1965 and 1966. Left WAKY the final time to work at the Associated Press in Louisville as Kentucky Broadcast Editor. "That means I'm responsible for making sure the radio and TV stations get good, fast and friendly service," Bob explains. "I write broadcast news mostly from 5:30 a.m. to 3 p.m. M-F. It's a good salary with five weeks vacation, pension, and a 401K. Radio wouldn't have provided that, I don't believe." Bob retired from the AP in the summer of 2009 and continues to live in Taylorsville, Kentucky. Inducted into the Kentucky Journalism Hall of Fame in 2009. (Real name: Thomas Shelby Watson -- The "Bob" came in 1961 when ND Tom Perryman preferred Watson use another first name since Tom Hall was leaving.] Bob wrote on August 29, 2011:
Weird Beard Night jock from November 21, 1966 through September 30, 1971. Weird Beard left WAKY for a PD gig at LIN Broadcasting's station in Rochester, New York where he spent two or three years before taking a position with the Rochester Police Department. Another reason many people think he departed Louisville was because of the 1971 tragic drowning death of his young son, Scotty. Mason Lee Dixon recalls: "We spent many anguish-filled hours searching for the boy, sensing all of the time that he had crawled through the hole in the fence at the Water Company across the street from his house. There were all kinds of rumors flying hell, west and crooked since Burt (Weird Beard) and his wife were separated at the time. People can be cruel in their ignorance. Most of the city was sympathetic, even the competition. Only the cops and some really low-vibing characters were suspicious of Burt. It wasn't until the city finally consented to drain the reservoir that they recovered the body." Burt was diagnosed with Multiple Sclerosis at the age of 19, but didn't let that stand in the way of successful careers in broadcasting and law enforcement. He returned to Louisville and lived with his mother for a while. Eventually he went into a Pewee Valley, Kentucky nursing home where he died November 22, 1995 due to complications brought on by MS. [Real name: Carl Burton Markert] Travis Hardwick writes:
Alan White Worked at WAKY in 1986 and 1987. Traffic/Copy Manager at Cox Radio in Louisville from August 2005 through November 2010. Now at Louisville's WGTK. Alan writes:
George Williams Noon-3 p.m. DJ from late 1962 through late 1966. Joined WAKY from WMAK in Nashville when Gordon McClendon sold WAKY to LIN Broadcasting. Left WAKY for a PD job at WTRY in Albany, New York. Later replaced Terrell Metheny as the National PD of Southern Broadcasting Company. George was an associate of Kent Burkhart in Atlanta in the early '80s and eventually became VP of Programming for Satellite Music Network, now part of ABC. In 1986 he started consulting. Now retired in Dallas, Texas.
Gerry Wood Newsman in the early '60s. Previously worked at WVLK in Lexington, Kentucky. Later went on to be the Country Editor for Billboard Magazine. Gerry writes in February 2014:
Joe Worthy Newsman in the late '60s. According to his daughter Terri, "He actually had quite an illustrious career in radio and had wound up his career with WAKY in failing health due to emphysema. He had one of the first political talk shows in the country out of Phoenix, Arizona at KOOL radio in 1950-52 called 'Let The People Speak' He was extremely popular and politically 'hot.'" Joe died in the 1970s at the age of 55.


Reed Yadon WAKY Newsman in the '70s and '80s. Now a weatherman at WHAS-TV as well as the Director of Advertising for the Archdiocese of Louisville's weekly newspaper, The Record.
Leonard Yates Host of WAKY's Sunday night show "Fourth Street Countdown" between March of 1982 and February of 1984. Left WAKY for a five-year stint doing part-time work at WHAS. Also worked at WRKA in 1990. Today Leonard is a retired school principal, but still does some substitute principal work plus some educational consulting.