This page last updated Sunday, March 22, 2020

Welcome to 79WAKY.com...a tribute to Louisville, Kentucky's ORIGINAL WAKY radio!
"Great site for former WAKY people, WAKY lovers, Top 40 Radio lovers, Great Radio lovers, etc."
- George Francis, former WAKY General Manager
November 11, 2018
On one of his 2018 Sunday afternoon shows for Rewound Radio, JAM Creative Productions president Jon Wolfert did a feature on jingles from Louisville's WAKY and WKLO. Hear it here.
May 29, 2017
More photos have been added to the WAKY Photo Pages, while many others have been replaced with better-looking versions.
April 25, 2017
We've done a pretty significant overhaul of the WAKY Photo Pages. This included adding new pics, improving the look of existing images and doing a bit of reorganization.
December 12, 2016
Our appreciation to WMST's Chris Erwin for sending us a copy of his November 21, 2016 interview with WAKY's Johnny Randolph. Listen to it here.
July 4, 2016
Thanks to Bob Moody for sending us airchecks of his last two newscasts with Bill Bailey (December 1979), plus promos that ran before WAKY switched to Oldies on March 1, 1982.
April 11, 2016
What was it like when 790 WGRC in Louisville became 790 WAKY in the summer of 1958? Check out our 2016 audio interview with someone who was there, former WGRC/WAKY control engineer James Marion.
December 9, 2015
New images have been added to Photo Page 10 and the Promotional Materials Page. Two new videos are on the Video Page.
November 14, 2015
We've refreshed and added to the .zip files of WAKY surveys. This provides easy downloading of all the surveys we have from a particular year.
November 14, 2015
We've added several WAKY surveys from 1970, 1971 and 1972. A Big 79 salute to Phillip Davidson for the scans!
April 5, 2015
Thanks to Greg Lincoln for the February 5, 1970 WAKY survey.
Updated the listing for McLendon-era WAKY DJ Bob Russell here.
November 2, 2014
Added a scoped aircheck of John Quincy's September 18, 2012 and September 10, 2014 guest DJ appearances on WAKY-FM here.
October 28, 2014
A whole slew of WAKY music survey scans have been added, conveniently zipped for easy downloading. Some of the zip files are new, while others have had more surveys added.
October 27, 2014
Thanks to Mark Strauss for contributing his WAKY airchecks from 1981, 1983 and 1985 (find them here) and WAKY aircheck composites from 1979 and 1981.
March 9, 2014
The WAKY survey for January 21, 1964 (the one that shows The Monarchs as #1) has been added here, thanks to Leonard Yates.
November 28, 2013
We upgraded our online presentation of WAKY's 1979 JAM Tri-Star jingle package with additional cuts and mix-outs.
August 19, 2013
Thanks to Tim Tyler who sent us a Jack Sanders commercial demo tape (circa 1970). Listen to and/or download it on our Jack Sanders Page. We also added several WAKY Music Surveys from 1964/65.
August 11, 2013
Two more WAKY Tim Tyler airchecks have been added here: January 3, 1964 and April 1, 1970. Plus, we posted a great July 3, 1979 aircheck of Bill Bailey with newsman Bob Moody here.
July 8, 2013
We have a new aircheck of Tim Tyler, courtesy Don Schwartz. Recorded in June of 1963, it features Tim doing his WAKY show in Japanese in honor of "Sukiyaki" hitting #1. English translation is provided by Jim Brand. Find it here.
February 25, 2013
A 5-minute free preview of "WAKY Remembered" is now on this page, joining the 10-minute free preview of "Bill Bailey: A Louisville Legend."
November 26, 2012
A new page has been added: Mike Griffin WAKY Talk Show Airchecks. A Kris Kelley WAKY Talk Show aircheck has been added here too.
November 8, 2012
We're saddened to hear of the passing of 1960s WAKY DJ/PD Jim Brand. His bio has been updated with his obituary here.
October 27, 2012
A scan of a WAKY "Fred & Frank Derby" promotional item was added here.
July 10, 2012
We've added video from the 2012 WAKY-WKLO Reunion here. A DVD version is also available.
January 29, 2012
Three new 103-5 WAKY airchecks have been posted here: John Quincy's 2010 and 2011 guest DJ appearances, plus the Bill Bailey tribute hour with Johnny Randolph and Les Cook. We also added 2011 videos of JQ and JR on WAKY-FM here.
January 26, 2012
Reed Yadon's excellent remembrance of Bill Bailey has been posted here.
January 22, 2012
Finally...we have a Jack Sanders WAKY aircheck to share! A great big Super 79 thank you to Vee Lamb for the March 1961 recording, which includes newsman Thom Hall.
January 14, 2012
The Duke of Louisville has left us. Bill Bailey passed away this morning at the age of 81: Bill Bailey Tribute Page

Probably no call letters for a Top 40 station were as descriptive as those given the McLendon Station in Louisville. The station's original call letters were WGRC -- the GRC in honor of Revolutionary War hero George Rogers Clark. When WGRC became a McLendon Station, though, an effort was made to create a "ziggy call sign that people remember and that kids relate to," said Don Keyes (1989). Gordon's secretary, Billie Odom, suggested WAKY (pronounced "wacky"), call letters that Don Keyes declared were "a natural" (Keyes, 1989).

"We were there to come in and invade Louisville, Kentucky. And that was...probably the biggest success story of the whole chain. We went from zero to a 60 percent Hooper Rating in two months. Absolutely destroyed people. When we went in, there was an old-timer called WINN. They were the music station for Louisville, Kentucky. They were playing fifteen minute segments of a given artist. That was the state of Louisville radio 1957 or 1958. Fifteen minutes of Kaye Starr, fifteen minutes of Frank Sinatra, fifteen minutes of Mantovani. That was it....And we went on the air with the usual flying circus. It was devastating, just devastating." (Keyes, 1989)

[Excerpts from Gordon McLendon: The Maverick of Radio by Ronald Garay]

WAKY Fast Facts

The McClendon Corporation's first day of ownership of 790 AM in Louisville was July 8, 1958.
The previous owner of 790 AM (WGRC) was North Side Broadcasting Corporation.
After McLendon sold WAKY to LIN Broadcasting, the next owner was officially called WAKY, Inc. The ownership change was on January 19, 1962.
WAKY was sold to Multimedia Radio, Inc. on May 15, 1975.

If you're into to call letters, studio and transmitter locations and various technical minutiae about WGRC and WAKY going back to WGRC's original sign-on in the 1930s, check out the link below. Among the things you'll discover is the future WAKY was on two other frequencies before moving to 790 in the late 1940s.

From the Louisville Times, June 6, 1958
Agreement Near on Sale of WGRC for $750,000

Final arrangements for the sale of radio station WGRC here to a Dallas, Tex., firm were expected to be completed today.

J. Porter Smith, president of the Northside Broadcasting Corporation -- owner of WGRC -- said the price for the local station was about $750,000. He added that the sale, if completed, will be subject to approval by the Federal Communications Commission.

The prospective purchaser is the McLendon Corporation of Dallas, which operates three stations in Texas and one in Louisiana.

WGRC moved to Louisville in 1942 after six years of operating in New Albany. Its offices are in the Kentucky Home Life Building. The station has 5,000 watts during the day and 1,000 watts at night. It operates on 790 kilocycles.

Gordon McLendon, son of McLendon Corporation head Barton McLendon, broadcast sports on the old McLendon Liberty Network here some years ago.

Smith and WGRC vice-president and general manager Charles L. Harris would remain with the proposed new for a year in advisory capacities.

McLendon owned WAKY for three years and six months, selling the station in early 1962.



Check out LKYRadio.com, which salutes other
Louisville and Lexington radio stations.

If you're a fan of Louisville's other great Top 40 station of the '60s and '70s, check out 1080WKLO.com.
Thanks to all the former WAKY and WKLO employees and fans who have made the WAKY and WKLO Tribute Sites possible by sending airchecks, photos and promotional items. If you have any WAKY or WKLO material you'd like to make available to these projects, please contact us.
WAKY-WKLO 2006 Reunion Review Page
Get "WAKY Remembered" and "Bill Bailey: A Louisville Legend" for just $25, postage paid! Details here.

The WAKY call letters returned to the Louisville market on May 11, 2007 when oldies station 103.5 WASE-FM in Elizabethtown changed their calls to WAKY. Now much of the Louisville market can enjoy the music and jingles that made WAKY famous in FM stereo on WAKY Radio. As of 2015 the new WAKY can be heard in Kentuckiana at 100.1 FM and 620 AM as well.

Why 79WAKY.com?
For over 20 years, WAKY (790 AM) in Louisville, Kentucky was one of the most influential and highly-respected secondary market Top 40 stations in America.
In the summer of 1970 while visiting Louisville for a week, I discovered WAKY. I had never heard radio like WAKY before. The station boasted strong and entertaining personalities like Bill Bailey, Dude Walker, Johnny Randolph, Gary Burbank, Weird Beard and Mason Lee Dixon. The music presentation was upbeat and fun. WAKY was big time radio that could hold its own to similarly-formatted stations in New York, Chicago and Los Angeles.
I was so impressed with WAKY that when I returned home to Lexington, Kentucky (90 miles from Louisville) I started paying more attention to the local radio stations while continuing to listen to WAKY every chance I could get. Because of the spark WAKY ignited in me, I pursued a career in on-air radio which continues today at WTMA in Charleston, South Carolina.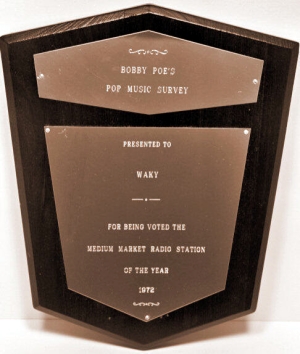 In 2003, with the assistance of legendary WAKY Program Director Johnny Randolph, I produced a one-hour audio tribute to WAKY. WAKY Remembered became one of the more popular streaming presentations on ReelRadio.com. CD copies were made for many WAKY fans and alumni. Due to all of the positive feedback, in late 2004 I decided to put together a sequel. Interviews were recorded with many former WAKY DJs and Newsmen. In the process of talking to these "Louisville Legends" the question kept coming up: "Why hasn't anybody put together a WAKY tribute Website?"
Because WAKY was such an influence to me not only as teenager but as a broadcaster -- and because nobody else had done one -- I put the sequel on hold and launched this WAKY tribute site in January of 2005.
79WAKY.com features downloadable WAKY jingles and airchecks, photos and music surveys, information about the WAKY on-air personalities, and memories from other WAKY fans.
We cover the entire history of WAKY here: from its launch as a Top 40 station in 1958 -- to its Adult Contemporary days in the late '70s and early '80s -- to its final rock-based format (Oldies) between 1982 and the station's switch to automated Beautiful Music in 1986.
If you have any WAKY memories (pictures, tapes, promotional material, etc.) you wish to share with our site's visitors please drop me a line. A great big thank-you to all former WAKY personnel and fans who've contributed thus far!
-- John Quincy, Charleston, South Carolina
About The Curator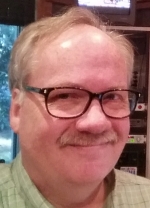 Even though he was born 15 years earlier, Lexington, Kentucky native John Quincy didn't really discover Top 40 radio until he smuggled in a transistor radio to a church camp outside of Louisville in the summer of 1970. After a few hours of listening to the legendary WAKY in his dorm room, he caught the radio fever. Upon his return to Lexington and a visit to local stations to find out how radio stations really performed that on-air magic, he was hooked.
Shortly thereafter a high school teacher told him about a Junior Achievement program being sponsored by WVLK-AM. Every Wednesday night WVLK would turn over a half hour of their programming to high school kids who would sell, operate, and program it. Quincy made sure he was one of the ones chosen to be one of the teen DJs.
Between his junior and senior year of high school, Quincy scored a summer job working seven days a week at WBGR AM/FM in Paris, Kentucky. Most of the time was spent running the board for Cincinnati Reds baseball games, but for part of each shift he got to play DJ. While it was country music (which was especially bad in the early '70s), it was radio. From that point, Quincy never looked back.
There were stints at other Lexington area radio stations (WEKY, WAXU, WCBR, WKDJ, and WBLG) before Quincy got the call in 1979 to escape Lexington's mostly awful winters and work in sunny Savannah, Georgia (WKBX and WZAT). Then in 1981, Quincy moved up the coast to Charleston, South Carolina to take on PM drive duties at rock station WSSX. Later Charleston gigs included AC WXTC (where he spent nearly 10 years as PD), All-70s WJUK, Country WBUB, Oldies WXLY, News-Talk WTMA, Country WNKT and AC WSUY. Subscribers to Tom Konard's Aircheck Factory service might remember Quincy as one of the narrators of "Around The Dial" and various profiles.

Today Quincy is Program Director at News-Talker WTMA in Charleston. Along with his radio work, he does mobile DJ gigs plus creates and maintains Web sites including tribute sites to Charleston radio stations WTMA WCSC and WOKE, as well as pre-1990s Louisville and Lexington, Kentucky radio.
Cool Links
JingleSamplers.com
LKYRadio.com (Louisville and Lexington Radio Tribute Site)
WCSC, Charleston Tribute Site
WKLO, Louisville Tribute Site
WOKE, Charleston Tribute Site
WQAM, Miami Tribute Site
WTMA, Charleston Tribute Site